Local food pantry looks to community as needs mount
Caring & Sharing of South Walton expecting busy fall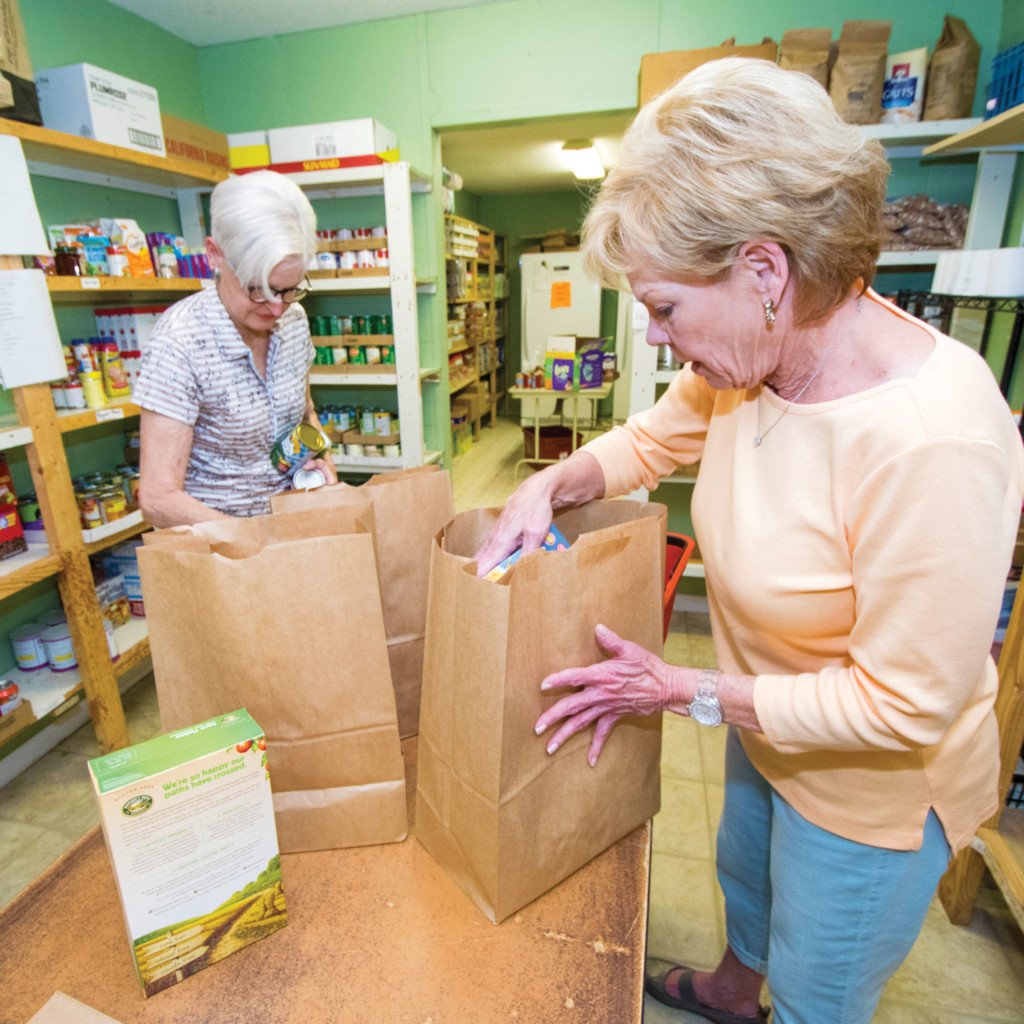 This time of year, for much of South Walton, is marked by a slower pace and smaller crowds. For Kim Hope, director of Caring & Sharing of South Walton, the fall season is peak season.
"The need goes up. We see a lot of folks," she said. "Many are seasonal workers, and once the summer season ends, a lot of people have their hours cut. They are struggling."
Tucked into a corner of Lynn Drive, just south of U.S. Highway 98, the bustling food pantry serves a side of South Walton that often goes unseen: the homeless, seniors on fixed incomes and hourly service workers living in poverty.
"It's a pretty good mix — a lot of families," Hope said. "A lot live on that north side of U.S. 98 and some come from Freeport. These folks, if they didn't come here, I don't know what they would do. … I think there are still a lot of people we could reach."
Although Caring & Sharing's primary service is distributing nonperishable groceries and some fresh food, it added a thrift store a few years ago, the sales from which are used to cover operating expenses. The thrift store includes an upstairs clothing boutique. ››
"We take pretty much anything that's in good condition," Hope said. "We have a truck that goes out four days a week. You just call us, and we schedule a time to pick it up."
The nonprofit, which operates with only seven paid employees, currently averages 400 to 600 food clients a month, and it saw a total of 6,681 adults and 8,000 children in 2016.
"What I am seeing, more and more, is children being taken care of by grandparents," Hope said. "A lot of (the grandparents) are on Social Security and don't get much."
The only way Hope can meet the growing demand each fall is to lean on the generosity of the South Walton community. This year is no exception. Many local businesses, such as Publix and Resort Quest, donate items from their inventories, but the organization is always in need of more.
"Financial donations help the most," Hope said. These funds allow Caring & Sharing to purchase gas cards and assist a limited number of clients with prescriptions and utilities. "We also need volunteers," Hope added. "We couldn't do it without them."
Volunteers are essential to sorting through donations of clothes, food, furniture and housewares; answering phones; distributing food; running the cash register; and raising awareness of the nonprofit's mission throughout the community.
Gail Jones, a Santa Rosa Beach resident who received help from Caring & Sharing in the past, volunteers once a week out of gratitude.
"We fell on hard times, and they helped us," she said. "They do a lot of good for the community."
Jones is one of about 150 core volunteers, many of whom are retirees.
"We have fun here," said Midge Drebing of Freeport, who has volunteered for the past 10 years. "I believe in what we're doing here, and we're here for the whole county."
---
Caring & Sharing of South Walton
112 Lynn Drive, Santa Rosa Beach
caringandsharingsowal.org
Contact: Kim Hope at (850) 267-2866 or info@caringandsharingsowal.org
Hours: The food pantry is open from 9 a.m. to 2 p.m. on Mondays, Wednesdays and Fridays. The thrift store is open from 9 a.m. to 3 p.m., Monday through Friday, and from 9 a.m. to 12 p.m. on Saturdays.
Want to help?
Caring & Sharing of South Walton is in need of volunteers. The organization is also in need of donations for the holiday season, especially for the annual Angel Tree for local children in need.