Local Experts Leverage Cutting-Edge Technology, Experience to Create 'Smart' Homes
Get Wired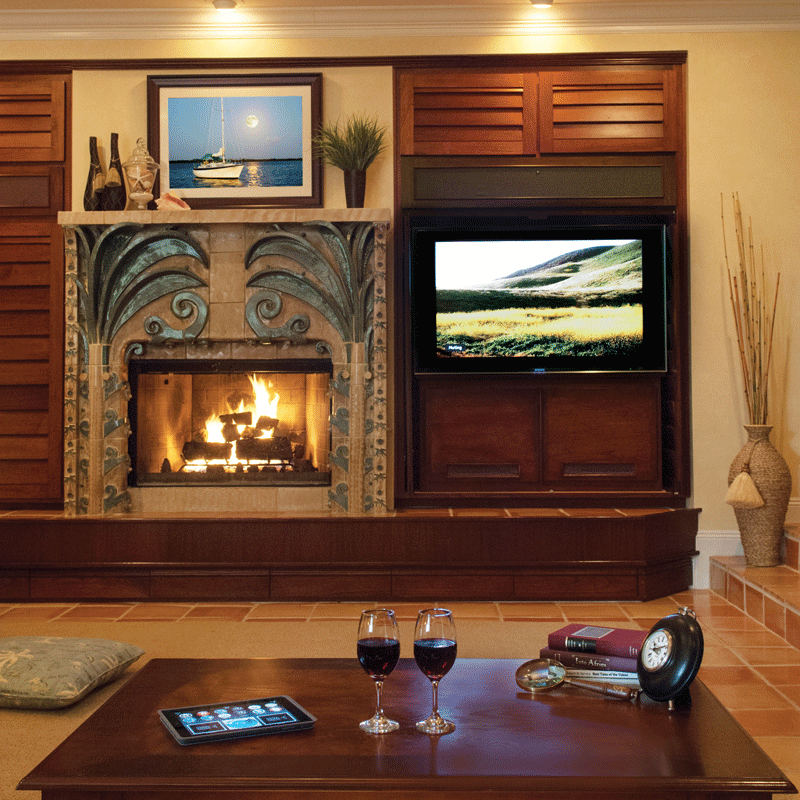 This custom home audio system designed by homeNETservice in Pensacola features the Denon AVR-X2000, which is the "heart and brain" of this home audio system and CareHomes, an intuitive product which conveniently streamlines a home's operation, security and entertainment systems to be accessible with just the click of a button on a handheld device.
In the digital age, homes are becoming increasingly tech-heavy — and "smart." For most of us, setting up flat-screen televisions, surround sound systems and full automation systems is an esoteric, overwhelming process. But for a seasoned professional, these products and their installation are second nature. Professional consultation and installation can give you all of the techy upgrades and — depending on the professional — ongoing support long after the project is completed.
An Industry Overview
In the world of wiring and technology, stresses Stanley Zawisza, president of Audio Video by Stan in Destin, it's important to find someone who knows what they're doing — and can back it up with plenty of experience.
"The amount of technical knowledge it takes to sell and install these systems properly is very, very important. This is not just an industry that you're going to pick up and read a book and learn how to do it for a living," he says.
Zawisza works on wiring homes being newly constructed and also a lot of renovations and remodels. With the economy on the upswing, the remodel side of business has been growing. He explained that his work spans a huge range of size, intensity of labor and cost — it all simply depends on what a client wants. "I custom build a system with their wants and needs, for whatever type of budget they've laid out," he adds. Jobs range from a surround sound system with flat panel television and speakers in half a dozen rooms, to a recent full automation job, with multiple televisions and speakers, control systems for those units, and climate and lighting control. 
"I would say the surround sound system with speakers around the house is the most popular thing he do," he said.
Bruce Lindsay, partner at homeNETservice in Pensacola, says that in addition to home automation sound systems comprise the majority of his business. The company works throughout Escambia and Santa Rosa counties, providing a broad range of audio, video and wiring services, including wall-mounted television installations, wireless network installation and setup, sound systems, home automation and, for commercial enterprises, telecommunications. Jobs can range from Wi-Fi or universal remote setup to installation of a surround sound system or a home automation system. 
For homeNETservice, business is about evenly divided between new construction and retrofitting equipment to already-built homes. Existing structures require more work, Lindsay explains, so installations like home automation cost more. 
"We typically go to the customer and find out what it is they want, and what they already have," Lindsay says. This allows for an appropriately designed system and an accurate estimate.
When getting your home wired, the consultation and installation process is relatively simple. First, there is usually an on-site visit where the consultant meets the clients and gets acquainted with the project site. Then, an estimate and design can be drawn up at a later date and presented to the client. Then all that's left is the installation process, which can vary in duration depending on the job.
Stuart Houston hired Audio Video by Stan to design a theater system for his Destin home.
The biggest part of the consultation process is going over the budget, according to Mark Baker, owner of Freedom Audio Video Services in Gulf Breeze. "Part of the consultation is finding out what a person's budget is, because often you can get it all done over time," he explains. A budget, coupled with a project timeline, can enable homeowners to plan a project over the course of a few steps, giving them one upgrade at a time and ultimately giving them all of the techie equipment they want — while staying within their budget.
A Growing Trend
With expanding technology, homeowners are getting more control over their homes from simpler devices, and full automation systems are a growing trend. "Smart" homes allow owners to use a simple app to control various household operations like heating and air conditioning, lighting, security systems and irrigation systems — not to mention all of the house's electronic gadgets. 
In August 2012, Reuters reported in "Analysis: U.S. industrials, telecoms to face off in home automation" that, "Only about 3 percent of U.S. homes have home automation systems today, but analysts estimate that will increase by double-digit rates over the coming years." At that time, the U.S. energy and home automation industry had reached about $1.5 billion. The trend is continuing to grow, and in "Statistics to Make You Think," Electrical Contractor magazine reported, "The market is forecast to exceed $5.5 billion in 2016, the result of a compound annual growth rate of 10.5 percent between 2011 and 2016." 
To Zawisza, the growth is not surprising.
"It seems the automation industry — controlling things with your phone — has become very popular for a number of different reasons," he explains. "You always have your phone in your pocket, and everybody's used to having apps and controlling them. Now I can give you an app on your phone to control your entire home, so it's very popular."
Lindsay adds that besides the added home value and convenience of home automation, the homeowners can also get added security; features like checking on home security systems remotely on a smartphone can reassure travelling homeowners. "It's an improvement on their house and it makes it more valuable," he says. "We like gadgets, and they make our lives easier."
Scott Holstein
Stanley Zawisza, president of Audio Video by Stan, in front of a $300,000 automated "smart" home system designed for a Destin client.
Zawisza also says automation can vastly improve a home's energy efficiency, making it more environmentally friendly and lowering utility bills. For instance, an automation system can set lights in a home to 80 percent brightness, rather than 100 percent — a difference that your eye will probably not perceive, until it looks at your electric bill. The air conditioner can also be set to run only at certain times and temperatures, ensuring less wasted energy in unnecessarily heating and cooling a home.
If possible, it is better to get these systems installed during a home's construction, advises Lindsay. It's significantly more affordable, as the wiring can be done as the house is being built.
But Baker warns there are some security concerns to be aware of when outfitting your home with these high tech devices. "There is not a lot of security built into these AV devices," he says. "Security is the biggest aspect I'm trying to educate my customers on."
Those with remote control of their home automation systems from mobile devices like tablets and smartphones often expose themselves to security risks by having Wi-Fi enabled, Baker explains. Wi-Fi could allow someone to hack into the device and gain access to a home's security codes; all photos taken on a mobile device are tagged by location, and thus could reveal a home's address. This has led to cases of robbery while people are out or on vacation.
Users who deactivate their devices' access to Wi-Fi when they leave the house are much safer. As for the devices themselves, while the trend is going to computer networking and getting more devices online, Baker advises homeowners to consider keeping them on a separate network from the house's computers. 
While computers usually have security software, he cautions that many AV devices such as smart TVs lack the protection computers have, and could thus expose other devices on the same network (such as a computer) to security threats. With a router capable of running multiple virtual networks, such as a Cisco business class router, computers can be kept secure on a network separate from the home's other audio/video equipment.