Local Delegates Talk Democratic and Republican National Convention
Conventioneers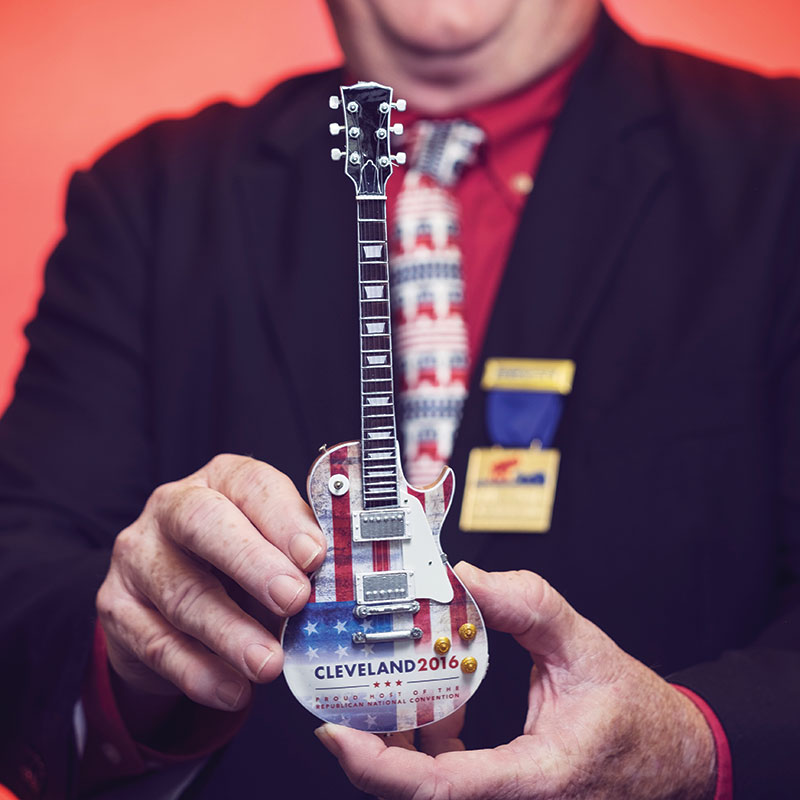 It just seems like the word "hoopla" was tailor-made for the quadrennial summertime powwows of the party faithful known as the Republican and Democratic national conventions.
It's a once-every-four-year opportunity for each of the major political parties to gin up the true believers and persuade those of us who tuned in on four successive nights to cast our lots with the "D's" or the "R's."
No matter the party, you're sure to see an elaborate stage and Jumbotron, speeches — everything from high-volume stem-winders, to tear-jerking tales, to professions of patriotism, to the ultimate acceptance speech from "grateful" and "humbled" nominees — as well as entertainers, music, chanting delegates and talking heads. And when it's all over, the festivities wrap up with a cascade of red, white and blue balloons and seemingly unlimited confetti.
While the vast majority of us will only be able to experience a national convention via our televisions, there was a small contingent of delegates from the Emerald Coast, selected by their respective parties, who had a (pretty darn close to) front-row seat to the action.
For both Republicans and Democrats, most of the delegates are chosen based on the congressional district where they live. Northwest Florida comprises Congressional Districts 1 and 2.
One of the six Republican delegates from the Panhandle at the Cleveland convention was 55-year-old Clint Pate of Graceville, who is Republican Party chairman in Jackson County, a county commissioner, and assistant secretary of the Republican Party of Florida. He also has a family pedigree of Republican activism stretching back 20 years, when his parents were active in Republican politics in Washington County, next door.
Pate's a convention veteran, having attended the 2012 event in Tampa that nominated Mitt Romney. While not exactly jaded this go-round, he wasn't quite as bedazzled as his first convention, which he recalls, saying, "I'm just a little old country boy. I stood there a lot and looked around going 'Oh, my God!'"
Reppin' for the Democrats in Philadelphia was Dianne Krumel. She and a group of like-minded folks started "Pensacola for Hillary" and Krumel and her team have been trying to convince her neighbors to vote for Hillary Clinton. It's a pretty heavy lift, because CD1 (which includes Escambia, Santa Rosa, Okaloosa, Walton and Holmes counties) is the most conservative in the state, with 52 percent of registered voters identifying as Republican and only 29 percent as Democrats.
"We've been organizing for 16 months; we've been knocking on doors … talking to people. Letting folks know," she said. "A lot of people think 'I'm the only Democrat here' … like they're in the closet. Not me. I'm a proud Democrat, and I'm out there ready to take it forward for the party."
Krumel also serves as a state committeewoman for the Escambia Democratic Executive Committee and president of the Escambia County Democratic Women's Club.
The two delegates were chosen using different processes.
Krumel faced a mini-popular election to secure her seat on the Democratic Convention floor. "I had to run," she explained. "You had to have people to come vote for you" at one of three polling locations throughout the district. She networked through her Democratic connections and "a great group of friends … supported me and helped turn out the vote for me so I could win."
In the Republican process that selected Pate, the 14 counties of CD 2 could send their top three party officials — the chairman, committeeman and committeewoman — who made the delegate selection. (As an aside, a major redistricting means CD 2 now includes all or parts of 19 different counties encompassing most of the Panhandle from Bay County eastward, wrapping around the Big Bend to Levy County. It is now considerably more favorable to Republicans.)
Serving as a delegate is an honor, but both Pate and Krumel paid their own expenses for most meals, accommodations and travel to the conventions.
At both conventions, the Florida delegation was royally courted by their respective parties, a nod to the importance of the Sunshine State's "swingy" purple reputation. Common wisdom says in 2016, you won't get to the White House without the help of Florida's formidable 29 electoral votes.
Consequently, seats on the floor for the two conventions were choice for Florida's delegations, and the daily breakfasts that kicked off each day's events attracted the parties' A-list speakers.
At the RNC, Florida's delegation was seated dead center in the Quicken Loans Arena, right behind New York, home state of the soon-to-be nominated Donald Trump.
"We had Newt Gingrich; Rick Scott was there," said Pate of the Republican breakfasts at the hotel. "We had Scott Walker. We had Jeff Sessions from Alabama. Most everybody that was on the stage wanted to talk to Florida because we're such an important state."
At the Democratic convention in Philly's Wells Fargo Center, Florida was up front and slightly to the right of center stage. Within the delegation, it was first-come, first-served seating, so Krumel and her boon companion would gather up their day's credentials and head over to the Wells Fargo Center after breakfast to stake a claim on good seats, usually managing to land somewhere between the fifth and seventh rows.
In a week filled with highlights and excitement, it still wasn't hard for Krumel to pick out one up-close-and-personal memory that was the crowning moment of her convention experience.
It happened on the third night, when Krumel and her friend managed to have a stellar view of President Barack Obama as he spoke.
We'll let Krumel tell the story:
"He was literally 30 feet from me …. It was like, wow, he's right there. It was just so moving and I'm thinking 'OK, this is so awesome.' I'm just loving him. When it was over … then Hillary comes out, and I'm like OH MY GOD!! (Imagine Krumel's voice getting louder and ending with a high-pitched squeal.) We're all screaming and high-fiving; we're all just crying and hugging each other. It was just the ultimate; it was absolutely the pinnacle. That so totally caught me off guard. I'd already seen what I thought couldn't get much better — and it was!"
Both conventions were gaveled into session in the late afternoon and ended around 11, but there was a full slate of activities in the mornings that carried on through the wee hours of the morning.
Pate said during the five days he was in Cleveland — "Everybody was so nice, it was almost like we were in the South." There was only a four-hour window for sightseeing, which was taken up with a visit to the Rock and Roll Hall of Fame. Other delegate fetes included a Three Dog Night concert on the shore of Lake Erie, and a meet-and-greet tailgate at the Cleveland Browns' stadium.
At the end of the day, well past midnight, Pate said accommodating restaurants would stay open late to feed him and other hungry delegates. "A lot of (events served) just snacks," he recalled. "Some people could live off that, but I'm a big old boy, I'm gonna eat."
At the airport on her way home, Krumel estimated she slept 16 hours over the five nights she was in Philadelphia. "I'm going to sleep on November the 9th," she declared in a voice hoarse from cheering — but then she demurred. "Actually, I'm going to sleep on the plane."
It was Krumel's first convention and she brought "tons of beautiful clothes," but ended up wearing one of her six blue Hillary T-shirts the entire time. That, and a sparkly bright blue cowboy hat adorned with alligators, palm trees, Hillary buttons and patriotic pinwheels that made her a magnet for media folks looking for a visual. "We were on Anderson Cooper, CNN, MSNBC. … Everyone's sending me their screen shots, (saying) 'You're on TV!'"
She also was "nonstop talking with press from all over the world. I got interviewed by people from South Africa, Germany, Poland, Belgium, France, England, Spain, India, Japan. I was interviewed by The Washington Post and The New York Times. I did Bloomberg … and then for the local news here I got to introduce the show … I was energized. Until I lost my voice, I was really on fire."
Pate had his biggest star turn at the 2012 convention, when a photographer shot a photo of his distinctive tie, adorned with the GOP's stylized elephant logo. "The next day, I got an email from a lady in California and she said 'Sir, could you tell me where you got that tie? I love that tie and I want to get my husband one." The picture had appeared in a paper "somewhere on the East Coast … and she hunted me down. I thought that was pretty neat. My tie was famous that day. Gov. Scott's got one like it now."
Aside from a photographer fascinated with the black lizard cowboy boots he usually wears with his suits, he wasn't the center of attention in 2016, although he did appear in lots of shots of one woman carrying a Donald Trump doll and another with an "all fixed up" cowboy hat who called herself "Cat in the Hat."
"They took pictures of her. Lord, she was like the one with the doll," he said. "As a matter of fact, The Smithsonian wants that hat and wants that doll. They showed me the card."
But even though the balloons have dropped (Krumel said they were chest-high where she was standing) and have since been popped, both Pate and Krumel have a job ahead of them to get their respective candidates elected.
"We're going to do whatever it takes to get (Trump) elected, but we've got local and state candidates we'll be supporting, too," said Pate.
Krumel credits her partner of 16 years, Barry Goodson, with keeping the home fires burning so she can focus on "the ultimate goal of winning."
"I just get so tired and he's always there to keep pushing me forward," she said. "He says, 'What do you think Hillary's going through?' and I'm like, 'You're right.' You get the haters that will attack you, but you know what? When you put yourself out there, that's part of the game."