Liza Jackson Built That
Fort Walton Beach philanthropist left an enduring legacy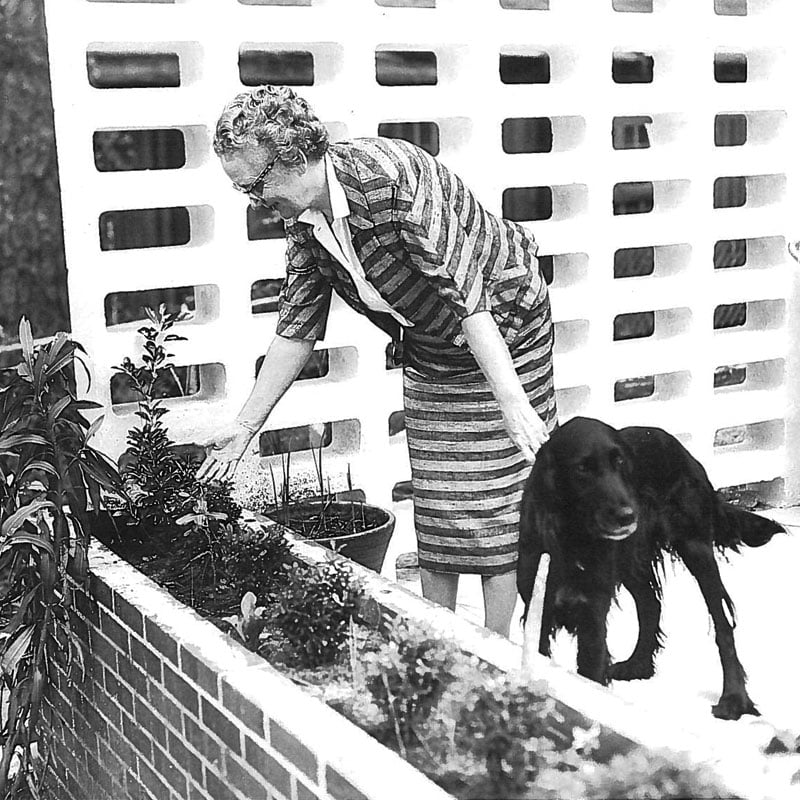 If there was a baby that needed to be delivered, she was there. If somebody didn't show up for work at her hotel, she stepped in and did the job. If a soldier's family needed a house, she made sure it was built. And when the fishing village known as Camp Walton wanted to become a city, she was there to help make it so.
Lizzie May "Liza" Jackson gave her all to Fort Walton Beach, and today a city park and a preparatory school are named in her honor. But that doesn't really tell you the whole story behind one remarkable woman's desire to make a difference in the world around her.
A native of Orangeburg, S.C., Jackson was born in 1888, the second of 11 children born to Martin C. "Doc" Edwins and Ida Miller Edwins.
"At an early age (I) started helping with the younger children, tending them and teaching them their lessons and seeing that they were properly dressed for church and school," said Jackson in a biographical sketch she wrote for newspaper usage in 1950, when she was 62. She died in 1970 at the age of 82.
Summing up a lifetime of achievement in two pages of single-spaced typewritten pages, Jackson said she spent her early years attending business school and then working as a secretary.
"Attended summer Normal at Orangeburg College, now extinct. That fall taught school for six months. After school term expired, (I) returned to Orangeburg and enrolled in Orangeburg Business College, taking a secretarial course," she wrote. "Graduated and served as secretary to the head master of the Business College for three months. Then accepted a better paying job with the law firm of Glaze & Herbert, Orangeburg, S.C."
Jackson left that company when she married lumber businessman William B. Harbeson in 1907. The couple lived in Mississippi and began raising a family. Here, her two children were born but apparently she had more on her plate, as her biographical sketch mentions, helping to rear and educate five stepchildren as well. This was also the time she began to take an active interest in civic duty, and she said she "entered into the church and social and civic life of this sawmill community. (I) ran a large house with three servants, and horses, cows and chickens, flower and vegetable gardens. (My) husband was a lumberman and was in the sawmill business. He too was a very busy and successful man."
The family moved to DeFuniak Springs in 1914, and once again she "entered into the social, church and civic life of the community." While her husband managed a bustling sawmill, Jackson herself studied music, sang in the church choir and was elected vice-president of the Florida Federation of Women's Clubs. She financed the remodeling of the DeFuniak Springs Woman's Club and helped her husband remodel the old Chataqua Hotel, which Harbeson had bought and renamed the Walton Hotel. She worked as an "emergency manager and pinch hitter" at this hotel, meaning, when an employee didn't show up for work or quit, she pitched in and got the job done. In an interview for the Pensacola News-Journal in 1969, Jackson told a reporter, "I was always a pinch hitter. If a man quit, I had to take over."
This wasn't the only hotel she owned. According to her obituary in the News-Journal, Jackson and her husband owned and operated a chain of hotels in Tallahassee, DeFuniak Springs, Fort Walton Beach and Pensacola.
In 1915 Jackson and her husband started spending weekends and summers at Camp Walton and bought a home there as a "summer and fishing residence." In 1922, Harbeson bought the San Carlos Hotel (in Pensacola) and added it to their chain of hotels, which included the Walton Hotel in DeFuniak Springs, and the Leon and Cherokee Hotels in Tallahassee. That same year they bought the Brooks Hotel in Camp Walton and renamed it the Harbeson-Miramar Hotel. After living in Pensacola for 10 years and being a frequent visitor to Camp Walton, Jackson moved there permanently in 1932.
Though she was a world traveler, Jackson loved Okaloosa County, and when she came here she saw to it that the needs of the fishing community were met. Noticing there were no doctors around, she financed the building of a public health clinic (which she noted was planned, equipped and built by Frieda Caldwell). She also founded the first Woman's Club, served as its president in 1938, and was involved in organizing and incorporating the town of Fort Walton Beach.
"She was really involved in the birth of the city of Fort Walton Beach and was community-minded," said her great-granddaughter Terri Roberts, chief executive officer of Liza Jackson Preparatory School, which Roberts founded and named in Jackson's honor.
Before the village was incorporated, the members of the Woman's Club were the ones who got things done. They were the only "law" in town until the city council was founded, and met often to discuss what the community needed and how to meet those needs. They hired a constable to keep animals off the street, enforced sanitation at the local butcher shop and helped foster construction of the highway we know today as U.S. 98.
During World War II, Jackson was an active volunteer in the United Service Organization (USO) and the Red Cross. In 1944, she built Miramar Homes for soldiers' families, an endeavor that was unusual for a woman of that time.
"She was a building contractor in the '40s, and for the time, it was one of the first commercial women's ventures," Roberts said.
Jackson served on the town council, managed a clothing and gift shop, helped organize and build Grace Community Chapel, donated the land for St. Simon's on the Sound Episcopal Church and helped organize Fort Walton Bank in 1948. In 1949, she donated land for a community center and little league stadium and helped organize the Gulf Area Garden Club. As president of the garden club she planted 500 palm trees on Main Street. She also helped organize the Fort Walton Beach Free Public Library and was its president for three years. She also held the honor of Woman of the Year for the Gulf Area from 1955 to 1958.
"I'm really proud of my great-grandmother," Roberts said.