Living the Salty Life
Note: A $20 bucket is not required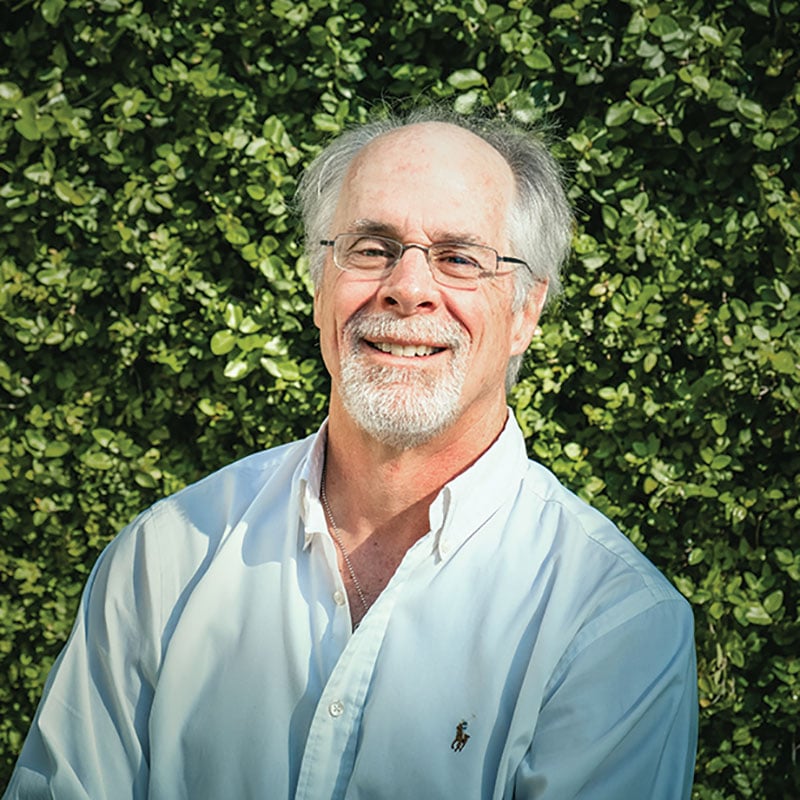 Tom Putnam's office is in a featureless metal building located maybe a hundred yards behind the tackle business on Thomas Drive in Panama City Beach that his father established in 1972.
There, he spends his workdays doing something that he swore, as a new college graduate 37 years ago, that he would never do: sit behind a desk. Putnam studied engineering at the University of the South in Sewannee, Tennessee, but abandoned that career path after concluding that it would be too sedentary.
He joined Capt. Put's Half Hitch Tackle instead, working the floor, dispensing advice, spooling reels and dipping dozens of shrimp into then-papier-mâché bait buckets. Those days are gone. Today, Putnam manages a business that employs 60 and has continued to grow following the captain's death in 1993.
Half Hitch now comprises six storefronts — three in Panama City Beach and one each in Destin, Navarre and Port St. Joe — along with an online store and a consumer show division.
"I feel fortunate," Putnam said recently. "Every business has its challenges, and we have had ours, but we're doing OK."
Those challenges have included the ascendancy of big box stores and the giant outfitters, Bass Pro Shops and Cabela's, combined with shortened fishing seasons, reduced bag limits and stressed fisheries. Putnam's continued success is a testament to his perseverance and adaptability and to his adherence to principles Capt. Put tried always to observe: Work hard, treat customers like good friends and charge them a fair price.
I met Capt. Put in 1985, while a reporter for the Panama City News Herald. The captain, in those days, conducted a weeklong, total-pounds shark tournament that was inspired by the movie, "Jaws." I had been assigned to cover the carnage, which would be unthinkable today, and approached Put in hopes that he might put me on a participating vessel as an observer. He kindly did so, and I bore witness to the landing of a 325-pound hammerhead that made for good copy.
Then, people went fishing to put meat on the deck and paid for their charters by selling their catch.
"Today, it's about the experience," Putnam said. "If you're a captain and you can't tell your party about the ospreys they see inshore or the dolphins and flying fish they see offshore, you're lost. I don't sell fishing tackle anymore so much as I sell a lifestyle."
A lifestyle whose signatures are Columbia guide shirts, Sperry deck shoes (and they aren't your dad's Topsiders), YETI coolers and titanium/steel Van Staal reels that sure do look swell, even if you aren't catching anything.
Putnam still sells live shrimp, but he is surprised, sometimes, at the containers that his employees pour them into.
"We've got a plastic five-gallon bucket, here, that we sell for $19.99," Putnam said while shaking his head. "Who would have believed that people would pay 20 bucks for a bucket? The only difference is that it has a rope handle on it that is more comfortable on your hand than a plastic strap. I saw a guy at the counter the other day who had three of them."
You won't catch me with a Mercedes Benz of a bucket, but I do appreciate people whose enjoyment of the outdoors or the water has more to do with the environment than the harvest.
Residents of and visitors to the northern Gulf coast are privileged to immerse themselves in some of the most beautiful settings anywhere, and we should do so respectfully, recognizing that the natural world's capacity to persevere and adapt is not without limit.
See you on the outside,
Steve Bornhoft
sbornhoft@rowlandpublishing.com
---
Are you passionate about Northwest Florida coastal living? Share your story by using #inspiredEC.