Living the Good Life
Sandestin Offers Coastal Lifestyle Homes that Suit Nearly any Budget, Style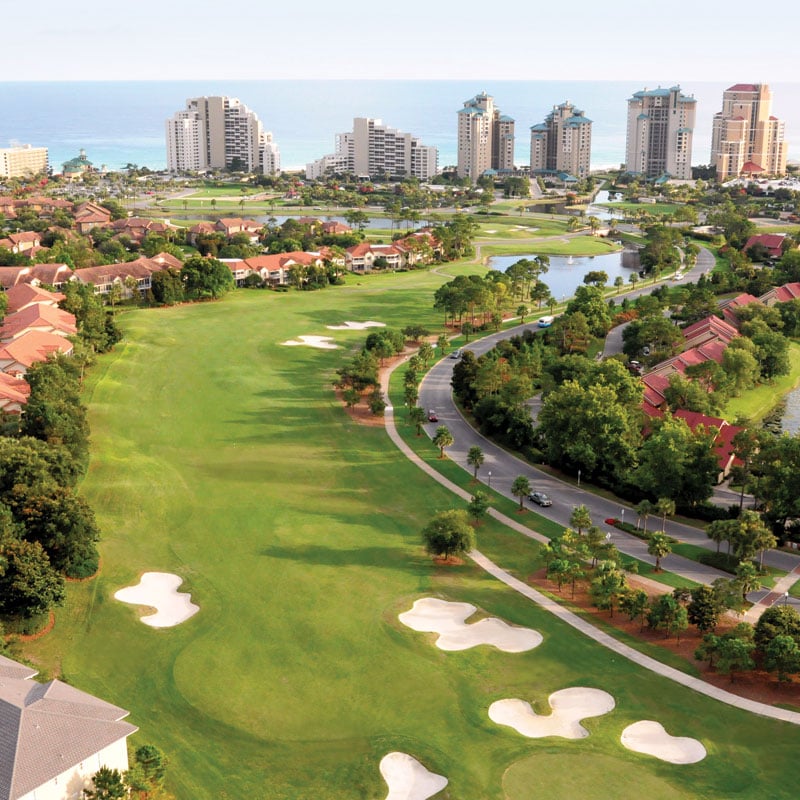 With nearly 72 distinct neighborhoods along with quaint shops, charming eateries and family-friendly recreational amenities galore — all within its scenic 2,400 acres — some say Sandestin Golf and Beach Resort is like its own little world. The diverse range of properties on the market means there is likely something in Sandestin to suit your budget, taste and lifestyle, allowing you to live the dream of homeownership in one of the premier resorts in the Southeast. Imagine it. Owning a home in Sandestin is like being on vacation every day.
Photo courtesy Sandestin Golf and Beach Resort
The Village
Choose Your View
From the shores of the beach to the tip of the peninsula on the bay, the resort is a little less than four miles long. It's large enough for a 26-mile bike ride along lushly landscaped bike paths, but not so large that you don't have a close-knit sense of belonging in the community.
Sandestin Real Estate, which is the exclusive realtor for this community, groups homes into four different areas: Beachfront and Beachside, both on the south side of the Sandestin; Bayside (east and west); the Village on the Choctawhatchee Bay, near the resort's center; and Burnt Pine on the north side. Each area has its own personality, architectural style and a wide range of price points. In fact, the highest home is not on the beach as you might expect, it is in the prestigious neighborhood of Burnt Pine. It's important to review all the options when considering a home purchase here, so you do not overlook a hidden gem.
If you are looking to put your toes in the sugar-white sands of the Gulf, consider the mid-rise towers directly within the Beachfront area. Beachside I and II and Westwinds offer two and three-bedroom condos, while Southwinds II and III feature four-bedroom condos. The area is also home to Sandestin Beach Villas, unique five-level townhomes boasting four bedrooms.
Beachside is just a stroll from the beach and features spacious two-, three- and four-bedroom townhomes with sweeping golf course views, as well as low-rise and mid-rise condos and even serene lakefront homes that are within steps of the beach. Both Beachfront and Beachside are near waterfront dining, Baytowne Golf Club and a green area that includes a fun miniature golf course called the Dunes.
The Bayside area offers pretty views of Choctawhatchee Bay, Horseshoe Bayou and the Baytowne Marina. Here you find single-family homes, cottages and villas on quiet streets lined with palmetto and cypress pine as well as homes nestled along the Links Golf Course. The Player's Club affords panoramic views of the bay with the convenience of condo living. In addition to the Links Course, the Bayside area is near the Sandestin Salon & Spa, a golf shop, family-friendly dining, the Baytowne Marina offering even more dining, a five-acre nature park and arguably one of the best sunset views on the Emerald Coast.
The Village puts you in the heart of it all. This quaint waterfront hub located along the peaceful Choctawhatchee Bay, is reminiscent of an old-world village, but with modern day charm. Dozens of quaint shops, charming eateries, lively nightspots, festive family attractions and a pet-friendly Events Plaza makes for a vibrant happening scene all year long. The Village architecture was inspired by great cities such as New Orleans and Charleston. Here you find charming one-, two- and three-bedroom condos with welcoming shell-lined walkways connecting eight distinct properties, many with spacious verandas and lush courtyard gardens.
If the Village lets you be in the center of it all, then Burnt Pine allows you to get away from it all … and in grand fashion. Nestled along the Choctawhatchee Bay on a championship course designed by Rees Jones, Burnt Pine is a private, gated community on the northern side of the resort which features large land lots, a state-of-the-art fitness center, an exclusive golf club with fine dining and some of the most stunning homes and estates on the Northwest Florida coast.
Something for Everyone
If you thought Sandestin was out of reach for any reason, give it another look. According to Kitty Whitney, executive director of Sandestin Real Estate, now is the time to buy. "The market has settled in. Though demand to live here is high and inventory is lower than it has been in six years, there are still 278 residential listings and 60 land lots available throughout the resort community."
Sandestin's long list of real estate options makes it attractive to a broad range of buyers. "Whether you are a young family starting out looking for a first home, a retiree who has emptied her nest looking for a second home or from a long line of Sandestin lovers who have vacationed here for many generations looking for just the right investment property, the joy of living at the beach with the many conveniences of a resort lifestyle is definitely within your reach at Sandestin," Whitney says.
With studio condos priced from $90,000, $300,000 lakeside villas, three-bedroom, two-story homes at $600,000, luxury second homes at $1.5 million on up to $5 million sprawling bayfront estates, there is surely something for nearly everyone's budget in Sandestin. Add to that the endless list of amenities, conveniences and homeowner privileges, and Whitney will tell you the price per square foot for a Sandestin home is "priceless."
For this real estate executive it's hard to put a value on where we choose to live. "Living in Sandestin is all about lifestyle," Whitney says. To that we say, here's to buying into the good life.