Link Up: The Orchestra Sings
2,400 Elementary School Students Perform with Sinfonia Gulf Coast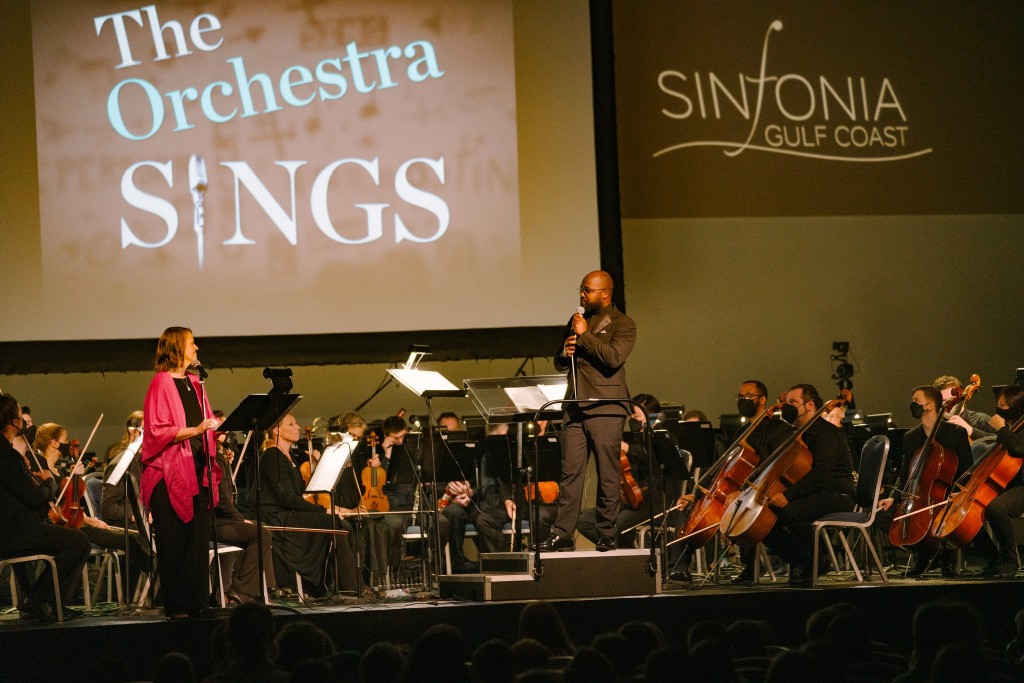 "It was awesome. It was great to have Sinfonia interact with the kids," spouts Michelle McKain, a Freeport Elementary School teacher who escorted her 20 students to the Destin-Fort Walton Beach Conference Center on March 9 for Sinfonia Gulf Coast's annual Link Up concert.
Link Up is a national program associated with prestigious Carnegie Hall. Orchestras across the country and around the world "link up" students with an interactive orchestra experience. The program introduces students in grades three to five to the orchestra through a school-year long curriculum in which they learn to sing and play the recorder in the classroom before performing with a professional orchestra, as well as learning music history, theory and notation.
McKain's Wildcats and more than 2,400 other third, fourth and fifth graders from Okaloosa and Walton counties schools boarded nearly four dozen yellow school buses to venture to Fort Walton Beach to participate in the special live concert.
Third-grader Alyssa Niblet agreed with her teacher. "It was really fun," she said. It was worth the hard work and the wait. She figures she has practiced her "yellow belt" recorder for at least a month in preparation for the "big show."
Eleven-year-old Jason Johns, a fifth-grader at Baker School, couldn't agree more, except on one count — the amount of practice. "It's been like three years now. It feels like three years. We've been practicing the whole school year," he said.
Johns wasn't intimidated by the crowd, the stage or all the excitement. After all, he's experienced. This Gator got to perform in Link Up when he was a third-grader. He expects he'll keep playing the recorder because he likes music, especially rap. Some of his favorite rappers are Ice Cube, Eminem and Tupac [Shakur].
This year's theme was "The Orchestra Sings." The Sinfonia Gulf Coast orchestra, led by assistant conductor Aaron King Vaughn, accompanied by several professional singers, took to the stage to show (versus tell) the audience of excited elementary school students just how the orchestra sings.
They started by introducing the conductor as "the leader" and then the orchestra — the strings, woodwinds, brass and percussion.
The orchestra played Variations on a Shaker Theme to demonstrate how the same piece of music changes when you perform it "faster, slower, louder or softer." Afterward, Vaughn explained how a melody is one of the universal elements of music, saying, "A great melody creates a mood. It conveys an emotion. Like this one …" he then led the orchestra to softly play New World Symphony by Antonín Dvořák.
Vaughn explained to all the young musicians gathered the importance of the part they play. "It's up to us — the musicians — to bring life to the notes," he said.
After hearing the story play out with Stravinsky's dramatic finale from the Firebird, it was time for the attentive young players to play their parts. Vaughn's baton signaled the orchestra to boom Beethoven's Ode to Joy. The lead singer on stage encouraged everyone to hear the "sweeping contours, deep meaning and catchy lyrics."
Soon after, Langston Hughes' funny lyrics To Make Words Sing put smiles on faces. The tune playfully explains the fun work of words with lyrics like, "To make words sing is a wonderful thing, because words last so long … so long … so long."
But before they said "so long" to the Sinfonia orchestra, this year's Link Up learners had a chance to dance, sing and play Jim Papoulis' spirited Spanish song, Oye!, as part of the finale. At this point, everyone was on their feet with hands in the air, performing choreography as one large orchestral celebration of music … and fun.
When you attend a concert or donate to Sinfonia Gulf Coast, you fund music education programs like Link Up. As a member of the Treble Makers, you receive reserved seating at this special concert that not open to the general public. For more information, visit SinfoniaGulfCoast.org.