Meet Aaron King Vaughn Sinfonia Youth Orchestra Conductor
Building a Sense of Community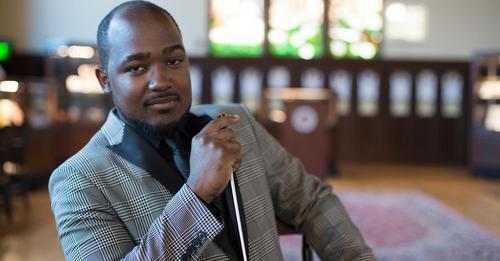 Music was a big part of Aaron King Vaughn's family life growing up in Tallahassee. His grandfather was a voice professor at Florida Agricultural and Mechanical University (FAMU) for 50 years and his grandmother was a concert pianist.
It's not surprising to learn this curious and passionate music-lover asked his mother to play the violin at age four.
Now 29, Aaron King Vaughn is music director and conductor of Sinfonia Gulf Coast's Youth Orchestra.
He performed in middle school orchestra, but the Tallahassee Youth Orchestra was his first experience in a full orchestra. Something he pulls from in his current role, which he has held since August 2019.
"I can sympathize with my students," Vaughn says. "I've played the same type of music.
I try to keep that in the forefront to make sure I'm catering to their needs."
Growing with Sinfonia
Vaughn was first hired as an interim music director and then promoted to his current role by Demetrius Fuller, Sinfonia Gulf Coast music director & artistic director.
"I've learned so much working for Demetrius and Sinfonia," Vaughn says. "This has been an incredible opportunity for me to grow and I'm looking forward to creating many more memories with Sinfonia."
After studying music education at Florida State University (FSU), Vaughn went on to earn a Master's degree in orchestral conducting under Dr. Alexander Jiménez.
"That's when I made the connection with conducting," he says. "That experience really helped to grow my music."
He Has the Chops
During his time at FSU he served as assistant conductor of the acclaimed University Symphony Orchestra, the University Philharmonia and served as music director of the Campus Orchestra. In 2019 he was named a Chicago Sinfonetta Project Inclusion Freeland Conducting Fellow, has been invited to the PRISMA Conducting Fellowship, the international Institute for Conductors and was an assistant conductor for the National Repertory Orchestra.
Last July he traveled to Valencia, Spain, as one of 25 musicians selected to compete in the City of Music International Orchestral competition.
All to say, he has great conducting chops.
In addition to violin, he plays all string instruments, piano and percussion.
But this musician's playlist extends way beyond classical.
"I love all music," he says. "When I'm in the car I turn on the radio and listen to rap, hip hop R&B, jazz and country, too."
When he's not making music, Vaughn likes to listen to podcasts, read, play chess and work out.
"I like to stay up to date with current events and what's happening. I like to learn," he says.
One thing this conductor has learned, is that his love of music is steeped in "its ability to bring people together to create something they couldn't do alone … music's ability to build a sense of community."
Inspired by Youth
Vaughn relishes working with young people.
"When they get it, you can see the light bulb come on. It's special. It's powerful," he says.
According to this enigmatic conductor, waving a wand for a living is, in fact, magical.
"Conducting is a mysterious type of artform," Vaughn says. "Audiences probably see this guy in front making these gestures and may not understand his relationship to the orchestra. It's simple, but also extremely complex. What I love most about it, is the ability to not say words to a group of people and convince them to play music a certain way. The energy of the conductor—your personality and charisma—goes through to the ensemble and then informs the group on what you want. It's always challenging me, because it's about relationships, and I'm always learning."
Currently, the Sinfonia Youth Orchestra has about 30 middle school and high school strings, winds, brass, and percussion musicians. They perform about twice a semester in both small ensemble groups and as a full orchestra. They have an annual holiday concert and perform at public venues such as the Bop Hope Village and Destin Commons.
The Sinfonia Gulf Coast Youth Orchestra also serves a real need for emerging musicians. It is one of the few homes for sting players.
"There are bands, but no schools in Okaloosa or Walton cater to strings," Vaughn laments. "We want those students to know we're here. Right now, we are the real opportunity for strings."
You Can Play A Part
Vaughn welcomes the community to play a part.
"We welcome support because these opportunities are getting slimmer and slimmer," he says. "Our Youth Orchestra is more than just a place to play your instrument with those who are like-minded, it's a place to grow, create community, and an open space for students to express themselves."
Save the Date!
You can hear Aaron King Vaughn conduct Saturday, March 12 at 7:30 p.m. at Destin High School. He will lead the orchestra in a Classical Connections concert including Igor Stravinsky's The Soldier's Tale complete with theatrical narration by actor Bruce Collier and W.A. Mozart's whimsically charming Symphony no. 29 in A Major. More details here.