Lighting Makes All the Difference in the Way a Home Functions and Looks
In a New Light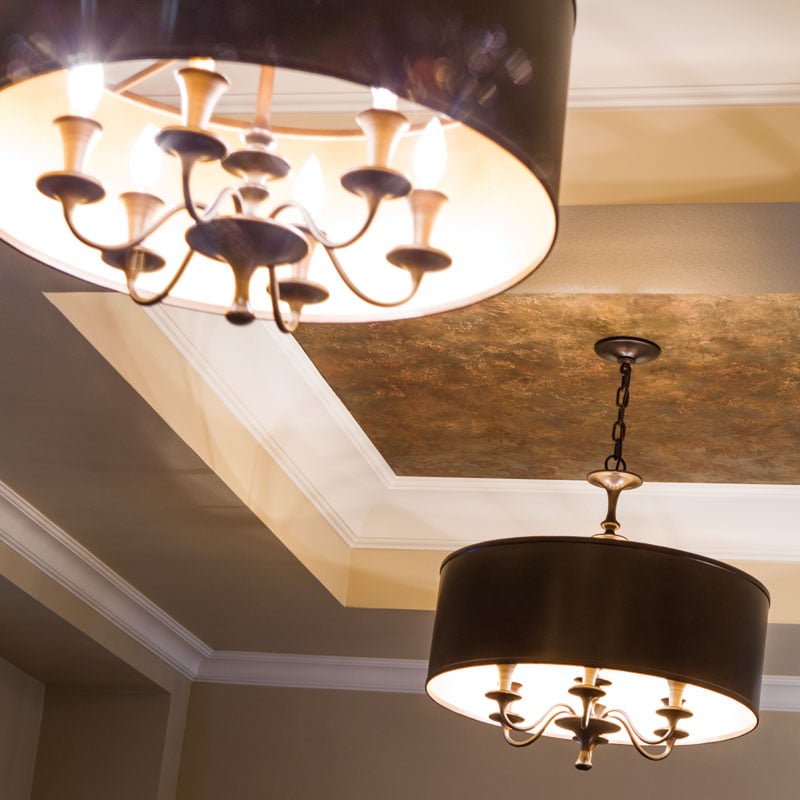 The chandelier dims gradually and spotlights zero in on a table, dramatizing a floral centerpiece and casting dazzling reflections from silver candlesticks, cut crystal and elegant china. Then, a hidden spot lights up an indoor tree, washing an end wall with leafy patterns.
No, this is not curtain time at the Seaside Repertory Theatre. Rather, it's party time at a home planned by an expert lighting designer. But it's definitely a show and very representative of home lighting today.
"Take your pick: crisp highlights, moody shadows, bold strokes and soft washes," says Cara McBroom of Lovelace Interiors in Miramar Beach. "Or mix them together. The fact is that lighting makes all the difference in the way a space is perceived. It can make a small room look open and airy and a large room comfortable and inviting. It can create a stimulating atmosphere for a night of entertaining or relaxing comfort after a long, tiring day. Yet lighting is one of the least expensive remodeling and decorating options, and it's a shame that more people don't grasp its importance."
A Complicated Discipline
Katie Powell, president of Beautiful Lights in Destin, agrees that the role of lighting is vastly underestimated.
"Of all the design disciplines, lighting is the least understood," she says. "The gloom in a badly lit room will probably be interpreted as a vague depression rather than the design problem that it really is. You could sit on a $12,000 down-filled sofa and never be comfortable if the lighting isn't good. And when people talk about a 'cozy' room, it has nothing to do with rose-sprigged fabric. It has everything to do with wonderful lighting."
However, both Powell and McBroom admit that it's easier said than done to properly light a home. In the average room you need four to five different light sources. The decision process plus the enormous variety of products can make anybody's head swim, and the many new competitors to the familiar incandescent bulb add to the confusion.
Planning Lighting
The American Lighting Association, a national trade organization, reminds us that since lifestyles differ, there's no such thing as a lighting-fits-all scheme. Identifying the activities that occur in each room, such as reading, food preparation and homework is the first step. Then you have to identify the mood you want to create, decorative elements to be emphasized and multi-purpose areas that'll require more than one type of lighting. 
As to be expected, architects, designers and lighting consultants advocate meticulous whole-house lighting plans, and the bigger and more complex the systems the more they recommend seeking the help of a professional. McBroom says this is true both in new construction and remodeling projects.
"Too often, people will tell an electrical contractor to just put in some high hats and connections here and there," she says. "That's too bad. Lighting is a basic, not an afterthought." 
The Tech Factor
"That's especially true today when so much new technology is coming on stream," adds Scott Allen of Innovative Sights & Sounds in Santa Rosa Beach. "The 'smart house' is definitely here. In new construction, three out of every five homes feature 'smart systems' that'll let homeowners pre-program such scenes as 'welcome home,' 'party time' or 'homework' and control all the lights from their computer or a central panel."
Thanks to new technology, daring homeowners can also bring the chromatic span of sunlight into play, making the walls the canvas of such effects as a day on the beach. With a tap on the remote, the changing light is captured, from the incandescence of morning to the magenta glow of sunset. Engineers claim that millions of "environments" are possible. 
LEDs are already making the transition to decorative lighting and OLEDs, thin sheets that produce lighting in commercial applications, could soon make their debut in the home. The possibilities are dazzling. Examples include windows that make their own light after sundown, luminescent backsplashes and walls, and structural columns that become cylindrical lights. 
Designing With Light
According to Powell, there are four types of lighting, and you'll want to use all of them to create balance in a room. 
The first is task lighting, which creates bright illumination on a small area. It may be provided by recessed or track lighting, pendants and portable desk and floor lamps.
The second is ambient lighting, which radiates a comfortable level of brightness without glare and lets you see and walk about safely. There are many ways to provide ambient lighting: chandeliers, recessed or track lights and wall or ceiling-mounted fixtures.
Accent lighting is used to focus interest on paintings, sculptures and other treasures. It can also be used to highlight the texture of a stone or brick wall and window treatments. It can be provided by picture lights, track lighting and recessed or wall-mounted fixtures.
Finally, there's decorative lighting, a category consisting of fixtures that draw attention to themselves as objects. Examples are chandeliers, strip lights, pendants, fiber optics and candles, both the conventional kind and electric ones. Fine examples of fixtures that are pure eye candy can be seen at Fusion Art Glass, which has galleries in Seaside and in Grand Boulevard in Miramar Beach. They are luminous sculpture in lovely colors, sure to become focal points in any room.
Bye-Bye, Mr. Edison
Government has long since tried to sentence Thomas Edison's incandescent bulb to oblivion, advocating the transition to fluorescent lighting and the much-ballyhooed Compact Fluorescent bulb (CFLs.) 
Both alternatives are causing considerable angst among homeowners. Kitchen designers report that clients' faces fall at the thought of fluorescent lighting. Though designers say that the color of fluorescents has improved a lot, homeowners still worry about looking like descendants of the Jolly Green Giant when they cook the pasta. As for the CFLs, their mercury content classifies them as toxic waste, making them ineligible for ordinary disposal.
Fortunately LEDs and halogen lighting have made giant strides and are proving excellent alternatives to the old-fashioned bulb. The American Lighting Association calls a 72-watt halogen incandescent the best replacement for a 100-watt conventional bulb, and what's not to love about LED light bulbs? Using solid-state technology, they allow dimming, are cool to the touch, shock-resistant and extremely durable. Well, there's the admittedly high price. However, while the standard incandescent bulb lasts 1,000 hours and the CFLs about 8,000 hours, the LED bulb comes in at 25,000 hours or more, which makes it cost-effective in the long run.  
And then there are the OLEDs to look forward to. That's truly technology that's, well, light years ahead of Mr. Edison's invention.