Life Coach and First Time Author on Taking It Day by Day
Amy Meyer says, 'Listen … do your best … and let the rest go'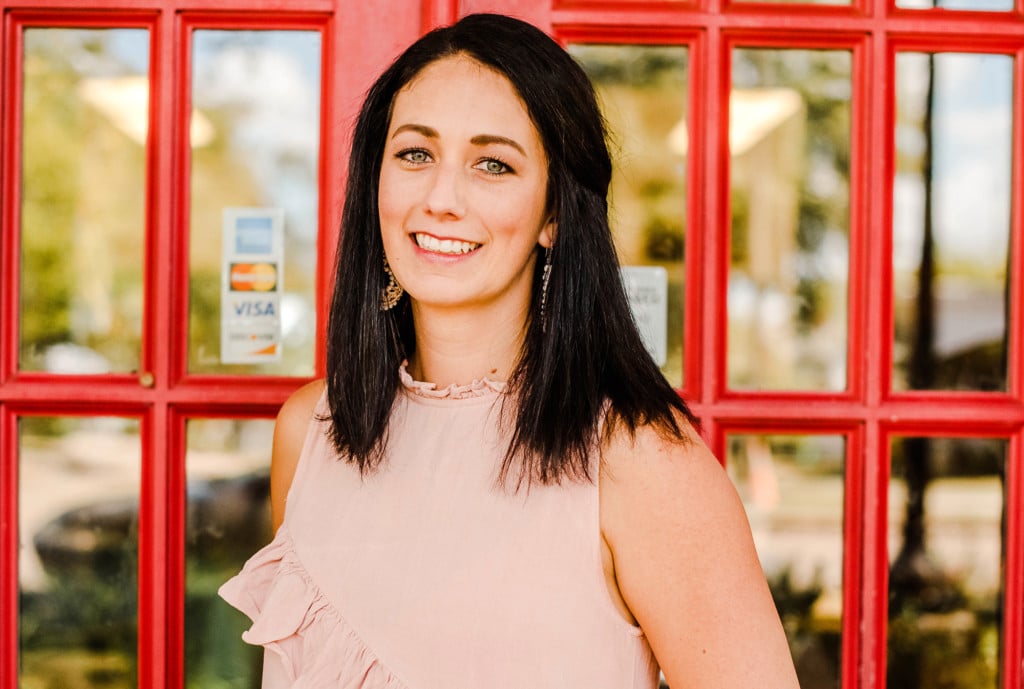 After a series of unexpected life-altering events, including her husband's open-heart surgery and the loss of her beloved dog of 11 years, Amy Meyer, the full-time working mother of two children under 2 (at the time), was inspired to begin her own healing and wellness journey in the fight against postpartum depression and anxiety.
"I hit rock bottom. There came a day when I didn't recognize myself," Meyer, a striking 37-year-old brunette with pale eyes says. "I struggled with perfection. I was that person who needed to check every box. I essentially lived for others."
Meyers, who makes her home in DeFuniak Springs with her husband, Bryan, and their two girls, and two pets (a dog and a cat), set out to relieve the pressures of marriage, motherhood, career, society — all compounded by prying eyes of pervasive social media.
It took her three years, but Meyer let it all go.
"I gave myself grace," she says.
During the process, she inadvertently compiled her first self-published book, "Day by Day: A Creative Guide to Living Your Best Life with Clarity, Intention & Flow."
Meyers describes her book as a "compilation of tools" that have helped her during her journey of "self-discovery, self-love and soul-level healing."
The first-time author says the book is designed as a creative guide/journal to guide the reader on a four-week journey.
It is filled with undated pages, weekly challenges and check-ins, "deep dive" journal prompts and blank pages that allow the reader to "focus inward, plan and begin the day in gratitude."
There also are graphics of positive affirmations intended to be coloring pages.
"It can be customized and used however the reader feels led," Meyers says. "That's the beautiful part about it, there are no rules. If one doesn't feel like writing, she may want to draw, doodle or even skip the day."
Working as a life coach has shown Meyers she is not alone. "I know so many women who struggle with the things I did (and sometimes still do). I wanted to give women a space to create habits, share their deepest desires without judgement … learn to tune in to their soul and/or higher power to create a life of intention."
Meyer's intention with "Day by Day" is to give the reader options.
Comprehensive completion of the book is not intended to be the goal; but rather, it's a sense of being aware and focused in the present and eventually to be empowered to begin progress toward personal goals.
"It's about taking things day by day," Meyer explains before a book signing event at Emerald Coast Wine Cellars in Miramar Beach.
"When people ask me for advice, I say, 'Listen, get still, trust yourself, just be you. Do your best, and let the rest go.' "
Meyers, who describes herself as a creative entrepreneur, holds a BA in communications and public relations from the University of West Florida.
Over the past 15 years, she has developed brand messages and strategic planning for government organizations, entertainment companies and corporate businesses.
Currently, she works as a photographer and has a life coach consulting business called The Soul Shine Collective.
She says the mission is to "inspire others online to live their best life through challenges, coursework and workshops that can be utilized in both personal and professional settings."
Meyer plans to write another book, but in the meantime, when she has free time, she tries to live her own words by spending time with her family, working out, writing or "doing something creative."