Letting The Good Times Roll
Beyond bourbon: Jazz, jambalaya and a whole lot of soul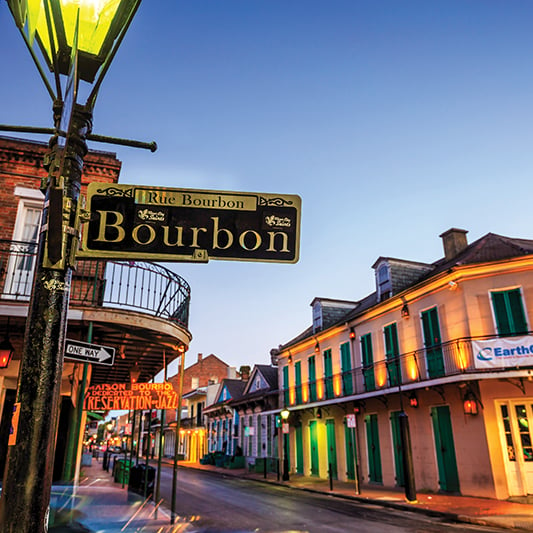 Sitting hunched on an overturned bucket, Ricco Rideaux used staccato motions to brush inky black paint over a canvas. Lines and strokes resulted in a picture of a skinny trumpet player emitting music into the moonlight.
As I took in the beautiful simplicity of Rideaux's work, I listened to him tell his story to a customer. He wakes each morning and hauls his artwork to Jackson Square, where he sells jazz artists' silhouettes on primary-colored backgrounds. He knows his market and makes enough money selling his art to support himself, financially.
Rideaux is a self-taught artist who has found success in his art form. Like many people in New Orleans, he spends his days making everything out of what could have been nothing. Trial, tribulation and turmoil are deep-seeded in this city's history; but each time New Orleans rises, it is more vibrant, more resilient and more alluring than ever.
Rideaux brandished a marker and signed the painting. It's just one way he leaves his mark on this city, which makes its own mark on every person who visits.
Acing 'The Stay' 
This was certainly not my first trip to New Orleans, but it was my first to appreciate the culture outside of Bourbon Street, which is a culture unto itself. It was also the first time my boyfriend had ventured outside of Bourbon Street. We craved an experience that spoke to the history, the culture and the arts that founded New Orleans. But before we embarked on a wider tour of the city, we partook of a "hand grenade" and strolled the length of Bourbon Street — obligatory acts when one visits the Big Easy.
Our landing place was the Ace Hotel, which offered an eclectic and eccentric embrace of art. The lobby is like walking into a hotel from another time: black-and-white checkered floors; dark, wood-paneled walls; and, directly to your right, a beautiful bar with gold accents. Cozy couches and patterned rugs invite visitors to sip a libation or settle in with a coffee from the on-site Stumptown Coffee shop. The palette for each room is black and white with standout pieces that present color and character, such as ornate oriental rugs, vivid paintings on the closet doors and a more-than-well-stocked mini bar. Some rooms are even graced with guitars ready for strumming.
We arrived earlier than we had expected, so we took a stroll around the neighborhood, which was lined with trendy boutiques and street cafés. With smells wafting down the street and a few hours until our dinner reservation, we couldn't resist an appetizer of calamari and, to our fortune, half-price wines. With a trolley passing by and jazz music in the background, it was a nice way to ease into the city before we fully immersed ourselves the next day.
Our dinner was much anticipated, as it was to be at the highly regarded Josephine Estelle inside of the Ace Hotel. The menu at Josephine Estelle is inspired by multiple courses, which are becoming popular at fine restaurants. First, we would enjoy an appetizer, then a pasta dish, then a protein and finally, dessert. We began with the meatballs, which were hearty and rich in flavor. Diners who adore cheese would do well to try the bucatini pasta. For those who crave a fancier version of Mama's chicken soup, try the tortellini filled with roasted chicken and served in a savory broth. It was, in fact, good for the soul. The cobia — a light-but-filling fish — didn't disappoint this seafood lover. It was accompanied by broccoli rabe and marinated in lemon, garlic, chives and roasted chicken jus. We capped off the night with a chocolate and peanut butter concoction and a nightcap, called Leaving Through the Window: Irish whiskey, Amaro CioCiaro, Stumptown cold brew, lime and mint.
After dinner, we ascended to the rooftop bar and pool to enjoy an expansive view of the cityscape, which was pinpricked by silver light coming from the buildings all around us. It was easy to imagine bodies swaying in too-tight bars and brass beats filling the empty spaces. Tomorrow, we would embark on our exploration!
Oysters and Carousels 
At morning's break, we decided to take in the same view that we had enjoyed the night before, this time with coffee. Stumptown's coffee gave me a buzz; but to be honest, I was already excited about Seaworthy, an oyster bar on the Ace Hotel campus. Like one of my favorite writers, Hemingway, I have an affinity for the briny bivalve.
Seaworthy was my kind of place: rustic stone walls, polished black leather upholstery, marbleized table tops, a variety of lighting fixtures, black-and-white photos in mismatched frames and a quaint and intimate courtyard where we were seated. New Orleans does know a thing or two about a good courtyard setting — something most people can appreciate.
Oysters were in order, of course, and a variety from regions of Louisiana and Alabama were beautifully presented. I lifted each shining, supple morsel from its crusted shell and reveled in the varieties of subtle flavors: a tinge of sweet, a wave of briny and an undercurrent of the cold, crisp sea. Paired with Campari and in good company, I could have stayed in the moment in which I took my first bite for much, much longer. But the moment passed, as all moments do — and usually into the next enjoyable experience.
After brunch, we headed into the heart of the city, which was only a five-minute drive from the Ace Hotel. We strolled along the Mississippi River — a ribbon that connects much of our country as it flows through 10 states — and reflected on its mass. Then we crossed the trolley tracks to Jackson Square, the pulse of the city.
We meandered, letting our eyes appreciate the talent of the painters and other artists who surrounded the square. This is where we met Ricco. We listened to tap dancers' handmade shoes clapping on cobblestone, teenagers collecting dollars for steady beats they percussed on buckets and paint cans, and to a jazzy "second line" passing by in their wedding day parade. We smelled the warmth of horses and gave them a nuzzle before proceeding on. To us, the city was meant to be walked.
Our next stop was at Café Dumond, which is the very best place to sample powder-dusted beignets and rich, earthy chicory coffee. Neither tastes as good anywhere else.
In the French Market, we explored stall upon stall of handmade trinkets and edible delights. Venturing down side streets is the best way to see historic homes, with their intricate wrought-iron balconies and cheery colors, in this area. My favorite street is Royal, which boasts some of the swankiest dining, shopping and hotels in the city. Brennan's, Mr. B's, The Court of Two Sisters and Pere Antoine are must-visits for those who wish to be exposed to a variety of fine cuisines.
With its vast white columns and uniquely French design, the Hotel Monteleone doesn't go unnoticed; but the real vision is the carousel bar inside, which does, in fact, slowly revolve. The hotel is steeped in history. It was a favorite haunt and source of inspiration for writers Ernest Hemingway, William Faulkner, Truman Capote, Tennessee Williams and more who drank, dined, slept and, of course, wrote there. By writers or others, the hotel is also supposedly one of the most haunted venues in the city.
Tours, whether of the ghost, history or horse-drawn variety, are almost essential for first-time visitors to New Orleans, as they will provide a wealth of history and facts about the city.
Gettin' Down in New Orleans 
No matter where you choose to dine — and yes, there are plenty of restaurants and cafés to choose from — eating foods specific to New Orleans is a must. Some, if not all of the following, must be sampled (which we did): gumbo, jambalaya, Andouille, crawfish etouffee, muffuletta, a po'boy, red beans and rice, oysters, bananas foster and pralines. The food is reason enough to visit New Orleans, as it is often imitated, but never comparable to eating it in its origin city.
Eat like a local and treat your ears to live music — which is even more of a "locals'" activity. My boyfriend is a talented musician, and I am an appreciator of talented musicians. Frenchman Street was the logical choice.
We did as anyone should do on a brisk night with a starry sky: We walked. Amidst the usual street noises, as we approached Frenchman, we heard voices rising, feet shuffling and, the most comforting of all, music played from instruments, not tracks over speakers.
Before even making it inside of a club, our eyes were caught by the strings of lights illuminating an outdoor art gallery. From photography to jewelry to watercolors to books fashioned into lamps, artists of all mediums gathered at 9 p.m. to display their wares. I felt alive with the creativity of the moment — and possibly the wine from dinner. I wanted to buy it all.
I found myself most drawn to a series of works in black and white that featured members of a second line along with dancing skeletons. A man approached to tell us about the art. He then delved into his own past, which I found all the more interesting. In his past life, he trafficked drugs and served time. Now he sells art for an elderly woman who seldom leaves her house, especially after the daylight hours have passed. I studied the skeletons on the canvas and thought about how we all have them in our closets. We all have our pasts. What's important is what we do with our futures.
With those thoughts running through my mind, we entered Café Negril and joined the throng of bodies swaying, singing and talking close in one another's ears. Everyone there had come from somewhere, but they were there now or in the jazz club next door. We listened to an African-American woman croon, a bass bump and drums create a rhythm. We were in the moment; we created that moment; we were experiencing all that New Orleans is.