LegoLand Florida
Central Florida's newest theme park is a Lego lover's dream park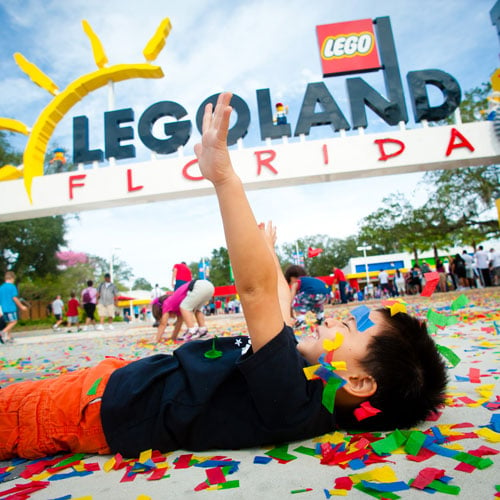 Off the beaten theme park path in Central Florida, 45 minutes from Orlando, a new attraction offers a chance to explore a fun, interactive playground — all inspired by America's favorite toy company.
With more than 50 rides and attractions designed for children ages 2 to 12, Legoland Florida includes three roller coasters, live shows featuring Lego characters and, of course, plenty of merchandise stores to purchase a Lego souvenir. This is the second Legoland park in the U.S. (the other is in Carlsbad, Calif.). This park, which opened in October, is a nice departure from the Walt Disney World and Universal Resort parks. A little shadier due to the tree-canopied paths and more hands-on thanks to the Lego building stations, where kids can enjoy all things Lego while parents enjoy the scenic gardens in the park.
The first stop for most guests is the Factory Tour, which offers a firsthand look at how Lego bricks are made from factory to finish. As they dive into boxes of Lego bricks at the Imagination Zone, kids can customize a vehicle on wheels, race other kids' vehicles and attempt to build an earthquake-proof Lego building, which shakes and quakes to test each kid's masterpiece.
The Island in the Sky, a remnant from Legoland's predecessor, Cypress Gardens, presents a 360° bird's-eye view of the entire park from a 150-foot rotating platform ride.
Feel like you've stepped back into medieval times in Lego Kingdoms, where kids can ride a Lego-themed horse through a number of medieval scenes, or take Merlin's Challenge by climbing aboard a wooden trail ride powered by the wizard's magic.
Miniland USA, a favorite with everyone in our group, is home to famous and recognizable miniature towns from around the country. Stop by Las Vegas, where you can see replicas of the world-famous Strip, including the Luxor Las Vegas, New York, New York Hotel and Casino, Excalibur, Mirage, Treasure Island and even the Eiffel Tower. The details are amazing, even featuring a miniature wedding chapel and monorails and real-life sounds recorded in Las Vegas. In Washington, D.C., stunningly detailed re-creations of the White House (including the first family and "first dog," Bo), the U.S. Capitol building, Smithsonian, Washington and Jefferson monuments are impressive enough. Added to that is an animated marching band which parades in front of the Capitol. New York City features, naturally, the Statue of Liberty, the Empire State Building, the Bronx Zoo and the fountain in Rockefeller Plaza, while battery-operated yellow taxicabs drive and honk in the streets of Times Square. But it's Florida that draws the biggest crowd, especially for Florida locals. Encompassing the entire state, from Mallory Square in Key West to the Kennedy Space Center and an interactive Daytona International Speedway racing experience where guests can race Lego brick cars, you can spot the fascinating details and wonder how long it took Lego engineers to build it all. Northwest Florida natives can take pride in a replica of Panama City Beach's Russell-Fields City Pier, as well as the world-famous white sandy beaches.
An addition to the park slated to open this summer is Legoland Water Park, where guests can wade in the shallow water playground made of Lego-themed water slides, water-shooters and buckets that spill 300 gallons of water into the pool. At the Duplo Splash Safari, toddlers can enjoy shorter slides and interactive-larger-than-life Duplo creatures. At the Lego Wave Pool, families can catch a gentle wave or simply lounge in the sun. The Build-A-Raft lazy river and tube slides are also fun additions. The Imagination Station at the water park features interactive tables. On one, kids can build bridges, dams and cities out of Duplo bricks and test them against the flow of water. On the other, they control the flow of water by creating patterns out of Lego elements.
A must on your checklist should be to get a sweet treat with the Legoland's signature dessert. Granny's Apple Fries, made with crisp Granny Smith apples in the shape of French fries, powdered with cinnamon and sugar and served with a deliciously sweet vanilla cream sauce, make for a delightful snack.
And on your way out of the park (if the kids haven't dragged you there already), stop by The Big Shop, one of the largest retail stores in the world where guests can take advantage of a huge selection of Lego and Legoland merchandise.
We stayed at a gem of a property — Lake Buena Vista Resort Village & Spa, an elegant oasis in the heart of Kissimmee, Fla., about a 40-minute drive from Legoland. The resort has no shortage of amenities most vacationers desire while on a week-long stay. The gourmet kitchen is a big help for those who don't want to go out for every meal, but there is also a plentiful selection of restaurants within walking distance, including the resort's poolside sandwich and snack bar, Lani's Luau poolside bar & grille, Frankie Farrell's Irish Pub & Grille, Pizza Hut and others.
My idea of a vacation is to relax and rejuvenate at the spa, so I can enjoy time with the family afterward. Reflections Spa-Salon, the resort's world-class signature health spa, offers a diverse menu of rejuvenating spa services including: facial therapies, body treatments, massages and more. The Pirate Plunge Pool, complete with shooting water cannons, a water slide, Jacuzzi-style hot tubs, tumbling waterfalls, poolside loungers and hammocks, is a joy on a hot summer's day, and even in the cold winter months since the pool is heated to a toasty 85 degrees year-round. And after a long day walking the theme park, the whirlpool tub in the master suite was a delightful respite for my tired feet.