Leather Pleasure
It's not just for bikers and rockers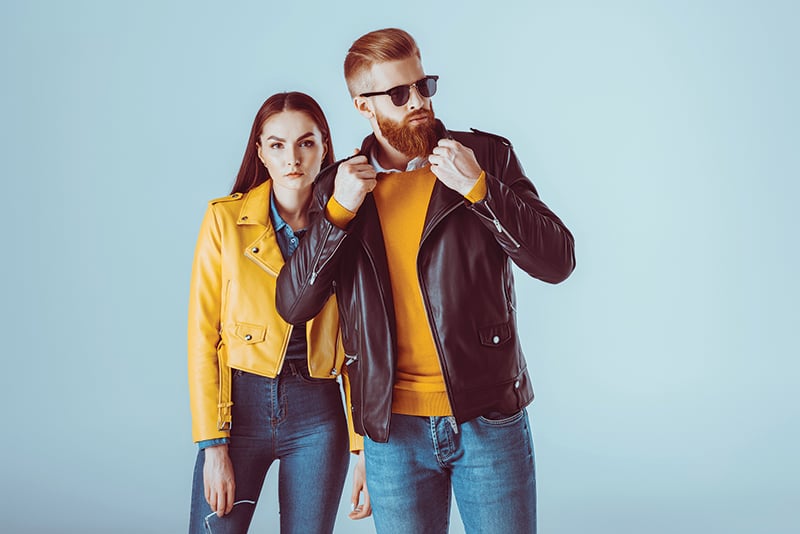 Leather trends aren't just for punk rockers and motorcyclists. With new eco-friendly styles of leather, such as vegan leather, the trend has resurfaced — even in subtropical Northwest Florida.
Laurie Olshefski, the owner of Coastal Casuals and Shimmering Seas in Bay County, said that leather never drops out of sight.
"It's just like animal print," Olshefski said. "There are times where we see animal print less, but it's never truly gone — it always makes an appearance back with new trends, just in different ways."
You don't need to own a Harley or be given to a rebellious nature to wear leather.
Yes, rockers from Guns 'n' Roses to Jimi Hendrix to Joan Jett sported the look, but the Neanderthals got there first.
Those early men would be perplexed that the "leather" often worn today is not derived from animals.
"Especially on the coast," Olshefski said, "we see more vegan leather, and that's led by the consumer. In New York and California, there might be more natural leather stores, but around here, it seems the more preferred leather is vegan and more sustainable. There are many reasons for this, but the main ones are that it's more affordable, durable and politically correct."
For fall, Olshefski said leather trends are popping up in jewelry departments.
"We're seeing that chunky gold chain jewelry that has been popular in the past mixed with leather that is lightweight and made more for a fashion statement," she said.
Leather jackets have long been popular. Leather bombers paired with casual pieces make for the perfect fall outfit to wear when out on the town at night or enjoying dinner with friends.
Olshefski said current trends also include jeans with a throw-back boot-style leg and leather panels up the front of the pant.
"Those pants look really chic, and they're becoming more popular," Olshefski said. "The jeans are faux jeans, so they feel more like leggings, and they're also very comfortable while still being stylish."
Men or women wishing to ease into a leather look might try a leather jacket or leather bomber paired with a basic, neutral-colored top and their favorite jeans.
For men, a leather jacket works well with a classic straight leg or skinny jean with shirts ranging from a band T-shirt to a crisp button-down. While leather pants are less common, some may be prepared to unleash their inner rockstar.
For a ladies' office look, pair leather trousers with a silk blouse or structured blazer. A leather mini-skirt amps up your favorite fall sweater; complete the look with knee-high boots. For a casual look, consider leather leggings, a slouchy T-shirt and stylish sneakers. Tuck a white button-down into a pair of leather shorts for that transition between seasons. For date night, top a sundress or silk slip dress with leather outerwear.
Accessories need not include bandanas or chains, just a dash of confidence.
---
Managing editor Emilee Mae Struss contributed to this story.
---