Laurie Olshefski Talks Being a Retailer and Living Her Brand
Wearing many hats requires lots of outfits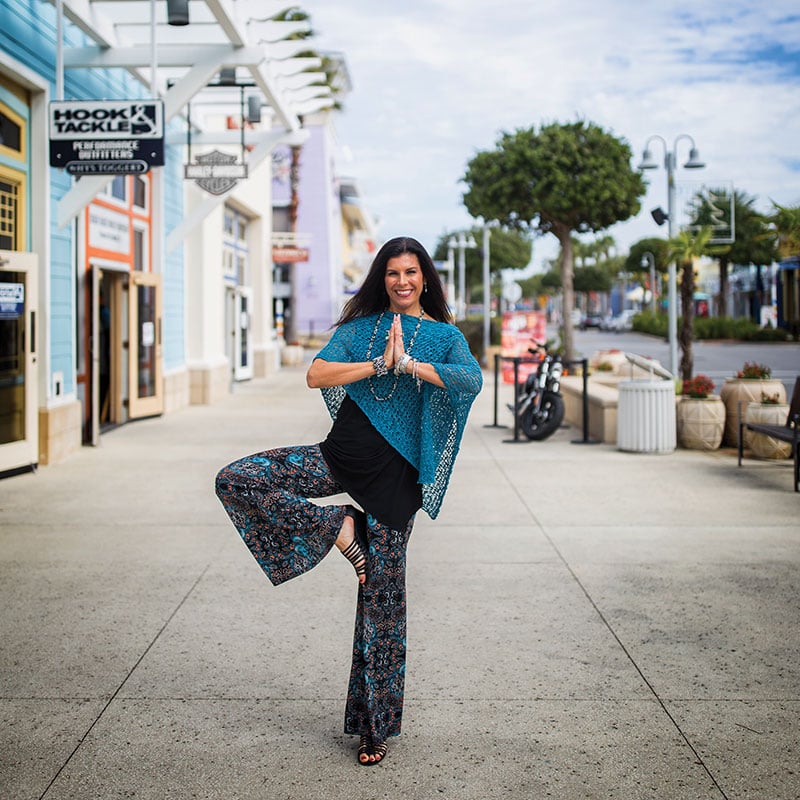 Somehow, I doubt that many people in Panama City Beach have seen Olshefski as anything but on point.
A 2011 recipient of the Florida Retail Federation's Retailer of the Year Award, Laurie Olshefski and her husband John own three businesses: Coastal Casuals at Pier Park, and two Shimmering Seas Jewelry & Gifts stores, one at Pier Park and another at 30Avenue. The mother of two has also been a group fitness instructor since 1991 and teaches yoga at Sequence Fitness.
In 1994, Olshefski stopped working as a naval contractor to go into fashion retail. She and her husband are now both devoted full-time to Coastal Casuals and Shimmering Seas and work actively in the stores. "Being a retailer in this day and age and being a small company — a 'mom and pop' company — you have to wear so many hats." She laughed. "That's why I have so many outfits."
One quality all of those outfits have in common: movement. It's important to Olshefski to be able to move in what she's wearing. "I teach in fabrics that can move in all different directions. I like normal clothes to have that feel, too," she said. She has a preference, too, for flowing colors, paisleys, and prints with swirls and movement. A friend calls Olshefski's style "yogi chic."
Considering Olshefski's business, it's not too surprising that she uses jewelry to add flair to her look. "I'm a 'collections' type of girl when it comes to matching," she said. "I love my earrings and bracelets to go with my necklaces. People notice that."
Next to movement, matching is another key concept for Olshefski. She puts a lot of thought into color schemes and credits the color theory outlined in Color Me Beautiful, the influential 1980 book by Carole Jackson, with helping her dress according to her best color palette.
The book uses a four-season typology to identify the most flattering colors for people based on the undertone of their skin, hair and eyes, as well as overall coloring. "You'll get more compliments if you start wearing the colors in your season palette," Olshefski said. "And if you keep buying in your personal palette, other things you buy start matching. Random clothes or accessories from years ago will match what you just bought."
Though white is great for her skin tone, in Color Me Beautiful terms, Olshefski is a "winter" so best suited to bold shades, black and white, red and jewel tones. She confessed that she avoids white because she tends to spill on it. "Black is better. It makes people look thinner, and if you spill, you can't see it," she laughed.
Olshefski prioritizes clothes that fit her body type well, and keeping things properly covered and with a flattering fit. She asks employees to be mindful of this concern, too. "I'm really funny about lines and making sure things aren't hanging out," she said. "I lead a team of women, and we call our dress code at the jewelry stores 'shimmer code.' We say, 'are you in shimmer code?' We have a style and image that is expected: Dress like a lady with a shimmery, stylish flair."
She thinks about fit and color when choosing what to sell in her stores and said that she would advise any retailer in any part of the country to observe potential clients when they're out having fun, for instance, when out to dinner at a restaurant. "Watch them and see what they're wearing. What would make their body shapes look best? What can they afford? How many skin tones will a color compliment? Sometimes designers will come up with crazy colors, and I'll realize people will hate it because it won't make them look good."
Olshefski credits her mother and an aunt for teaching her the first lessons on style. Her Aunt Donna, a former fashion model and flight attendant, always gave her fashion tips and hand-me-down designer dresses. "Auntie D. has always dressed to the nines," Olshefski said. "My mom has never gone out of the house without makeup," she continued, laughing: "I'm kind of like that too, except when I'm power walking in my neighborhood."
That idea — being put together — emerged several times during our conversation. So did the concept of cultivating a look that communicates her personality, which is high-energy, humorous and fun-loving.
Embodying the look that her businesses represent extends to wearing the brands shoppers will  nd at Coastal Casuals or Shimmering Seas. "I try to wear what we sell and live what we do," Olshefski said. "The thing about it, it's not hard for me because I love it. I'm in business with stuff I love."