Learn to Read Northwest Florida is Helping Eliminate Illiteracy
10,000 people down and many more to go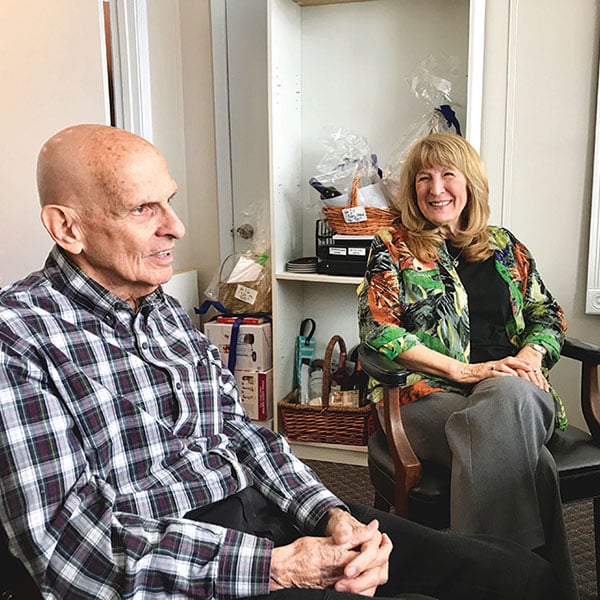 Imagine not being able to read a street sign, a note sent home from your child's school or a label on a bottle of prescription medication.
For roughly 34,000 people across the greater Pensacola area, those limitations — and countless others — are a harsh reality.
Learn to Read Northwest Florida is on a mission to eliminate illiteracy, one person at a time.
Formed in 1984, it's the only organization that provides free, one-on-one adult literacy instruction across Escambia and Santa Rosa counties.
"There is zero money required," said Manette Magera, executive director of Learn to Read. "It's totally free. But we do really want people who will make a commitment to themselves and who will be willing to meet with a tutor."
Because it provides free tutoring, Learn to Read's lifeblood is its hardworking volunteer force: men and women who not only tutor students, but also train the tutors, help run the office and raise money and awareness in the community.
"They are big-hearted, kind people!" Magera said. "Those are the only people who would do this."
Long-time tutor Jim Williams estimates that more than 10,000 people have made their way through Learn to Read since its inception. At present, the group has 85 tutors teaching roughly 100 students. In 2016, Learn to Read saw an influx of new tutors and students, thanks to a $106,000 grant from Impact 100 Pensacola for a public awareness campaign that included TV, radio and print ads.
"We have people who are coming in in their 60s, and we have people in their teens," Williams said. "A lot of times, it's someone who gets behind in school, feels like they'll never catch up and just quits. And then they never learn."
Some students who turn to Learn to Read are from other countries, and English is not their native language.
Williams, who started tutoring in 1992, says illiteracy in and around Pensacola — much of it linked to generational poverty — continues to be more pervasive than many people realize.
"It certainly doesn't seem like it's a problem that's solving itself," he said. "When you can't read, it affects just about everything. Just applying for a job, even. If you have to sit down at a computer and apply for that job, you're in big trouble."
Penny Fendt, a volunteer since 2012 who trains new tutors, noted that illiteracy can often impact the entire family.
"It affects raising your kids," she said. "You can't help your children with school work. You're not interacting with teachers."
Although people who are functionally illiterate are certainly able to adapt by relying on spouses or friends or even technology, they are still missing out on a great deal of what life has to offer, Williams said.
And many people who cannot read get taken advantage of, Magera added. "It's important to point out that even though the people we see here can't read, it doesn't mean they're not smart," she said. "They have the mental capacity. They just didn't get that one tool."
One person whom the Learn to Read team considers an exceptional success story is former student Costella Paige.
In 2005, at the age of 48, Paige saw a Learn to Read flyer in a nearby Dollar General and summoned the courage to walk into the office. A high school drop- out, Paige was struggling to straighten out her life, and she longed to be able to read. "I could read some, but the comprehension wasn't there," she said. "I never stopped at a period, and I never stopped at a comma. … And I was always embarrassed." Paige's  first tutor was Williams.
"He was very encouraging," she said. "I can't give him enough credit. He really wanted to take the time to help me. I had never seen that before!" Three years later, she had earned her GED. She then went on to become a Learn to Read tutor and a member of the group's board of directors, and she wrote her own book. "Reading changed my outlook," Paige said. "It gave me con dence, and it gave me gratitude. I can do anything now!"
When non-readers first arrive at the Learn to Read office, they are asked to agree to a background check and complete a 20-minute reading assessment that helps to determine a student's reading level. Students are then matched with tutors based on criteria including schedules, gender preference and location. Tutors and students generally meet in public places such as libraries, churches and restaurants.
All tutors must complete a one-day training session that introduces the volunteers to the Laubach Way to Reading method, which is used by Learn to Read. Tutors use these multilevel books and workbooks with their students in 1.5-hour sessions twice a week.
"It's a proven method. It's used all over the world, and it works," Magera said. "You really don't have to have any experience in teaching. You just have to be able to follow a recipe."
Williams and Fendt said it's important for tutors to focus on what interests their students. Some students might want to be able to write and send an email, while others might want to get their driver's license or read a novel.
Williams used the student-interest approach with his first English as a Second Language (ESL) student, a Slovakian man named Peter.
"I found out he had built his own house back in Slovakia, and I said, 'Hey, we've gotta go on a field trip to the hardware store!'" Williams recalled. "He just went nuts … He wanted to know what every single thing in that store was!"