Landscapes Go Wild With Flowers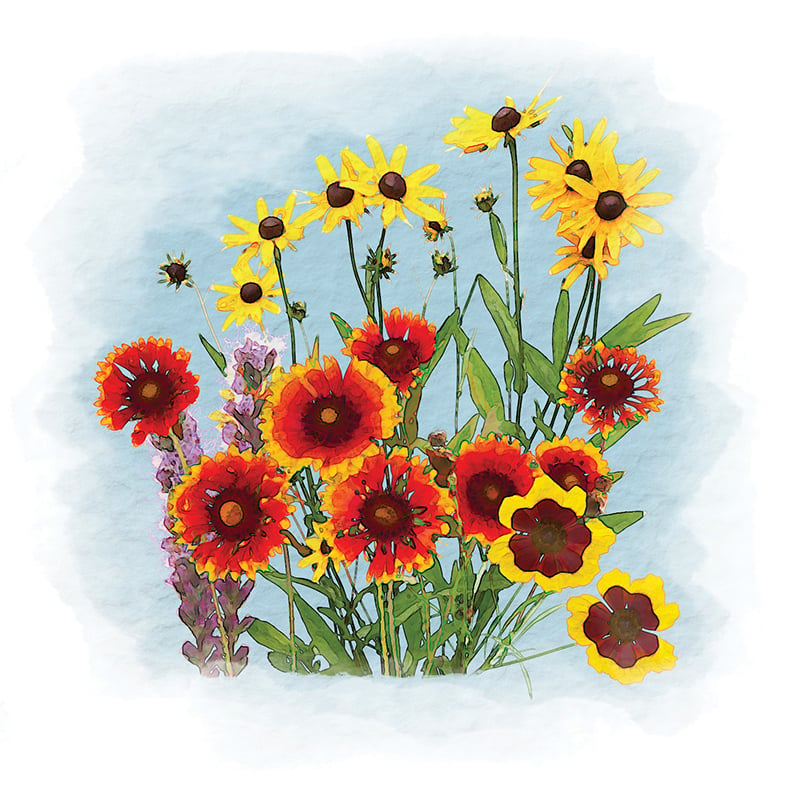 Adding wildflowers to your landscape reaps a multitude of benefits: It provides a habitat for bees and other pollinators; it reduces the amount of water needed to maintain your garden, eliminating the need for fertilizers; and, of course, it beautifies your property. Choose a location with good drainage that gets at least six hours of sun a day, and stick with native plants.
Take Your Pick  Create a new flowerbed using native wildflowers, or add them to an existing bed. You might already have some of these natives in your garden: Milkweed (Asclepias tuberosa), Leavenworth's coreopsis (Coreopsis Leavenworthii), Blanketflower (Gaillardia pulchella), Blazing star (Liatris), Black-eyed Susan (Rudbeckia hirta), Southern bee blossom (Gaura augustifolia) Tropical sage (Salvia coccinea) and Threadleaf coreopsis (Coreopsis lanceolata).
Seed or Seedling  Some native wildflowers are available as bedding plants, but others will need to be grown from seed. The best time to sow wildflower seeds in North Florida is in September and October. Check out the wildflower seed grower cooperative's website, FloridaWildflowers.com, for lists and pictures of wildflowers for your specific area. The Florida Wildflower Foundation website, FlaWildflowers.org, offers lots of practical advice, too.
Go Native  Make sure you're using the native plant and not one of its non-native relatives. For example, Tropical Milkweed (Asclepias curassavica) does not die back in winter; thus, it encourages monarch butterflies to remain in our region rather than migrate south, where they can survive the winter. Native wild petunia (Ruellia caroliniensis) is a well-behaved perennial; non-native Mexican petunia (Ruellia simplex, R. brittoniana, R. tweediana), often available in big-box stores, grows three feet tall and is invasive.
Bee Kind  Stop using pesticides, which kill bees and other pollinators. Most bees and wasps are not aggressive and will avoid you.
©2017 PostScript Publishing LLC, all rights reserved. Audrey Post is a certified Advanced Master Gardener volunteer with the University of Florida/IFAS Extension in Leon County. Email her at Questions@MsGrowItAll.com or visit her website at msgrowitall.com. Ms. Grow-It-All® is a registered trademark of PostScript Publishing.