La Vie En Rose
Dr. Marinella Monk makes music of everyday life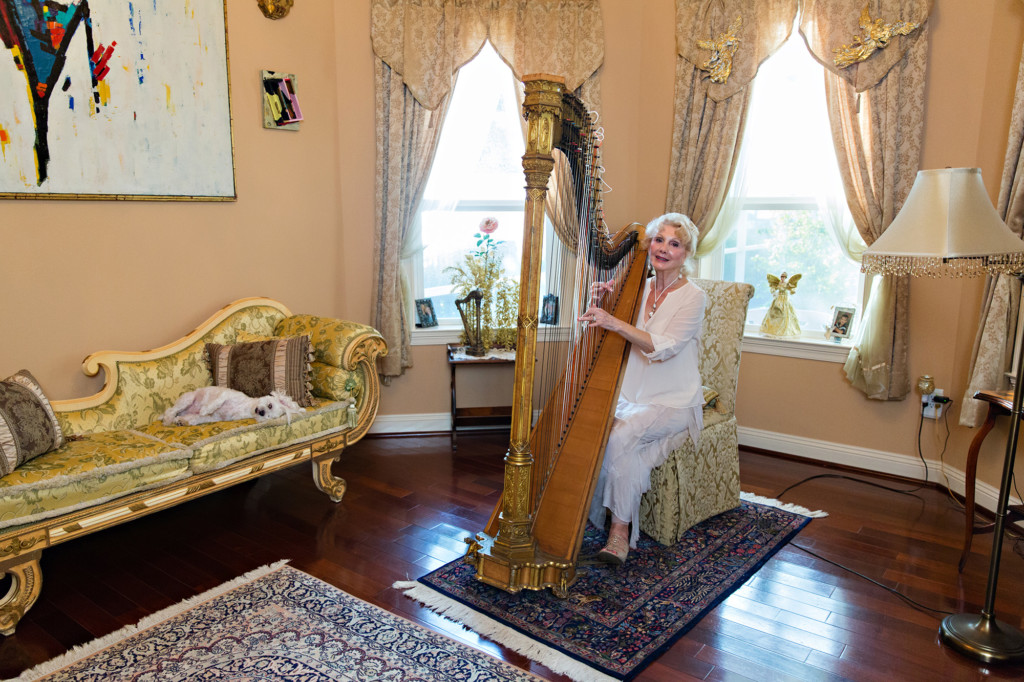 For Dr. Marinella Monk, heaven simply isn't an ethereal destination but a presence of our own making.
Indeed, should one find their version of happiness, love, beauty and harmony, it can be a place on earth.
It can be home.
Monk's is a dark-wooded, lamp-lit study stacked with self-published novels. It is a century-old gold harp and a wall full of her late father's impressionist art. The Polynesian folk puppets she'd inherited from her mother loom along the mantle, presiding over Greek and Italian-sculpted seraphs, Egyptian scrolls and other worldly artifacts.
"It may look a little random," Monk gestures around her Santa Rosa Beach home, "But this is a sanctuary. These are the places we've been. This is the story of our lives."
Now in her 70s, Monk references one built with husband, Robert, who is the reason Monk traded the bustling metropolis of Paris where she grew up for a quiet slice of the Emerald Coast.
The pair found each other while Marinella, a then recent graduate of the University of Medicine (Lariboisiere-St. Louis) and the University of Sorbonne for Medicine (Marie et Pierre Curie), from where she obtained her degree in Sports Medicine, began practicing a subspecialty of Pain Medicine known as mesotherapy.
Robert, an American living in Paris, had suffered a ski accident and, through what Marinella calls "a recommendation of common friends and a ploy of fate," consulted her for treatment. There was some common ground: Both were divorcees with children, both independently decided they would never marry again and both were instantly, irrevocably sweet on each other.
"We married three months later," Marinella laughs. "Can you imagine? Ah, life is a lottery."
A lottery worth hazarding, it seems, as the past 33 years of marriage have netted the Monks a beautiful life with their three children, six grandchildren and an assortment of pets.
"When Robert was ready to return to the states, I said, 'Sure!' and quickly realized it was not so easy," Monk says. "But although love can blind one from seeing reality, it can also push one to trust and overcome any challenging obstacles."
Monk learned English through her medical texts, completed internships and residencies and finally achieved board certification specializing in Physical Medicine and Rehabilitation and Pain Management.
Her first job in America was as Medical Director of the Houston Rehabilitation Institute in 1993, where she worked for nine years.
"I loved my practice," Monk recalls, "because I could be there for patients every step of the way. Often with patients who have, say, brain injuries, they suffer many other implications outside of the physiological. Some have seizures that cause neurological deficits and impair balance, judgment … so you're with them for a very long time."
As patients would confide in Monk their hardships and psychological unrest, she would provide such influential guidance and encouragement, they often suggested she write down her views to aid others.
Monk would finally listen years later when, upon relocating to Santa Rosa Beach and settling into a new practice at Sacred Heart Hospital, she decided to pen some of those ideals into her debut book, "You Are Not Alone."
And with topics such as overcoming doubt and changing your attitude, welcoming new perspectives and cleansing your lifestyle, there's a little nugget of wisdom in there for everyone.
"I also believe in taking mundane activities of our everyday routine and transforming them into something rewarding," Monk says. "Something as simple as making a meal, you can turn into a celebration; and that's actually very French. Every day we use the best china. Always make sure there are fresh flowers, take some time and invest some creativity into your meals and make it a special time to share with someone you love."
Monk's philosophy is further explored in her second work, "Gentle Therapy," which she claims, "explores the link between science and spirituality."
"I think one should assign purpose to each space," Monk explains. "Each room in my house has a designation. Everyone needs that one place that lends itself to quiet time for meditation. I suggest you put on a little classical music to really set the stage for what you wish to accomplish."
The arts and classical music have been and ever-present driving force in Monk's life. 
"I grew up surrounded by beauty," Monk warmly recalls. "My mother played my harp, and she would run all my father's art expos. We had fascinating people coming in and out of the house: poets, musicians, academics, doctors … so much to absorb."
At age 7, Monk began learning the harp under mother, Marcella Mirea, a skill that would later land Monk as resident harpist for the Monte Carlo Symphony.
It's there she was imparted a discipline that would carry her through her later medical studies, as being a performer required "… very rigorous study. When you are a performer, you make a lot of sacrifices, and can't afford to make mistakes. You start from zero each time and must prove to the public who you are."
Monk believes that same command should be applied to one's appearance.
"People say French women have a certain chicness about them, but that's really just our desire to always present well," Monk says. "You don't have to invest in expensive items to look elegant, clean and taken care of."
When Monk thinks of style, she sees her mother's long hair cascading over a green taffeta coat, which would, in winter, be lined with fur. She sees the delicate pair of silver scissors Marcella plied to cut crepes and smells the fresh bouquets from the downtown flower market.
Elegance.
Monk embodies it today, fair hair clipped back to highlight her powder blue-lined eyes. She wears a beige and crème-colored ensemble accented by pearlescent, shell jewelry designed by sister, Gabriella, who lives just a few houses down.
"Choose pieces that are classical, that will never go out of fashion," Monk advises. "It's fun to invest in the trends a little bit, but choose something simple that, depending on the season, you can change to accessorize. 
"And," she leans in close, "put a smile on your face. It's important not to let yourself go. Sometimes women can be so overworked, they can start neglecting themselves and become depressed. Put your hair up, try to put on a little lipstick. Because when you take care of yourself, you can take care of others."
These days, Monk's care is devoted to Robert, who is currently being treated for stage 4 cancer.
She is retired, celebrating the release of her second work of fiction, "Hidden Messiah," and focusing her strength in optimism for Robert's recovery.
He is upstairs, resting throughout the duration of our interview, but Monk still offers to perform for me on the harp. "Sometimes," she says, "he will hear me playing and come down to sing. We can spend hours together like this."
She plays for me the celestial harmonies of "Fountain of Youth," and a more melancholy, but no less decadent piece called "September Song."
Sitting in her music room, surrounded by shelves filled with dozens of ceramic, glass and stone angels, she is the loveliest of all.