Kristi Rockwell and Cameron Tharp Return to Their Roots With Boots
The trailblazing duo is fond of dressing locals and rock stars alike.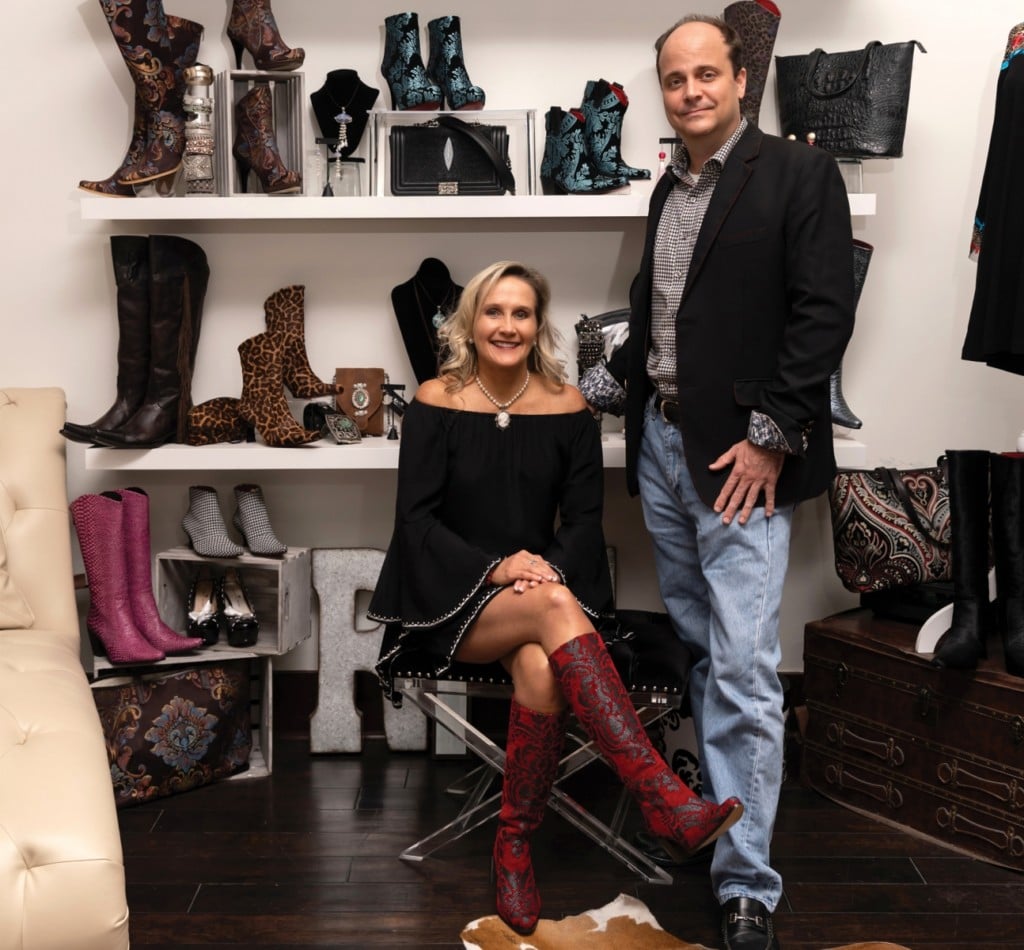 Be it through divine predetermination, universal karma or plain old coincidence, fate is an inevitability.
And it was afoot when, in 2007, Cameron Tharp and Kristi Rockwell met at a business social in Maui, Hawaii.
Finding themselves adrift in a sea of formulaic conversations typical of corporate networking events, the pair simultaneously smacked into a mirror.
Quickly, Tharp and Rockwell would learn that each is from Alabama and that, as kids, both had vacationed with their families on the Emerald Coast.
And, as it happened, both had ailing parents back home when the two were in Hawaii, making for distracted island stays.
The two easily could have stopped at exchanging business cards and trite "It's a small world" observations.
But, that day, Rockwell and Tharp realized they had been placed upon a path.
Faith, not fate, would be the trailblazer.
Back home, they stayed in touch and supported one another while caring for their parents.
A friendship developed, and Rockwell and Tharp discovered one another's creative side.
Both knew something about running a business, and both were keen on boots.
It wasn't long before idle sketches came to life.
"The original boots we produced were a heavily embroidered, knee-high design," recalled Tharp.
"The first time Kristi wore them, we couldn't get through the airport without women stopping us to ask where they could buy a pair. We realized we were on to something."
Seemingly overnight, one pair became 100.
Soon, the duo discovered that their luxe, leather designs seamlessly translated to handbags, and hundreds of boutiques in the United States and beyond began clamoring for their products.
Still, the only place in the world where one can view their full collection is at Rockwell Tharp, the company's flagship store at The Village of Baytowne Wharf in Sandestin.
Even their website, rockwelltharp.com, doesn't reveal the entire stock.
"Sandestin is our home, and we feel like Baytowne perfectly encapsulates the melting pot of our clientele," Tharp said.
"We don't judge anyone who walks in. You've got nicely dressed tourists who come into our store looking to take something home that their girlfriends won't have. You've got people who come right off the boat in their board shorts and tees, who you wouldn't even know are multi-millionaires."
Kathie Lee Gifford featured two pairs of Rockwell Tharp boots on the "Today" show in 2012. Sales of those designs benefitted Childhelp, a non-profit that Gifford represents.
Rock star Jim Peterik of Survivor is fond of his grey, leopard-print Rockwell Tharp boots.
Tharp and Rockwell also spend time with the members of Heart and Quiet Riot.
"At the end of the day, they're just our friends," Tharp said. "We don't see ourselves as an elitist brand."
"We just want to make our customers feel loved and confident," added Rockwell. "We want them to feel fabulous in our designs."
From a sleek, black pair of crocodile cowboy boots, to an over-the-knee stiletto embellished with pastel brocade and bold embroidery, it's hard not to feel spectacular in a custom pair of Rockwell Tharps.
"Eye-catching" is an understatement. Past designs have dazzled with Swarovski crystals and signature Savani textiles that ensure no two ladies own the same pair.
Even the simplest of designs boasts more than meets the eye. Solid ankle booties are stitched with durable, dignified, stingray leather.
"We 100 percent choose every material that goes into the boot," Tharp said. "We decide whether we want the sole to be beige, red or turquoise, if we want a classic or stiletto heel and find the print or leather that feels the best."
The selection process is no easy feat, prompting Rockwell and Tharp to biannually circumnavigate the globe.
At this writing, they're in Thailand visiting one of their leather factories — and noshing on Tharp's favorite Thai dish, green curry.
"We keep an open mind when travelling," Tharp explained. "We may find a leather in Italy that we absolutely love and want to design an entire boot around. We're blessed to have the ability to travel so we can take a little spice from each country and make something beautiful."
Though the trip will yield a more solid idea of what their winter collection will entail, Tharp said they're keeping an eye out for trendy python leather, bright colors, heavy embroidery and statement patterns.
"Ladies want something that makes them stand out," said Rockwell. "At the same time, you want to embody the Southern grace that a good boot can offer."
Rockwell, a southern belle herself, often couples her boots with the array of apparel available in the Baytowne store.
While some customers may be overwhelmed by the eccentric patterns of a boot, Rockwell and Tharp are always excited to showcase how their standout footwear can make an outfit pop.
No matter where your Rockwell Tharp boots take you, Tharp and Rockwell invite you to follow their company's motto and "Walk by faith, not by sight."
"We stepped out on faith to launch this company, without knowing what the next chapter of our lives held," said Tharp. "That faith is what brought us together, kept us together and has made us successful."