Kelly Plantation Fulfills an Artful Family Legacy Dream
The Masterpiece on the Bay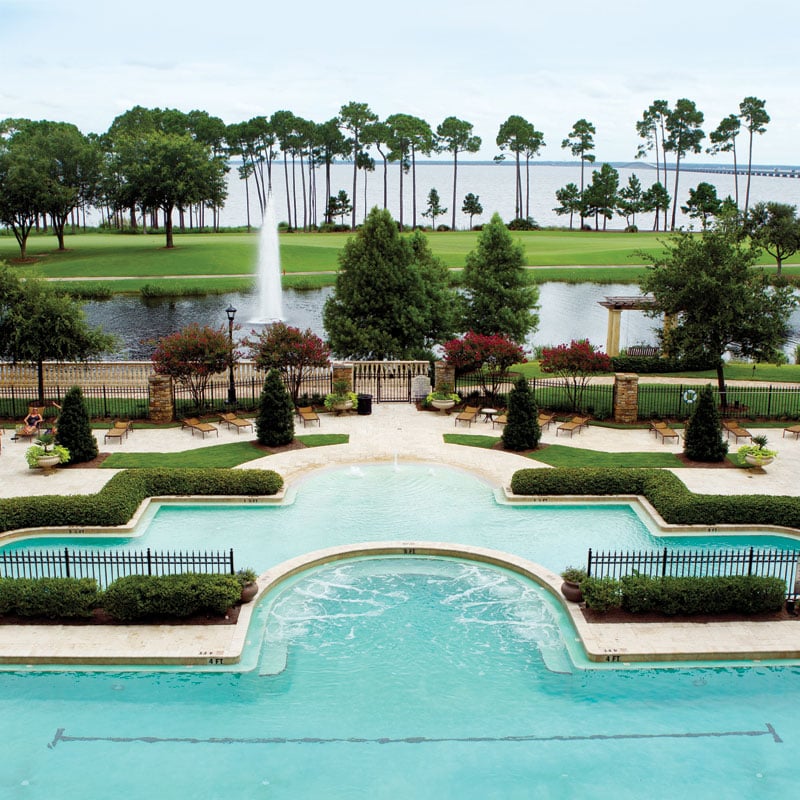 Unlike many communities along Florida's Emerald Coast, Kelly Plantation is land that enjoys a long and proud history as the homestead of one of Destin's most influential founding families. It's here where they first put down roots, forayed into business ventures and began a lasting family legacy.
In 1935, Mattie, a native Floridian, and her husband, Coleman Lee Kelly, moved to Destin with their five children. As one of the town's founding families, they purchased acres of pristine forest along Choctawhatchee Bay and what is now Destin Harbor. Though they began as turpentine farmers, Mattie and Coleman soon established themselves as prominent local business owners and philanthropists, and they are widely credited with pioneering Destin's tourism and fishing industries.
Mattie Kelly was a lifelong patron of the arts, supporting arts organizations through her participation and financial gifts. Today, the Mattie Kelly Arts Foundation and the Mattie Kelly Arts Center continue to keep her passion for the arts alive. 
The Masterpiece on the Bay
Kelly Plantation, which is situated between Jones Bayou to the east and Indian Bayou to the west, is respectfully referred to as "The Masterpiece on the Bay." Perhaps as a nod to Mattie Kelly's lifelong support of the arts, but also for its thoughtful planning and design. This exclusive, gated community is nestled on 900 pristine acres along the scenic shores of the Choctawhatchee Bay. The land is lushly forested with wetlands and marshes teeming with wildlife and numerous bird species. 
When Mattie Kelly closed the family's turpentine facility, she vowed not to sell the land until she was presented with a well-conceived plan. Apparently Davage "Buddy" Runnels' vision for the land did what hundreds of other wishful thinkers could not, and in 1991 construction of Kelly Plantation began. Matriarch Kelly remained heavily involved in planning the community until her death in 1992.  
Kelly Plantation was designed to preserve its stunning nature while keeping family life in mind. Within its nine neighborhoods are a number of green spaces filled with parks, scenic walking and jogging trails — including a 250-acre nature preserve. At the center of the community is the Kelly Plantation Golf Clubhouse and Grill, which offers casual dining and an attractive venue available to owners for private events, and, of course, an 18-hold championship golf course designed by Fred Couples and Gene Bates. It boasts 7,000 yards of carefully manicured Bermuda greens along the bay and is dotted with lake and pond water features. 
The private Owner's Club is filled with still more amenities, including a beautiful swimming pool, five illuminated tennis courts, fitness area and convenient recreation spaces. 
Kelly is located near to Destin Commons, Fresh Market and Publix grocery stores, health and fitness studios, and is just a five-minute drive to the beach. 
Distinctly Different
Kelly Plantation has nine distinct neighborhoods, each offering something different. With a range of price points from a three-bedroom, 2,881 square-foot custom home on Mattie's Way that is situated on the nature preserve and listed at $425,000 to a stately waterfront estate home on Old Plantation Place priced at $3,495,00, there is nearly something for everyone looking for a life of exclusive luxury in Destin.
Carriage Place: Upkeep-free single-family homes located right on the fairway.
Club Commons: Single-family homes only a walk across the street from the golf club and Owner's Club.
One Water Place: The place to go for Kelly Plantation condominiums, featuring views of Choctawhatchee Bay and the golf course.
Plantation: Single-family homes situated on beautiful natural features, from nature preserves to a 7-acre freshwater lake.
Plantation Cove: Large, private waterfront home sites.
Plantation Drive: Single-family homes that are located next to the golf course.
Plantation Place: A developing neighborhood with home sites only a few minutes away from the Kelly Plantation clubs.
Stonebridge I & II: Home sites for future golf homes with views of the golf course and local features, such as parks, lakes and the nature preserve.
Waterford: These ideal 1- to 3-acre estate sites are all located on waterfront.
Whether you are interested in buying or building in Kelly Plantation, you can rest assured that meticulous care has been put into crafting stringent architectural guidelines and covenants to preserve the aesthetics and highest quality standards as the community grows and evolves. After 22 years, the community still does not leave any detail to chance and can even provide new owners a current list of vetted builders and landscapers as well as a list of approved trees, plants and shrubs.