Keeping Erosion at Bay
Beach nourishment pumps sand — and tourism dollars — onto Panhandle beaches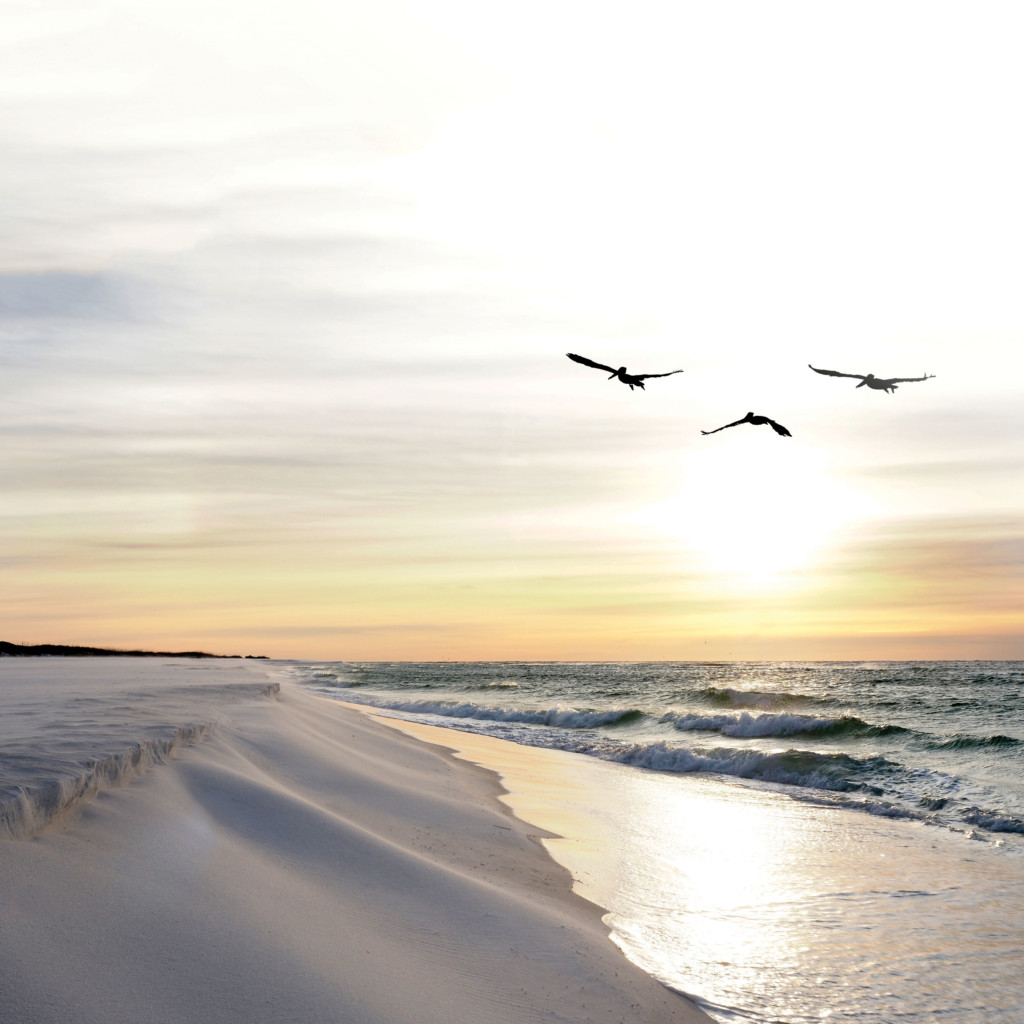 Think "Florida" and what comes to mind?
Is it Orlando and its family-friendly theme parks? Trendy and quirky South Miami Beach, where clubs hop around the clock? Perhaps something more pastoral, like tubing along spring-fed rivers? Swimming with manatees? Boarding a charter boat in Destin for a day of fishing in the Gulf of Mexico?
Those delightful places and activities are part of Florida's attraction as a vacation destination, but they're not the primary draw. For most people who aren't fortunate enough to live in the Sunshine State, the word "Florida" conjures visions of just one vista: sandy beaches and palm trees.
The state boasts 1,197 miles of coastline, with 825 miles of it sandy beaches along the Atlantic Ocean, Straits of Florida and Gulf of Mexico. Visit Florida, the state's tourism marketing agency, promotes 227 miles of Panhandle beaches, stretching from St. George Island off Apalachicola westward to Pensacola.
Florida Panhandle beaches are magnets for visitors from throughout the central and eastern Midwest. They're beautiful, warm and require a lot less driving to reach than the Gulf beaches of Tampa Bay and southwest Florida, or the Atlantic beaches of Jacksonville, Daytona, and Fort Lauderdale. Adding to the allure is its Southern charm, with its rich history, laid-back atmosphere, great shopping and a culinary scene that offers vibrant fusion next to retro Mom-and-Pop diners.
Tourism is the economic engine of the region and the beaches are its primary fuel, but that fuel doesn't come without a cost. Beach erosion is a constant and ongoing concern.
Forces of nature
The term "shifting sands" may be used to describe loose political alliances and other situations in flux, but its origins lie in the ebb and flow of the tides and how they affect the sands both on the beach and offshore. Tidal movements shift sand along the shoreline and out to sea, and periodic storms dump it back on shore. It's not a swift process, but it's normally not a problem unless the sand can no longer follow a natural course because of construction or other development. If the waves crash into obstacles instead of gradually running up on shore, the sand they carry is not deposited and instead recedes with the wave, lost beyond offshore sandbars. The result is beach erosion.
According to the Florida Department of Environmental Protection, which monitors and maps beach erosion around the state, the length of critically eroded beachfront increased by 70.7 miles from 2000 to 2010, from 327.9 miles to 398.6 miles. The length of non-critically eroded beach decreased slightly, by a total of 12.1 miles, largely because of nourishment operations.
"Overall, the total length of eroded beaches — critical and non-critical combined — increased by 58.6 miles," the DEP report said. "Of the 825 miles of sandy beaches in Florida, 494.5 miles are considered either critically or non-critically eroded."
In order to reduce beach erosion, some coastal communities have halted new development along the shoreline. Likewise, insurance companies have added regulations that forbid rebuilding in the same location in the event of heavy damage or destruction.
Dr. Stephen Leatherman, a professor of coastal sciences at Florida International University known as "Dr. Beach" for his study of beaches for more than 25 years, says that beach sand is not a renewable resource, nor is it easily reclaimed. Not all sand in the ocean is the same, and it's not all suitable to augment eroding beaches.
Hurricanes, tropical storms and even strong thunderstorms can increase beach erosion. Storms, development and rising sea levels compound the problem. As of 2010, the DEP reported a level of beach erosion that threatened "substantial development, recreational, cultural, or environmental interests." While some of the erosion was due to "natural forces and imprudent coastal navigation, a significant amount of coastal erosion in Florida is directly attributable to the construction and maintenance of navigation inlets."
Many of those inlets have been artificially deepened, and jetties have been added, which were intended to prevent sand from filling the inlet channels. However, the jetties interrupt the natural flow of sand along the beach, causing sand to pile up at the mouth of the inlet, as well as on one side of the jetty. As a result, sand has been lost on the beaches on the opposite side of the inlet.
Replenishing sand lost to inlets, coastal development, storms and the natural cycle of tides is necessary to continue attracting visitors to the region, say tourism officials and businesses dependent on tourism. Some of those same officials shun the term "Panhandle" as too "rustic" and "country," preferring the geographical description "Northwest Florida."
Replenishment critics, however, say the erosion problem stems from buildings too close to the water, interfering with the natural movement of sand and water. They say taxpayers shouldn't be saddled with the cost of maintaining coastal property only the wealthy can afford.
As the argument rages, the impact of beaches on the state's economy continues to increase. A Visit Florida study showed out-of-state visitors spent $108.8 billion in 2015, a combined $300 million a day and $2.4 billion more than the previous year. While not all of that money was generated on Florida's beaches, the beaches are the main draw for the Northwest Florida Panhandle.
Becky Coleman of LaGrange, Kentucky, said she and her family have spent a week at Miramar Beach every summer for the past six years. They take advantage of many activities and attractions, but they come for the beach.
"It doesn't have as many shells, so you can walk on it without cutting up your feet, and it's a nice, white, sandy beach," she said. "But I can tell that the beach is getting smaller. I don't know if it's erosion, but it's smaller."
Although Coleman, a medical assistant, and her husband, Peter, a computer engineer, and their two sons stay at a relative's condominium, they said they easily spend $3,000 during their weeklong stay.
"Most people spend that much just for rent for a week," she said.
Karly Denes with Harmony Beach Vacations has seen the impact of the beaches on both the hospitality industry and the real-estate market.
"Most of our visitors come from Alabama, Georgia, Tennessee, Indiana, Illinois, Michigan and Ohio," she said. "The beach is the big draw."
With real estate, proximity to the beach is a huge factor in determining price.
"A one-bedroom condo within walking distance of the beach, one-quarter to one-half mile, will list for around $198,000," Denes said. "That same condo right on the beach will list for $435,000."
The Destin Chamber of Commerce is working to diversify the economy and bring in more technology jobs, she said, to enable the economy to withstand factors such as oil spills and hurricanes, but beaches will continue to be the No. 1 economic factor for a long time.
Given the strong link between the beaches and the Panhandle economy, most people believe failure to maintain the beaches would be tantamount to economic suicide.
How beach nourishment works
Beach nourishment projects take sand from offshore sites beyond the sandbars and dump it onto eroded coastal shores. The harvest areas, called "borrow areas," have to be thoroughly checked by coastal engineering experts to make sure the harvest won't cause additional problems, and the sand to be harvested is made up of grains of the appropriate size and color to blend with the area where it will be placed. Companies harvesting the sand must obtain state permits before dredging can begin.
If the "borrow area" is close enough to shore, the dredged sand is dumped directly into a submerged pipeline that runs up onto the shore. The pipe from offshore connects to another pipeline on the beach, which runs laterally along the shore. The watery sand, called a slurry, is discharged onto the beach and moved around by bulldozers to create the beach design — width and depth — called for in the beach management plan.
If the "borrow area" is farther offshore, far enough to make a direct pipeline unworkable or inefficient, the dredged sand is deposited into a hopper dredge, a barge-like vessel with a holding compartment for the sand. The hopper dredge then carries the sand from the borrow area to a pipeline closer to the project site. Once the sand is in the pipeline, the process is the same.
Because of the "shifting sands," beach management is an ongoing process. Long-term beach management plans call for restoration, then periodic nourishment of the shoreline. The beaches are monitored to evaluate how much sand remains each year. With this information, the next nourishment project can be anticipated and planned for, although a large storm event can significantly erode beach sand and push forward the schedule.
How beach nourishment is funded
The state of Florida launched its beach nourishment program in 1986, when the Legislature adopted a comprehensive beach planning and protection program. The Florida Beach Management Funding Assistance Program combines the efforts of local, state and federal government entities to protect, preserve and restore beaches. It provides up to 50 percent of project costs to local governments, community development districts or special taxing districts.
Since 1998, when the Legislature funded the program by dedicating a portion of the Ecosystem Management and Restoration Trust Fund for beach management, more than $626.6 million has been appropriated for projects including beach restoration, project design, environmental studies and monitoring, inlet management, sand transfer management, and dune restoration, said Dee Ann Miller of the DEP's press office. Each level of government usually pays one-third of the cost of the entire program.
As of 2016, the program has funded restoration and follow-up maintenance of more than 225 miles of critically eroded beaches since its inception. Maintaining beaches keeps them attractive as vacation destinations for tourists, according to the DEP, but there are other benefits, as well: "Healthy beaches protect public infrastructure and private upland development, provide critical habitat for many endangered and threatened species and secure recreational and economic interests along the state's sandy shoreline."
These beach nourishment projects are funded through partnerships among various levels of government. Some projects qualify for federal funding under national coastal management programs; almost all qualify for partial state funding, with local costs paid for by "bed taxes," sales taxes that tourists pay on short-term hotel, motel and condominium rentals.
The state's beach management program helps pay for various steps in the process, including feasibility and design studies; building and installing erosion-control structures; and monitoring and documenting the effectiveness of the project and any potential effects from it. "Beach restoration" involves rebuilding a beach that has been severely eroded. "Beach nourishment" is the routine maintenance necessary to keep that restored beach healthy so it can weather storms, provide recreational space and protect wildlife habitat. Both involve dredging sand offshore and pumping back onto the beaches.
DEP requested almost $73 million in coastal management funding for fiscal year 2017-18, about $50 million for beach management projects and the rest for inlet projects. The request list was compiled based on requests from local governments and prioritized by DEP based on a number of factors, including status of permits, readiness to proceed and whether the amount requested seems to be in line with the proposed project.
The compromise budget negotiated by the Florida Senate and House in early May and signed by Gov. Rick Scott in June allocated $63.3 million for coastal management projects, including $13.3 million for restoration of beaches damaged by Hurricanes Hermine and Matthew. Although $50 million for all beach and inlet restoration projects was less than the DEP had requested, it was more than it had received in the previous 10 years.
Current and recent projects
Of the Beach Restoration and Nourishment projects for which DEP requested 2017-18 funding from the Florida Legislature, the St. Joseph Peninsula Beach Nourishment project in Gulf County and the Panama City Beaches Shores Protection Project in Bay County rank 2 and 3, respectively, on the DEP priority list, meaning both are likely to commence.
Gulf County requested $4.95 million in state funds toward a $13.95 million beach nourishment project along 7.5 miles of shore, and includes the first year of monitoring. State records show that a beach restoration project was completed at St. Joseph Peninsula in 2009, but damage from Tropical Storm Gustav in 2008, while the project was ongoing, and subsequent erosion make nourishment necessary. Local government will kick in $9 million.
Bay County requested $4.6 million in state funds to design and nourish "hotspots" of erosion along 17.7 miles of coastline, as well as monitor the work for the first year afterward. The area includes the Panama City Beaches and St. Andrews State Park and is part of a long-range federal shore-protection project that is partially eligible for state funding. The local contribution is a little over $9.2 million.
As with most beach management programs, the Bay County project builds on previous restoration and nourishment projects in 1998-99, 2005-06 and 2011. The significant damage from Hurricane Opal in 1995 spurred the initial work that began in 1998, and state officials credit the program with preventing substantial inland damage from Hurricane Ivan in 2004.
The inlet project in Okaloosa County asked for $262,500 of a $350,000 project to study the feasibility of a sand trap in East Pass, and was awarded $191,402. Strategies for inlet management include stabilizing Norriego Point, so the Corps of Engineers can place more sand from dredging the channel onto adjacent beaches. The trap, officials believe, would capture sand more suitable for beach renovation and nourishment.
Several other Panhandle beach projects were on the DEP list but didn't make the cut. Given both the governor's and the legislative leadership's stated commitment to continue to fund beach restoration, it seems likely all will be funded next year in the 2018-2019 budget.
» Escambia County asked for $4.2 million in state funds for Perdido Key Beach Restoration, estimated to cost $12.7 million. The project involves designing and restoring a dune, and constructing a protective berm over three miles of shoreline, as well as monitoring the project for a year afterward. The local contribution comes to just over $8.5 million.
» The city of Mexico Beach requested $183,680 toward a $410,000 project to design and build a beach restoration project slightly less than a mile long, with a local contribution of $226,320. A 2008 feasibility study recommended increasing the sand bypass at Mexico Beach Inlet and placing the restoration sand farther from the inlet. The DEP's Miller said Mexico Beach currently has a $465,750 allocation to help pay for designing and building a mobile sand bypassing system at the inlet.
Two Panhandle beach projects were completed last year, she said, one at Pensacola Beach and one at Navarre Beach.
The Pensacola Beach Nourishment project was completed in July and involved placing 1.6 million cubic yards of sand over a little more than eight miles of shoreline. The project, which was regularly scheduled beach nourishment, cost $16 million, and the state paid for half of it.
The Navarre Beach Nourishment also was completed in July. A more intensive project, it involved placing 1.3 million cubic yards of sand over 4.1 miles of shoreline. The state paid $7 million of the $14 million total cost.
With each of these projects, monitoring is important and the process will have to be repeated, sometimes sooner rather than later, to keep the beaches in good condition. As Courtney Hackney, director of coastal biology and professor of biology at the University of North Florida told the Florida Times-Union in 2015, "The beaches are always there, as long as you don't try to stop the beach from moving. But, then you run into houses."
"That's where the problem comes in," he said, "not from erosion, but from humans liking property to stay where it is."