Just Add Fire
Destin woman lights up the night sky as fire spinner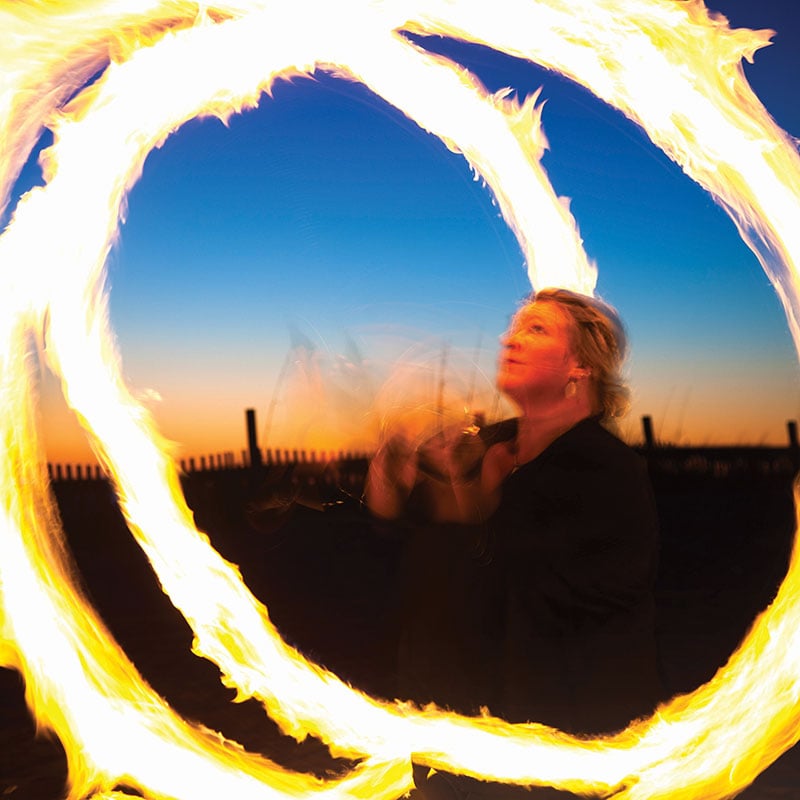 It's part dance, part danger and part storytelling.
You see, when Autumn Lyfe Ussery takes the stage, she enters what can almost be described as another universe.
"I don't hear the crowd, really," she says. "I can hear the fire and the drums in the background; but outside of that, I'm just focused on what I'm doing and on telling a story."
Ussery, whose business is called Just Add Fire, tells her story through the art of Poi (a Maori word meaning "ball"). Poi's roots are in New Zealand, where the style of performance art, which was mostly relegated to women, was used during cultural events and ceremonies. Modern day Poi can take on a variety of new interpretations and can use fans, hoops or other equipment.
For Ussery, fire Poi is the style of choice. Her "rigs," as she calls them, are chains that have Kevlar blocks at the end that can be set ablaze using a variety of fuels.
"When you hear that fire next to your ear, and the adrenaline rush you get when you are performing — you really can't beat it," she says.
So where does a woman who spent her summers along the beaches in Destin become familiar with the art of Poi? Well, that's a story that sounds almost too good to be true.
Ussery's family operated mines in Africa, which allowed Ussery the opportunity to explore and backpack across the continent and to absorb as much culture and as many experiences as possible. On a skydiving trip with friends, Ussery found herself mesmerized by what she described as "fireflies" flickering on the ground below her. What she would discover upon landing was a group of people spinning fire.
"I asked them what they were doing, and I knew I had to learn it immediately," she recalls. "They showed me a couple of moves; then I mostly taught myself with some help from a friend named Zelda."
There were plenty of ups and downs in the early days, Ussery says, adding, with a laugh, that there was no such thing as YouTube at the time.
"I remember the first time I tried to spin. It was awful," she says. "You hit yourself, a lot. Once you get going and get a couple of black eyes and bruises, it can be tough."
The bumps and bruises didn't deter Ussery from her desire to master the art of Poi. As cliché as it sounds, for this fire spinner, practice made perfect.
These days, Ussery is a mother of three who performs at private events, such as weddings, and can be seen regularly on the main stage at HarborWalk Village in Destin. Her performances along the harbor are on Tuesdays and Thursdays, as well as on most holidays.
"I am so happy," she says. "Life is so good to me."
Learn more about Ussery on her website, justaddfire.info, or find her on Facebook.
---
History of Maori Poi in New Zealand (from homeofpoi.com)
"Poi" is the Maori word for "ball" on a cord. The Poi was used, many years ago, by the indigenous Maori people of New Zealand to increase their flexibility and strength in their hands and arms as well as improve coordination. Wahine (female) dancers perform the Maori Poi, a dance performed with balls attached to flax strings, swung rhythmically. The dance was originally used by the Maori women for keeping their hands flexible for weaving and by the men for strength and coordination required during battle. Poi are also used as a training aid for other ancient weapons like the Mere or Patu (a short club).