Just a Moment
A letter from the Editor of Emerald Coast Magazine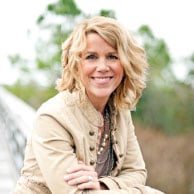 Wait a minute! How often do we call out to the hands of time to stop the clocks in a given day? We are trying to catch up, get our bearings or simply take a second to actually be in the moment. But as they say, time marches on.
When something is joyful, we hope the moment lasts a little longer. Yet when something tragic happens, a moment can seem an eternity. Time is curious. Each moment may not seem different from one to another, but depending on how our time is spent, each moment can certainly be worlds apart. Being on hold on the telephone for five minutes can be miserable, while waiting five minutes to be seated for dinner is nothing at all.
When I first moved to the Emerald Coast from Ohio by way of New Orleans in 1999, I didn't know many people. I moved here without a job and luckily landed what was a dream job for the next eight years as the marketing and public relations director at a large resort. The first person I met in the business community was a clever, vibrant and spirited, if not irreverent, woman who was the public relations manager for the South Walton Tourist Development Council. Her name was Julie Root Delaney.
She immediately made a project of me and within days immersed me in the ways of the Emerald Coast — from bridging business contacts to listing the hottest lunch spots and taking me for cocktails to introduce me to her circle of local professionals, who remain key professional contacts and friends today. She even personally took me to Needa's in Miramar Beach, her favorite shop for personal gifts, because they offered free giftwrapping. "More time for us to play," she said of the service.
I am not special. Julie would and did shower this type of attention on anyone whom she felt needed something she could offer. And being the well-connected and social person she was, she often gave business colleagues, friends and causes plenty of attention. She was the special one.
After the death of her first husband, Jim, time with her family became a priority. When she opened her own communications company, Jaz, Inc., accepting projects and clients had one condition: She had to be home in time to greet her son, Stephen, from school.
I loved every minute I had the chance to work with Julie over the years on many creative projects. I admired the focus she gave to her family and the courage with which she faced life's challenges. And I envied one of her greatest gifts: wit. Julie was never without a quip, turn of phrase or remark to lighten a moment or put things in perspective.
In a moment, a dark moment on April 8, Julie passed away. Certainly, the lives of her friends and business colleagues along the Emerald Coast are now a little dimmer. If she were here, Julie would probably roll her eyes in boredom of such "sappy talk" and be much more interested in celebrating the day with "happy talk" over a cocktail toast.
Here's to you, Julie, forever in the bright center stage spotlight of our hearts where you belong. Thanks for all of the beautiful moments together.