Jonesin' For Jazz
One of the EC's most popular bands turns 25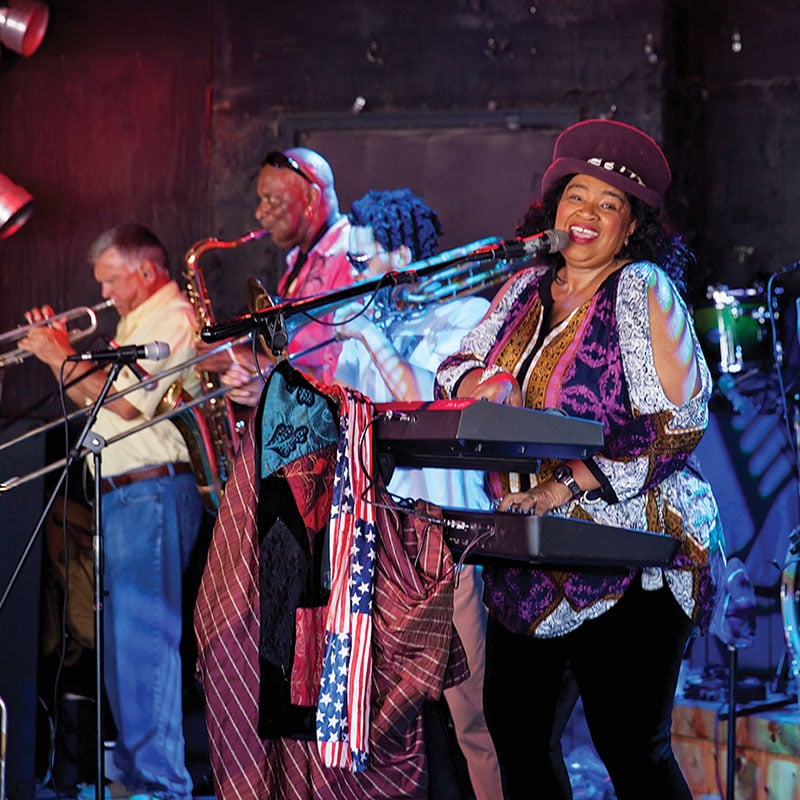 Music lifts us. It soothes us, distracts us and keeps us company. Good times or bad, at peace or at play, there's a soundtrack to our lives. And Cheryl Jones has made it her life's mission to find — or write — the perfect song to suit every moment. 
"Music is a conduit for me," Jones says. "It flows through me and takes a part of me with it. And I take a part of it with me." 
Jones' music has provided a soundtrack for people along the Emerald Coast since 1988, when, at the urging of a cousin who had already relocated here, Cheryl and her husband, Denny, left their hometown of Detroit and put their roots down in the Florida sand. They formed their band, Jones and Company, the following year.
"This community allows us to live the dream," she says. "The sea breeze is really inspiring. People here are calm, accepting and ready to just go with the flow." 
Jones and Company is celebrating its 25th anniversary this year with the release of a new CD titled, "Raise the Roof."
As the musical director for Jones and Company as well as the lead singer, primary songwriter, wife of the bassist and mother of the trombone player, music seeps into every aspect of Cheryl's life — and that's just how she likes it. The eldest of five children, Cheryl was raised in the midst of the golden age of Detroit music. Weekly family jam sessions were a common occurrence when she was growing up. When Cheryl's siblings — all musicians, themselves — come to visit, they often join Jones and Company onstage. 
Jones and Company has another frequent addition to their line-up: Cha'Blis Chevrolet. 
Pronounced like "Shall-Believe-Shall-Roll-Hey!" Cha'Blis is Cheryl's alter ego, a sassy and funky diva who allows Cheryl to step a bit further away from her other alter ego, the philosopher-academic. 
"I think all artists, at some point, are philosophers," she says. "There's a reason that lurks behind what artists make and do." 
Cheryl isn't your casual philosopher, however. She holds an interdisciplinary master's degree in classical music, psychology and philosophy, and a doctorate in education. She also teaches philosophy and ethics to students at Northwest Florida State College — when it isn't Sunday night and she's in Destin at AJ's, channeling Cha'Blis to sing some "tell-it-like-it-is" blues. 
Because Jones and Company performs in an area where members of the audience are often tourists on vacation, the band has to be comfortable with playing many different musical styles, or whatever a diverse audience craves. 
"When I describe our music, what I usually say is that we're basically funk, R&B and jazz, with nostalgic notes from the '50s, '60s, '70s, '80s and '90s, mixed in with our original music, reggae, salsa, Brazilian, African and New Orleans music, complete with Hawaiian and South African overtones, with just a touch of Jimmy Buffett and Journey, and lots of references to Beethoven, Debussy and Steely Dan," Jones says. 
Got that? In other words, if a kitchen sink could get funky and make you want to dance — that's Jones and Company. 
Jones is fond of her close relationships with her audience. "We're not just Jones and Company, we're Jonesin' Company," she says. "We are longing for your company, your presence. And we know that at some point, y'all are longing for us." 
---
Jones and Company is apt to look differently depending on the performance and venue. Sometimes the band plays as an 8-piece band, sometimes a 4-piece band. And sometimes Cheryl sings solo. Jones and Company Band members include: Cheryl Jones on keyboards and vocals; Denny Jones on bass, guitar and vocals; Brent Purcell on drums and percussion; Paul Scurto on trumpet and vocals; Ellis Jones on bass trombone; Ike Bartley on saxophone and vocals; Wayne Burkholder on guitar and vocals; and Stanley Watson on drums and percussion. Jones and Company performs as a 7- to 8-piece band every Sunday from 4 to 8 p.m. at AJ's, in Destin; as a 3-piece band every Wednesday night in the courtyard at Ruth's Chris in Destin; and as a 4-piece group every Friday night from 8 to 11 p.m. at Bric à Brac, in Destin. They are also frequently hired to perform at weddings, concerts, festivals, conventions and parties.