John C. Waite Is a Journalist Turned Novelist in Pensacola
After 20 years of traveling, Waite settled down to write novels.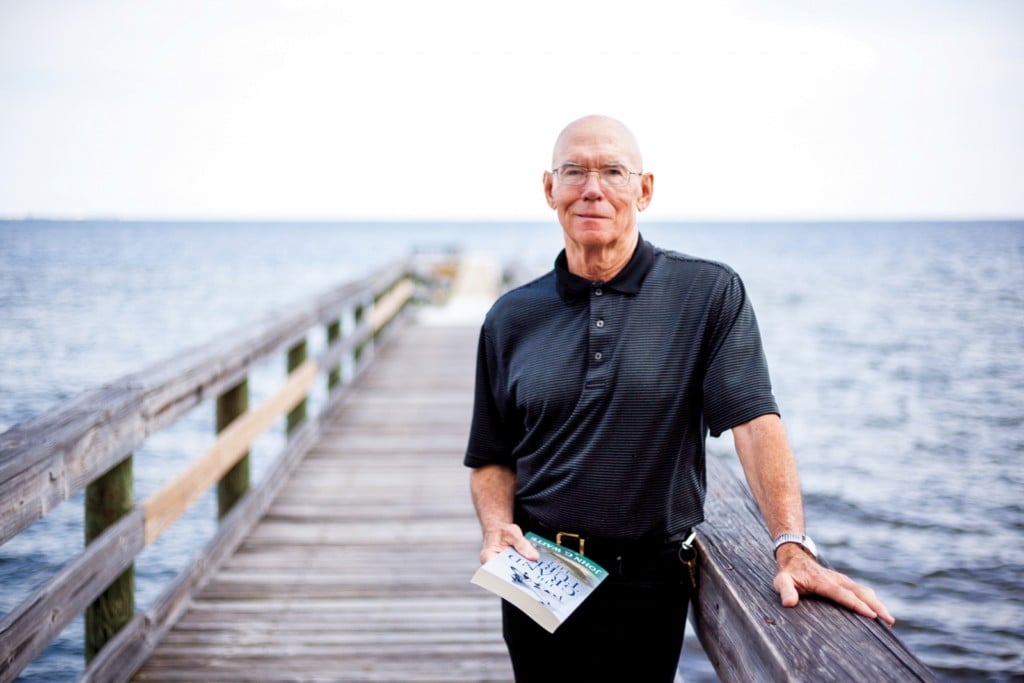 The Tursiops Syndrome tests the breadth of cetacean intelligence, as Florida's famous bottlenose dolphins are key players in an international terrorist plot.
Lt. Hickory Logan discovers an ailing dolphin in the Pensacola Beach surf and enlists Park Ranger Kevin Whitehead to uncover its malady.
When it turns out to be poisoning from the infamous "China White" narcotic that's been plaguing the streets, Logan knows she's found the mule, but has yet to see what else these porpoises are smuggling beneath their fins.
Mad marine scientist Dr. Jim Crabtree might have the answer.
The trio is thrust into a race against the clock not only to restore peace to the port of Pensacola, but also to save America from nuclear devastation.
Authored by Pensacola local John C. Waite, Tursiops is both a page-turning thriller and love letter to the place he calls home.
Waite is the author of three other books: The Grand Turk File, Beauty and the Singularities and Splinter Island. He recalls a zesty childhood, wandering the Creole-spiced streets and swamps of New Orleans. In the mid-'60s, a young Waite pressed east, graduating from the University of Georgia's Henry W. Grady School of Journalism in Athens.
After a successful, award-winning career in both broadcast and print journalism, Waite moored his ship in Pensacola by way of the U.S. Merchant Marine. After 20 years at sea, he dropped anchor and took to authorship.
Waite publishes poetry regularly on pagespineficshowcase.com/john-waite.html and encourages you to keep up with him at johncwaite.com.
Q&A WITH JOHN C. WAITE
Emerald Coast Magazine (ECM): Your works (The Grand Turk File, Splinter Island) often take place in exotic locations. In Tursiops, your framework is the Gulf of Mexico, Fort Pickens and local dives. What was it like writing about home?
JCW: No different than writing about anywhere else. A large part of writing is being able to describe, say, the nature of downtown New Orleans, and what it feels like. The only way you can do that is by experiencing it. If you haven't been there or done some of the things you describe, you're going to miss the boat a lot. With most of the surroundings I describe in my books, I've been there. Sometimes it amazes me when I get to thinking of all the places I've been.
ECM: Do you have a favorite destination?
JCW: Pensacola is just about as good as any of them for me. It all depends on the flavor you want. Pensacola doesn't taste at all like Paris or Ireland.
I have pages of notes from 30 years ago from when I went to Grand Turk in the Caribbean.
Always wanted to see it, so I did quite a bit of research before I went down there.
I have a pilot's license, so my second wife and I flew over the islands down there, and I can't quite describe how beautiful it was to see from the air.
ECM: Do you often make notes on each new place you visit? 
JCW: Always. I take notes on anything that strikes me.
I like to write things down, so if I ever need to see it again, I have vivid descriptions.
ECM: What's the most challenging part of your artistic process?
JCW: Making myself do it. What people don't understand is that writing is a job: You need to set a schedule, sit down and establish what you want to construct.
You have to plan. You have to flesh it out.
Little things pop up, like my kid calling me and asking me to go do something, but I try to set aside time. If I don't, then it won't get done.
ECM: Even though you pursued a degree in journalism, did you always hope to write fiction one day?
JCW: I actually got started writing fiction quite early on … for other people. I think I was about 16 or 17 when I went to a church camp.
There were some guys telling me how they wanted to write home to their girls, but they couldn't do it. So, I was the one writing their love letters.
ECM: You were a ghostwriter!
JCW: (Chuckles) Well, I don't know if any were effective, but the guys appreciated the fact that I would do that for them.
ECM: Hopefully you saved some relationships.
JCW: I could never keep my own together! But maybe.
ECM: Do you ever look back on all the characters you've encountered throughout your life and incorporate them into your stories?
JCW: Oh, a lot of my characters are people I've known. I've bent them a little bit so they're not too recognizable.
There's a story I'm working on now based on my best friend and me from the time we met in first grade, to the times our paths diverged in college.
He decided he was going to be a Marine — went to 'Nam and got himself killed. Working on that, but I don't think I'll ever finish it. But, I have two others I'm working on.
When I get tired of a book, I'll put it down and work on another.
I've got the sequel to a young adult book (Splinter Island) and another that's completely fantasy. Will o' the Wisps and kids stumbling through the swamps.
ECM: The swamps of Louisiana?
JCW: That's my setting. I can still see those swamps … used to wander around in them for hours.
You could catch snakes and sell them to these little snake farmers for about 25 cents. I had to have been around 12.
ECM: If you could tell your younger self anything, what would it be? 
JCW: "Just work on it."
I went 20 years without writing as much as I could, thinking that one day it would eventually happen.
Well, it only happened when I started putting in the work! I wish I had started 30 years ago, but I didn't.
It's a lot of fun being able to make things.
I don't know if my work will ever mean anything to anybody, but I can at least make that effort.