Jared Cramblet is All Hustle
Part booking agent, part manager, all hustle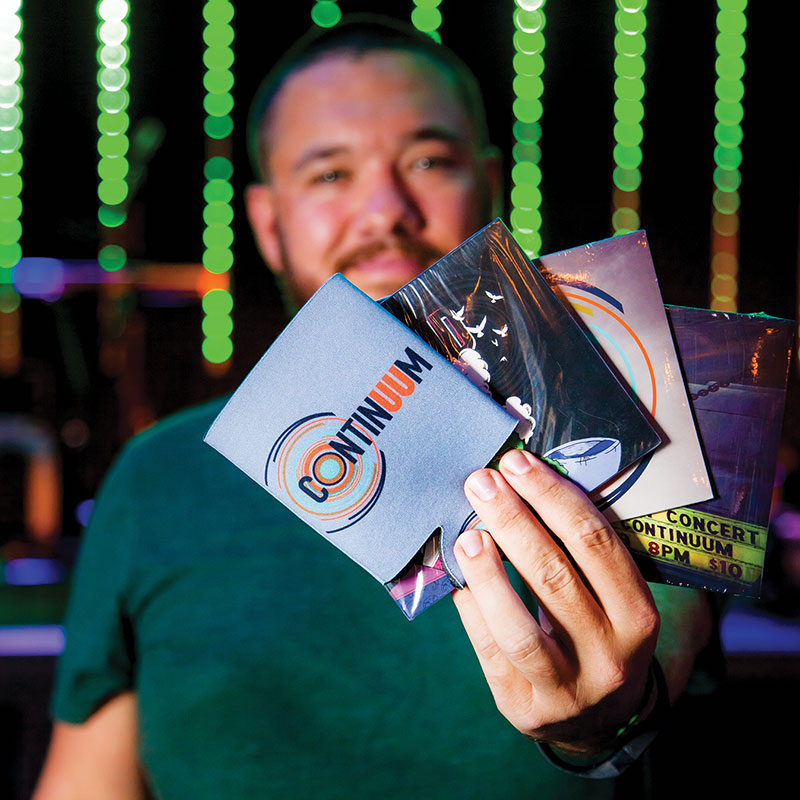 We've all heard the saying, "behind every great man there is a great woman." 
A similar adage applies to the music industry. Behind every great band, there is a great booking agent or manager.
If you've been to Boshamps for Sunday brunch, McGuire's on a Saturday night or any of Destin's other bars and night clubs, you've probably experienced Jared Cramblet's work firsthand, whether you knew it or not.
You see, a lot of Cramblet's work is done behind the scenes. Actually, it's done from his office overlooking the Destin Harbor. It's not a bad place to do the workaday hustle, especially if you're logging more than 60 hours a week.
It's that capacity for hard work in a laid-back place that's taken the Air Force veteran and University of West Florida graduate from slinging drinks behind Destin bars to being his own boss in a few short years.
It was at Funky Blue's Shack that Cramblet found himself enamored of the booking side of the entertainment business. He was lucky to catch on with a local entertainment company where he learned the ropes before branching out on his own.
Cramblet is the face behind Namesake Entertainment, which he founded in November 2014. The 33-year-old, who studied public relations and marketing, spends part of his time setting up gigs for local bands such as The Rips. He manages every aspect of the relationship between the bands and the venues where they perform — from booking the actual shows and negotiating pay to determining set times, lodging, sound checks and food allowances.
"Basically, I take care of all of the business end of the live concert you see," he said.
Cramblet currently handles the regional booking — mainly throughout the Southeast — for three to four bands on a full-time basis and roughly 25 bands part time. In July alone, Cramblet has 160 shows scheduled. In 2015, he celebrated a milestone and booked his 1,000th show.
But booking wasn't enough. Cramblet also manages the local band Continuum. 
"It's like managing a restaurant or any other business," he says. "I'm doing payroll, I'm doing band payments, paying insurance."
A big part of what Cramblet does is managing personalities, whether on behalf of his bands or the venues they visit. Much like a therapist, there's heart-to-heart conversations and, at other times, tough love. 
Between the booking end of Namesake Entertainment and traveling with Continuum, Cramblet keeps busy, but he wouldn't have it any other way. It's that pace that's gotten him to this point in his life.
"I'm very, very grateful," he said.
As easily as words come to him, Cramblet paused for a minute when tasked with summing up his life right now. 
"That's a hard question," he said, while scratching his beard. "I'd have to say blissful." 
---
Balancing the Bands
Continuum 
The dictionary definition of "continuum" is a connected set of at least two elements, neither of which can be distinguished from the other. Between the vocals and the instruments, this is what the band strives for. The quartet consists of Anthony O'Shae singing vocals, Jessica Heit with violin and vocals, Buddy "Biscuit" Brumit on guitar, keys and vocals and Caleb Schossow on the cajon. Their eccentric sound stems from contemporary pop, acoustic folk, indie rock and classical influences. Their debut EP, "Cover Up,"  was independently released in 2014. They perform throughout the country but have a particular affection for North Florida. 
The Rips 
The Rips take a page from the music of the '50s and '60s with groovy tunes, vintage guitars and smooth melodies. It's almost like listening to a vinyl record. This three-piece consists of Tucker Ewing as lead vocalist, Mike Ingram on electric guitar/vocals and Charlie Buice on drums. These beach-loving boys originated in Destin, which can be credited for their surf-rock inspired tunes. Their shows can be watched throughout the Southeast, and they are currently in the studio working on a new record.