James Briscione and Brooke Parkhurst Bring the Big Apple to Angelena's
The two prepare to combine talents in creating a great Southern restaurant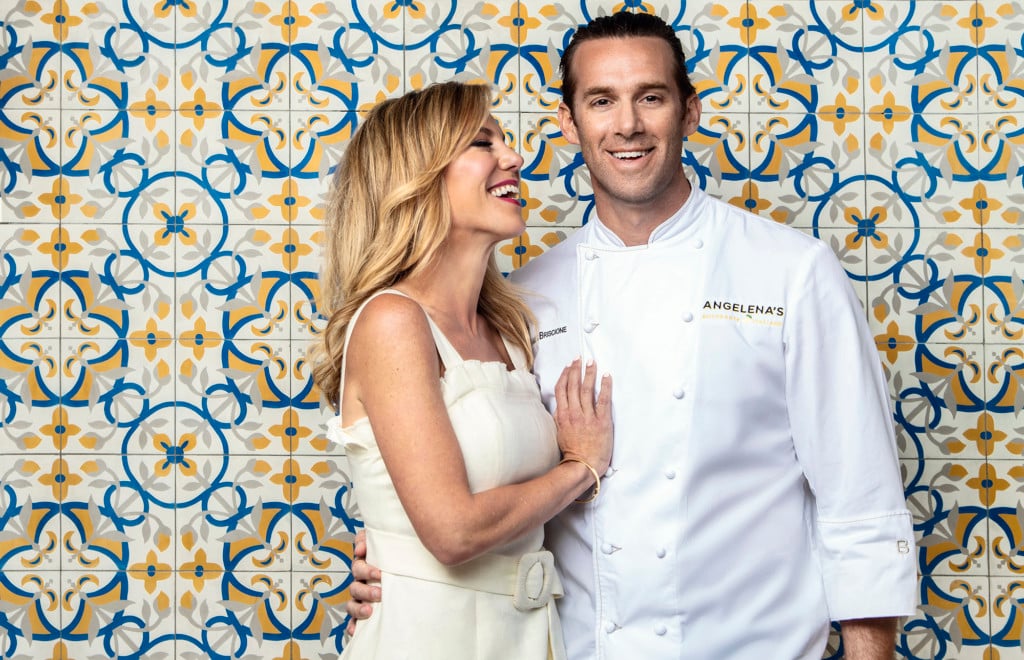 Celebrity Chef James Briscione and his wife and business partner Brooke Parkhurst have traded the bright lights of New York City for the laidback beaches of the Emerald Coast — and they couldn't be happier.
In July 2018, this culinary powerhouse pulled up stakes in Manhattan, where both had worked as instructors at the Institute of Culinary Education, and returned to their hometown of Pensacola.
"Brooke and I have been so impressed with the way downtown Pensacola has grown and developed," said Briscione, the first two-time "Chopped" champion and one of People Magazine's "Sexiest Chefs Alive" in 2016.
"It is a vibrant community that we really wanted to become a part of."
Their plan was both straightforward and ambitious — contribute to the ongoing resurgence of the city's historic downtown district by opening a new Italian restaurant.
Call it Angelena's, set up shop at the corner of Intendencia and Jefferson streets and serve rustic Italian fare with fine touches.
Briscione would lend his considerable cooking chops to the role of executive chef, and Parkhurst — an accomplished writer, food blogger and cook in her own right — would serve as wine director and director of marketing.
"We thought long and hard about moving back to Pensacola," said Parkhurst, who has written two cookbooks with Briscione: Just Married & Cooking in 2011 and The Flavor Matrix in 2018.
"To partner with Quint and Rishy Studer, Jean-Pierre N'Dione and the Merrill brothers was too good of an opportunity to pass up. It was the perfect set of circumstances of the right people coming together at the right time."
The Italian Way
Angelena's is the latest addition to Great Southern Restaurants, joining multiple sister businesses including The Fish House, Jackson's Steakhouse, Atlas Oyster Bar and Five Sisters Blues Café.
It features cuisine from the fields of Tuscany, the ancient streets of Rome and the rugged coastline of Campania.
A wood-burning oven, which turns out pizza, baked pasta, whole-roasted fish and more, is the heart of the restaurant while an Old World marble-topped, horseshoe-shaped bar fills an entire corner.
"The bar's absolutely going to be that place to see and be seen," said Briscione, who also penned The Great Cook in 2015.
"Hopefully, everyone will come by after work or come sample some great Italian wine and enjoy some snacks before going to see a show."
For Briscione, who got his start cooking at Chef Frank Stitt's Italian restaurant, Bottega, in Birmingham, Alabama, and for Parkhurst, who lived and studied in Rome during her 20s and became fluent in Italian and well-versed and passionate about Italian wines, Angelena's is a labor of love.
The restaurant is the perfect way to share their fascination for a country whose cuisine and culture they have come to cherish.
"It's just that Italian philosophy toward cooking — pristine ingredients prepared simply and well," Briscione said. "It's what we both love."
In Briscione's kitchen, which he leads with a fairly laidback vibe, expectations are high, but the focus is always on learning and improvement.
"It's all about attitude," he said. "After 10 years in one of the country's top culinary schools, I learned to have a lot of patience with young cooks. … Mistakes happen in the kitchen all the time, and that is okay, but they have to learn from those mistakes and never make the same mistake twice."
Briscione said he views most of his creations as works in progress.
"For me, a dish is rarely ever done," he said. "That's what I love about cooking. You're always kind of chasing that perfection. Sometimes that means adding something to it, and sometimes that means taking something away."
Parkhurst said she and Briscione view the Pensacola area as a kind of culinary "happy place" where they can blend all of their favorites.
"One of James' great loves is all things pig!" she added.
"Curing his own sausages, sous vide pork belly and roasting pork shoulder in the wood-fired oven."
Briscione agreed, adding that it all goes back to "the Italian way."
"In Italy, people raise their own pig, slaughter it and then use every bit of it," he said.
"We're not to the point where we'll be raising our own pigs, but we definitely want to carry that nose-to-tail philosophy through everything we do."
Parkhurst plans to lavish the same attention on Angelena's extensive by-the-glass wine list.
Based not on varietals but regional wines from across Italy, the list accommodates both experienced and novice wine drinkers.
"The wine list is presented as a map of Italy," Parkhurst said. "I take our diners from Milan to Palermo, highlighting both favorite and lesser-known wines."
Angelena's bar also will feature six signature cocktails plus three custom in-house spritzes.
"You want it to be a little bit about an education and give them dishes and wines they've never had before," Parkhurst said.
A New Adventure
After Briscione and Parkhurst and their children — 10-year-old Parker and 4-year-old August — followed their hearts back to Pensacola, they settled into Southtowne Apartments.
Located literally across the street from Angelena's, which anchors the new Southtowne office building, they are in the heart of the downtown district.
And while the pace of life in downtown Pensacola is vastly different from Manhattan, they have grown to love their jogs to Maritime Park, walking Parker to school during the school year and supporting the local Palafox Street farmer's market and other downtown businesses.
"As much as we loved New York and were very happy with everything we were doing there, it wasn't sustainable," Briscione said. "Life in New York is wonderful and tough."
"It's a great place to build your career, and we did," said Parkhurst, who published her 2008 novel, Belle in the Big Apple, while living in New York.
Briscione, an alumnus of Washington High School, and Parkhurst, who graduated from Pensacola High School's International Baccalaureate program, have fond memories of growing up in the South and wanted to share that with their children.
The move has been a chance to reclaim some of their Southern roots and make the most of being closer to family and the beach.
"We love, love, love being on the water!" Parkhurst said. "Parker wants to swim all the time!"
Changing It Up
As is often the case when opening a restaurant, the process was long and complex and included more than a few delays. (As of press time, the restaurant was scheduled to open in the latter half of June.)
During the runup to opening Angelena's, however, Briscione and Parkhurst got creative and began showcasing some of Briscione's most tantalizing dishes — everything from meatballs and cheesy focaccia bread to carbonara with pancetta bits to chianti-braised short ribs with grits and Italian salsa verde — in a series of popular supper club events at various venues across Pensacola.
This summer, Parkhurst and Briscione are busy putting their own unique stamp on the food, wine and atmosphere at Angelena's.
Initially, the restaurant will serve only dinner, with plans to eventually add a lunch service.
Sundays will feature a mid-afternoon opening and offer an Italian-style family meal with large bowls of pasta, meatballs and other classics filling up the tables.
"We'll be printing the menus every week so they can evolve," Briscione said. "It'll allow us to be more fluid with the season. We're going to be constantly changing it up!"
Angelena's will also feature a five-course chef's tasting menu each week.
Briscione will be joined in the kitchen by Chef de Cuisine Zachary Keaton, who spent five years at Bud & Alley's Pizza Bar, before reaching out to Parkhurst and Briscione for a new opportunity.
Angelena's is something of an homage to its namesake — Angelena Giardina, who was married to Giatano, a young Italian immigrant who landed in New Orleans and eventually made his way to Pensacola.
Together, the Giardinas worked hard to build a successful fresh produce wholesale business with customers ranging from dining establishments to private families. At the time of Giatano's death, he was one of the wealthiest men in Pensacola.
Like the Giardinas, Parkhurst and Briscione plan to work as a team, planning out weekly menus, perfecting wine pairings and crafting delicious and innovative specials and desserts.
They want Angelena's to become Pensacola's go-to spot for lunch, dinner and everything in between.
It's the restaurant you can drop by any time of day and "you're always dressed the right way and it always feels as special as you want it to — whether it's a lunch with girlfriends or a dinner date," Parkhurst said.
The pair say they are simply excited to educate their customers about good Italian food and wines and watch Angelena's grow along with the downtown district.
"We love downtown," Parkhurst said. "You feel like you're still at the beginning of something wonderful!"
Two stylists from the VolumeONE salon in downtown Pensacola, Sarah Peake and Mary Patterson, collaborated on Brooke Parkhurst's look for her Emerald Coast Magazine shoot.
Peake arrived at VolumeONE after working for Dior in New York City. She is licensed in both esthiology and cosmetology and has competed and placed in global hair competitions, including Goldwell's ColorZoom in 2018.
Patterson is a Pensacola native who came to VolumeONE after being trained in cosmetology at the AVEDA Institute in Austin, Texas. VolumeONE cherishes Pensacola culture, and its stylists also understand the importance of getting out and discovering trends from other places.