Jack E. Davis's History of the Gulf of Mexico Reveals Many Truths
The book recounts abuse, recovery and the exploitation of rich resources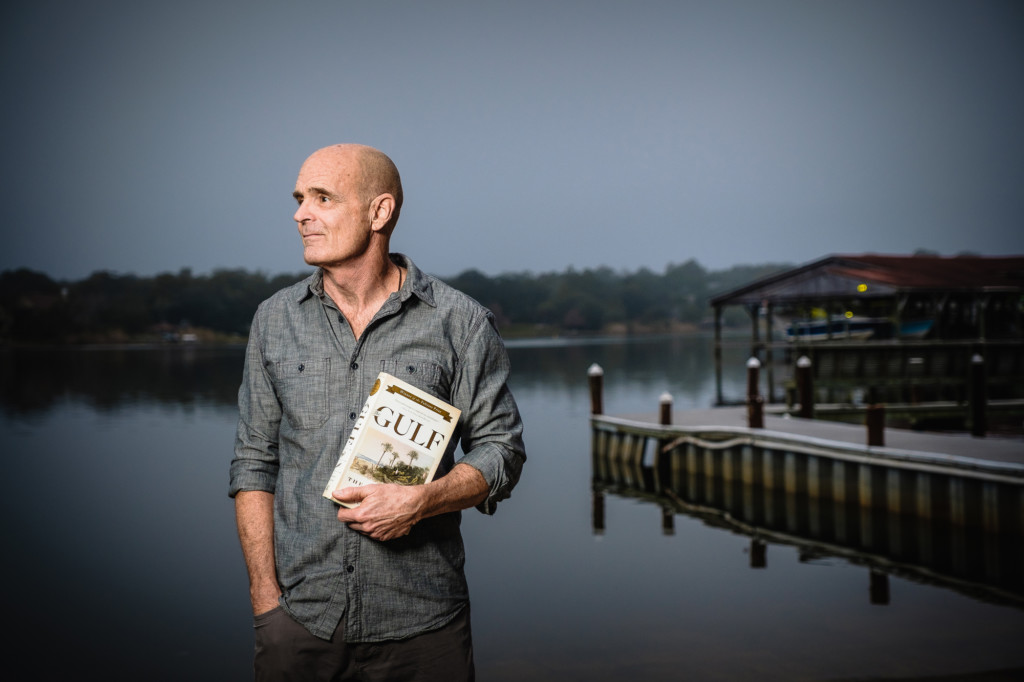 Satisfied that there was good money to be made in the Florida Keys harvesting fish and salvaging cargo from shipwrecks, Leonard Destin, a young man of 21, set sail from New London, Connecticut, late in the summer of 1834 aboard an 80-foot, two-masted schooner.
His father, George, and a brother, William, captained a companion twin vessel.
Weather events would thwart their plans.
"Off Cape Canaveral, fog separated the two boats," writes Pulitzer Prize winner Jack E. Davis in The Gulf: The Making of an American Sea. "Then, near the Keys, they encountered worse."
A hurricane intercepted the vessels. Only a boy and one man, Leonard Destin, would survive.
The storm smashed the boats against a coral reef, "turning them into bounty for the salvage industry that was supposed to enrich them," in an ironic twist noted by Davis.
A cabin boy from George's schooner clung to that boat's splintered hull until it drifted ashore, and Seminole Indians rescued the youth.
Leonard Destin arrived alive at a deserted island devoid of fresh water where would he remain for three months before a fishing crew rescued him.
Thus spared, Destin made his way, sailing solo, to the northern Gulf and a community, East Pass, across an inlet from the east end of Santa Rosa Island.
There, he established a commercial fishing business and was among those fishermen who discovered the hundred-fathom curve, where bottom fish and pelagic species could be found in abundance.
Twenty years after his death in 1881, the post office at East Pass was designated "Destin," a destination that travel marketers in the 1950s would dub the "World's Luckiest Fishing Village."
Over time, Destin's density has increased exponentially, giving rise to a condominium canyon, but it has retained that motto bespeaking quaintness.
History is fascinating, in large part, for all of the events and characters of consequence that almost didn't happen.
The once marooned Leonard Destin falls into that category. Somehow, improbably, he got off that unpopulated island.
Davis' history of the Gulf of Mexico has much to do about risk and reward and it has much to do with rape.
For many, many generations and to this day, humans have exploited the Gulf's once rich resources as if they were inexhaustible.
Davis chronicles waves of destruction in passages that hurt to read.
To meet the demand of the hat-making industry and elegant ladies for large plumes, hunters plundered populations of wading birds, gunning down entire colonies of egrets, herons and other long-legged species, often blasting them from nests, where they were the most vulnerable and when their plumes were at their longest.
The trend eventually abated, given the growing popularity of automobiles whose cabs could not accommodate feathered hats, "some of them as big as bird baths."
Between 1880 and 1933, Davis writes, "Louisiana surrendered 3.5 million alligators" to a market that valued their hides as the stuff of purses, satchels and shoes.
Florida, adds Davis, gave up twice that number.
In 1883, Silas Stearns, the co-founder of a Pensacola fish company, reported that red snapper catches in waters a comfortable distance from shore had been "miserable."
Where plentiful, Stearns had previously noted, the crimson fish "bite as fast as the lines are lowered and, from this habit, have gained the name of snappers."
Post-1883, "ice opened up time and distance," for snapper fishers, Davis writes. "Two hundred miles out from Pensacola, to the southeast, they hit the mother lode of red snapper in 1885, at the Gulf's so-called Outer Banks."
This, then, was the way of things: Exhaust and move on.
A conservation ethic was slow to take hold. State governments defaulted to the interests of industries and developers. Dredge-and-fill permits, obtained as easily as a driver's license is today, were issued without regard for environmental consequences.
Shore-stabilizing, land-building, life-sheltering mangroves were dismissed as nuisance plants and uprooted.
Florida officials, in renewing the state's Riparian Act in 1921, proclaimed that "waterfront land should be improved and developed." The act allowed waterfront property owners to fill tidal lands.
At Pensacola, Escambia Bay fell victim to a broadly accepted outlook that the "solution to pollution is dilution." Agricultural and industrial runoff — and leaky septic tanks — all contributed to a grim result:
"In 1969," Davis writes, "there were 21 fish kills on Escambia Bay. Thirty-plus the next year. Five months after 200 million Americans celebrated the first Earth Day, newspapers from coast to coast reported that hypoxia had dealt Escambia Bay a kill worthy of the history books. The experts measured it not by the number of dead on the water, but by its inconceivable expanse: seven miles of wasted marine life, bloated and stinking, lost from commercial use, recreational possibilities and the food chain."
But The Gulf: The Making of an American Sea is also about recalibration and restitution, resolve and resiliency.
We have come to realize the role played by cropland fertilizers in bringing about a vast dead zone in the Gulf. We are having to recognize that red tides, increasing in their frequency and duration, are not a natural phenomenon unaffected by human activity — any more than rising sea levels are.
Slowly, we have discovered that it makes more sense to restore fish-producing habitat than to default to a fish fight among competing user groups for the stocks that remain.
Escambia Bay and Tampa Bay, both given up for dead, have been pulled back from briny brinks. King mackerel and redfish stocks have been permitted to rebuild, given restrictive catch regulations.
Wetlands are no longer viewed as wastelands. Aquaculture is proceeding in environmentally sound, even beneficial ways.
The author William Souder (On a Farther Shore: The Life and Legacy of Rachel Carson; A Plague of Frogs) has rated Davis' book a "meticulously researched and sparklingly written … cautionary tale about a paradise ill-served by mankind."
That it is. But we are left with a water body so attractive that, more than ever, it draws transplants, visitors and real estate investors from the heartland, provinces of Canada and nations of Europe.
Storms be damned.
About the Author
Jack E. Davis is a professor of history at the University of Florida. He spent childhood years in Mary Esther, where a motorboat was his bicycle and a rod and reel, his bat and ball.
He completed a month-long fellowship at Escape to Create in Seaside and won the 2018 Pulitzer Prize for history for his book, The Gulf: The Making of an American Sea.