Is Your Destiny by the Sea?
Exclusive Beachfront Community in Destin Delivers the Good Life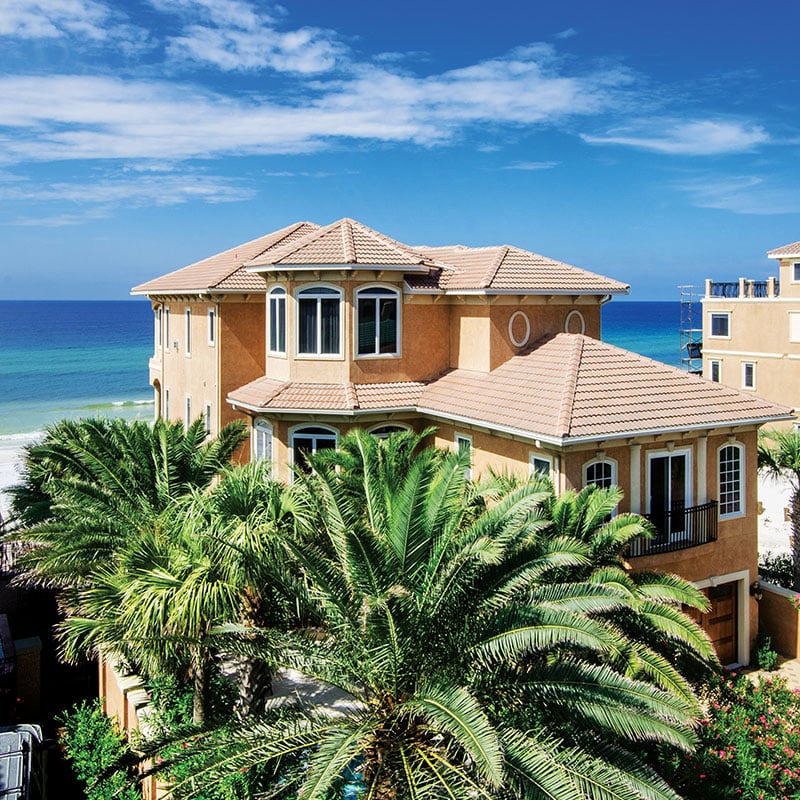 Courtesy of Jason Parker, Emerald Coast Real Estate Photography, LLC
Imagine a Gulf-front beach house with all the trimmings located on a street called Ocean Boulevard. Welcome to Destiny by the Sea, the only Destin community located entirely on the south side of Scenic Gulf Drive (Highway 98).
If it is your destiny to live in this premier, gated beachfront community of around 100 single-family homes on lushly landscaped streets with names like Calypso Cay, Calico Cay and Conch Cay, you'll pay an average of $1.2 million (at least for the houses currently on the market at press time, of which there are 14 along with 4 lots). 
Though more and more homes on the Emerald Coast are trending toward becoming primary residences, currently in high-end communities like Destiny by the Sea upwards of 90 percent of the handsome homes are purchased as vacation or second homes, making a purchase here a valuable long-term investment.
And why not? The quality construction of these detailed Mediterranean-style concrete and stucco villas topped with barrel-tile roofs have stood the test of time and are aging well. Many also deliver on custom features such as deep covered porches, secluded courtyards and even expansive roof-top terraces equipped with outdoor kitchens, hot tubs and swimming pools.
In addition to resort-style amenities like concierge services, a lushly landscaped resort-style community pool and an enviable location offering beach access to the gorgeous Gulf, guard-gated beach communities are increasingly attractive to buyers with families because they are safe and private. 
But it hasn't been a "walk on the beach" for everyone. According to realtor Cindy Cole with Cindy Cole Fine Homes, a few years ago nearly 50 percent of the homes for sale in Destiny by the Sea were either foreclosures or short sales. Cole should know. Closing $40 million in 2013, she ranks as the No. 1 realtor for sales on the Gulf in the Emerald Coast market. Specializing in luxury listings, she has been the top seller in Destiny by the Sea since she moved to the area from Atlanta in 2009. "It is a very rare gated neighborhood unlike any other on a body of water," she says. "People will look all over the coast and then they come back and buy here. It's extremely unique, so it's the first thing that sells."
Cole says the market jumped on low interest rates and in 2013 only a handful of distressed homes were listed. Year over year since 2009, both list prices and per square foot asking prices for homes in Destiny by the Sea have increased. In 2012 it rose 30 percent, according to Cole, who says the average Gulf front home is $750 per square foot while the average interior homes are around $400. "The price point hasn't scared off qualified, serious buyers," Cole says. In 2013, 13 of 14 neighborhood home sales closed as cash deals — a sign the market for fine homes on the Emerald Coast is healthy again.
If you like the sound of $920 per square foot, you can spread out in a six-bedroom, six-and-a-half bath, 5,696-square-foot waterfront show place on Ocean Boulevard with all the extras. It is listed with Cindy Cole Fine Homes for $5,240,000. And don't forget the HOA fee, which Cole says is a steal at $1,063 per quarter. If it is your dream to live the good life by the sea, let's hope destiny takes a hand.