Interview with Dr. Jessica Clark of Coastal Skin Surgery and Dermatology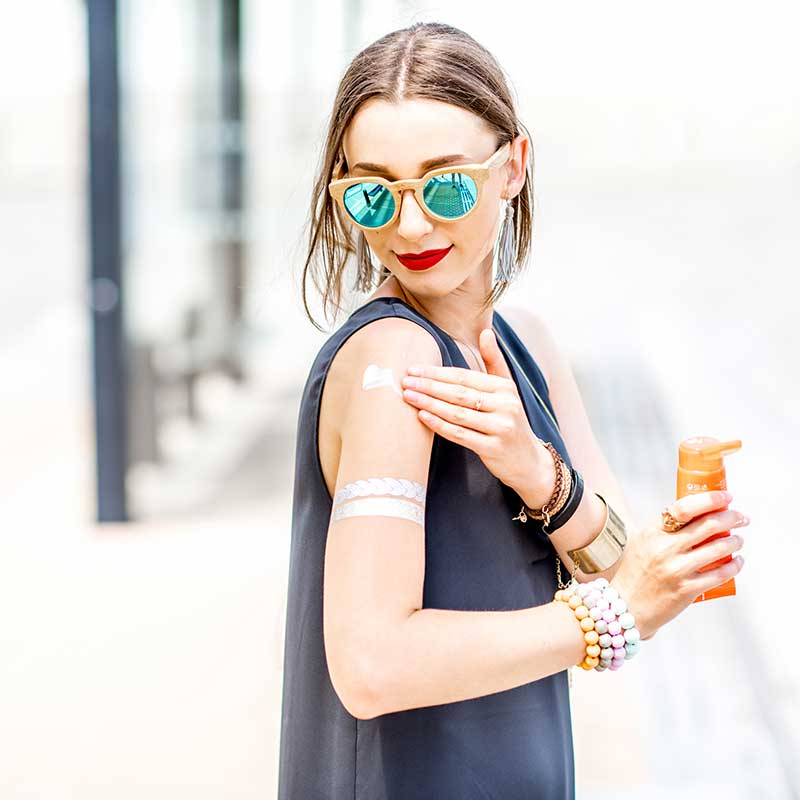 With the summer months upon us, beach days, barbecues and long days spent outdoors are in the forecast. While fun in the sun is encouraged — especially along the beautiful Emerald Coast — dermatologists such as Dr. Jessica Clark of Coastal Skin Surgery and Dermatology encourage you to take precautions against the harsh rays of the sun. Dr. Clark has some advice on sun protection, sun-care products and the overall importance of caring for your skin.
1. What do you recommend for sun protection?
A sunscreen that's SPF 30 or higher and broad spectrum covering UVA and UVB rays — the higher the better. But for daily use, 30 to 50 works. You can find this often in a daily moisturizer that's not thick or white that you can put makeup over. For the beach or outdoor days, aim for heavier protection sunscreens. I highly recommend zinc oxide or titanium oxide. They are best because they make rays bounce off of skin. Also, they are not irritating at all, making them ideal for kids or those with sensitive skin.
2. What are some specific tips for Florida skin care?
Florida sun is very intense, so I recommend as much sun protection as possible. I like hats, whether wide rimmed or baseball caps. I like fishing shirts because they are thin and lightweight, but long sleeve. Because it's hot and muggy, many prefer more elegant ingredients in their sunscreen, such as gel-based products so it doesn't run in your eyes. Seek something more solid that you don't sweat off.
3. Why is it so important to protect your skin from the sun?
Numerous reasons! Sun damage is on a time delay. All those years of burns and tans build up and add together and can produce skin cancer. Sun exposure is the No. 1 cause of melanoma. Even when you think you're not in sun, you are — driving, doing yard work, walking outside. Things start to show up as you get older; wrinkles, dark spots and enlarged pores are all due to the sun. The sun can interfere with certain medications, making you more sensitive to it.
4. What are some essentials for healthy skin?
A healthy diet with a variety of fruits and vegetables, a lot of vitamins and proteins, because these are the building blocks of skin cells. Also get plenty of sleep, so skin cells have time to regenerate. Drinking plenty of water, especially when living in a hot environment, is key in hydrating dehydrated skin. Don't smoke. Smoking is a huge risk for skin ageing and skin cancer.
5. What services/products do you offer for sun protection/care?
First, we take pride in educating patients on sun protection. We sell a brand, EltaMD, which is a favorite for many dermatologists because it's so effective. It's great for sensitive skin. It's a wonderful all-in-one product. ZO products offer a range of sunscreens as well. We do offer products that reverse sun damage, even though it's better to prevent it. We offer topical creams with retinol, chemical peels and laser treatments to remove brown spots, red spots and overall damage. Some lasers even help with wrinkles.
6. What sets Coastal Skin apart?
I've been with Coastal Skin for two years and can't say enough good things. We truly focus on patients. Another large difference is that we are all board certified and fellowship trained in dermatology. It's essential to make sure you are visiting a board-certified dermatologist. Just because it says dermatology on a sign does not mean they are board certified in that specialty.  We also see any age of patient including children, which is not offered at all practices.
7. What do you love about your job? 
That I can help patients every day. I love that I'm able to see all ranges — from babies to adults, from acute to chronic problems. I love that most dermatology problems we can find a solution for. I think people under appreciate skin, when it's the largest organ of our body. I view it as a window into the rest of the body. Often, through the skin, we see little signs or hints that other parts of the body should be checked out. I love that the skin is tied to the psyche. When something is affecting your skin, it can affect you mentally and emotionally if you don't feel comfortable with the way you look. I really appreciate that patients allow us to help them improve their lives, not just their skin.
8. What is one skin care product everyone should own? 
SPF! Everyone should at least have a broad-spectrum SPF 30 or higher. While there may be many speculations about sunscreen, they simply aren't true. SPF is the most important tool we have for preventing skin cancer. One in five Americans will develop skin cancer by the age of 70. The No. 1 way to reduce that is through sun protection.