In the Studio With Donnie Sundal
The Destin-based singer, musician, producer and songwriter discusses his most recent projects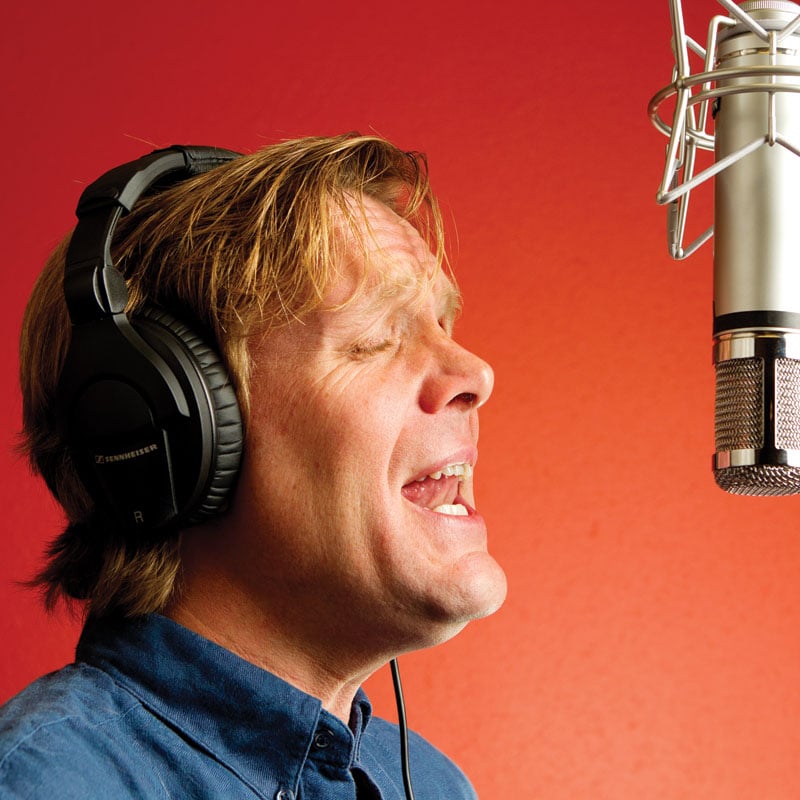 The career of Donnie Sundal is as eclectic as the countless songs he's written, performed and produced. The affable piano and keyboard player opened his recording studio to EC Magazine to hit the high notes of his lasting and varied music career.
Tall, with an angled face framed by straw-colored hair, Sundal began studying at the Berklee College of Music in Boston and has continued building his impressive portfolio ever since. After finishing his studies at Berklee, he and his wife, Jennifer, and their three daughters settled in Destin, their family's home for nearly 18 years now. During that time, Sundal — who is as easy going as he is hard working — worked to refine his craft, making him a well-known musician, singer, producer and songwriter — and Emerald Coast music scene fixture.
Donnie Sundal pictured in his latest venture — Neptone Recording Studio — a swank, full-service music studio giving voice to local, regional and national artists. Photo by Scott Holstein
Throughout the 41-year-old musician's career he has served as producer for multiple acts, toured the country, performed hundreds of shows and collaborated with several musicians. With influences such as Genesis, Jeff Buckley, Bob Marley, Radiohead and Bjork, it's easy to see how his career path mirrors his diverse taste in music. Although his musical interests and tastes cover a wide spectrum, this gregarious musical virtuoso has recently been concentrating most of his efforts on his band, Boukou Groove, and his new business venture, Neptone Recording Studio.
Boukou (pronounced boo-coo) Groove began in late 2010 when Sundal and New Orleans-based musician Derwin "Big D" Perkins decided to team up after playing together at random times throughout their careers. "Big D is from New Orleans and after Katrina hit, he relocated to Chicago," says Sundal. "Upon returning to the South, we got together and decided to create a full-time project."
As Boukou Groove, the duo began playing their musical gumbo of jazz, funk and blues throughout the Southeast several times a week. They also began writing, recording and producing a record. "Between the studio and this kind of chemistry we had, we decided to make a record together," says Sundal. "Not only are we working together producing the Boukou Groove record, but we also decided that it would be fun to start producing music for others as well. It will be nice to show people the Boukou record as an example of both."
At press time, a spring 2012 release date was planned. "We're excited about the number of guests we have joining us on the record," says Sundal. "A lot of the musicians we've had the opportunity to work with at Neptone will be making an appearance on the record."
In addition to Boukou Groove, the Neptone studio is another huge recipient of Sundal's time, effort and musical expertise. For years, Sundal maintained a home recording studio where he produced several projects. During a recording session there, Sundal realized he needed some equipment upgrades. Rather than investing more resources into a home studio, Sundal and his wife teamed up with friends Mike and Gail Kent to begin a new venture now known as Neptone Recording Studio. "We needed some new mics, and rather than using our money for that, we chose to open a studio," says Jennifer Sundal.
In 2006, Neptone — a high-end, spacious studio outfitted with the latest technology — began to function as a full-service studio where artists could record, overdub, mix and produce their music. While recording and producing for several local acts was the new studio's initial function, Sundal and his partners knew they had more to offer. Not only could they provide local artists with a state-of the-art recording studio, but they could also utilize the appeal and beauty of the Emerald Coast to attract artists from throughout the region. "The whole point was to turn Neptone into a destination studio," says Sundal. "A lot of artists in Nashville know about Destin and love to come visit. Here, the artists can work and have a relaxing vacation at the same time."
Neptone's reach goes far beyond offering just a recording studio on the beach.  Networking within the community, they offer artists several other services such as beach homes, fishing trips, water sports and dining. "A lot of time, artists want to get out of Nashville and make this part of their vacation," says Sundal. "We want people to call and utilize our studio because they know in their off-time they can be out fishing or enjoying a nice meal at Stinky's (Fish Camp)."
Over the past six years Neptone has continued to grow, receiving endorsements from major musical equipment manufacturers and recording and producing for acts that include Dread Clampitt, Junior Marvin of The Wailers, and Heritage- and Grammy-winning artist Sam Bush.
Most recently, Steve Fishell and his Music Producers Institute (MPI) found out about the work that Sundal and his crew at Neptone had been accomplishing and held a workshop at the studio. MPI teamed up with Neptone and Sam Bush and offered seats to prospective MPI students. The workshop allowed 10 guests the opportunity to sit in on a three-day studio session. The MPI event was a huge success with every seat filled. Plans for another MPI event at Neptone are already in the works.
With the forthcoming Boukou Groove album, several acts scheduled to record at Neptone and a full-time tour schedule, the future appears to be just as active, engaging and promising for Sundal as the career path that led him to the present.