In Destin, Pazzo is a Modern Italian Masterpiece
With a 7,000 lb artisanal oven to match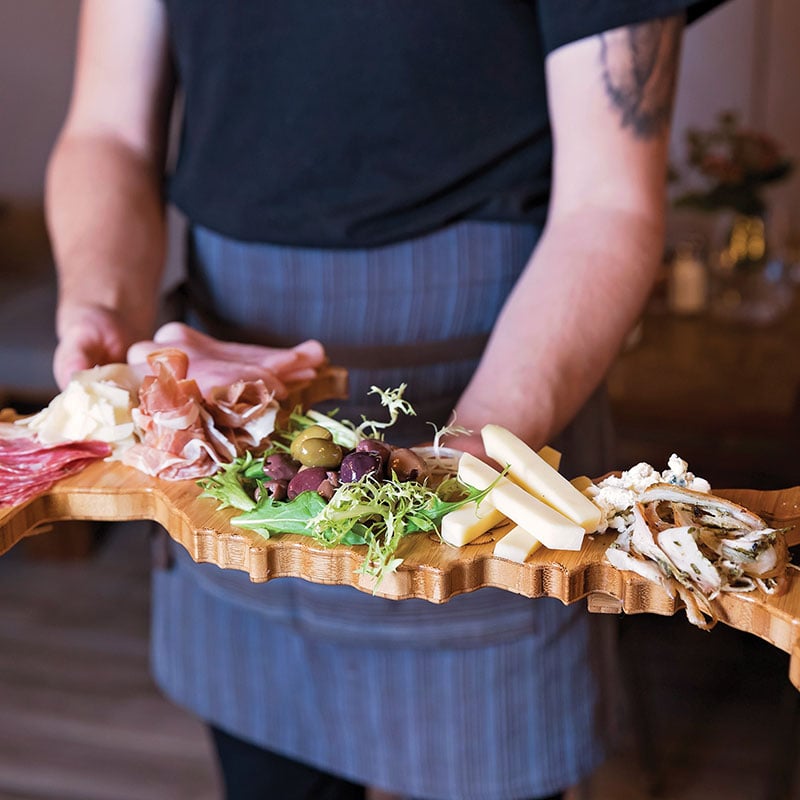 Pazzo: An Italian word meaning insane, wild and downright mad.
For restaurant owners Levi Tischler and Alfonso Di Bonito, Pazzo is the name that best represents them. They'd have to be a little crazy to put their personal finances on the line to build their first business from the ground up, and to haul a 7,000-pound artisanal oven from Italy all the way to Destin, Florida. But there's clearly method to their madness, because their food is crazy-good, too.
In 2003, Di Bonito left Italy to make the Emerald Coast his new home. A few years later, the Naples native was working at a restaurant when he met up with Tischler, a former resident of Romania who worked at the same restaurant, and the pair became fast friends. With Tischler's entrepreneurial spirit and Di Bonito's culinary expertise, the duo figured they should start their own restaurant.
"We had talked about it forever," Di Bonito said, "and a year ago, the day finally came when we started our company. It was a big decision — like getting married for the second time! Our two wonderful wives and our friends understood that this was not one dream, but two, and they supported us all the way."
That support is the bedrock of Pazzo Italiano Ristorante & Bar. Rather than hire a contractor, the two banded together with friends to completely remodel the property they'd chosen in the Crystal Beach Plaza of Destin. Meeting up with tools and a case of beer in hand, the crew spent long days knocking down walls and customizing every corner. They completed their project in about three months' time.
"We didn't want to create just another Italian restaurant, with the same theme," Tischler explained. "We wanted modern. Industrial. Our logo on the wood tables. A bar and open seating. It was hard work, but it paid off, because I'm always happy coming here. It's our second home."
"Maybe our first home, with the amount of time we spend here!" Di Bonito joked.
As the chef, Di Bonito's pride and joy is his brick oven. Imported from a small company in Naples, Italy, this oven stands as the only one of its kind in the Southeast. It's proudly on display near the kitchen, surrounded by a bar where guests can watch Di Bonito cook up pizza and calzones right before their eyes.
You won't find any gas or electric heat anywhere near this oven. Fueled by an oak-wood fire, internal temperatures in this unique oven can reach 900 degrees and cook pizzas in two to three minutes, tops.
While Pazzo's serves saucy, cheesy pizza and other common Italian fares that's molto buono, the real draw lies in the fact that these are home-style, family recipes. Although the restaurant only opened in May of 2017, guests have already discovered many hidden gems on the menu, and they keep coming back for more.
"One big seller is our Porchetta, which is pork belly we wrap in Italian herbs and pork tenderloin," Di Bonito said. "We cook that for about four to  five hou , until the belly hits crispy."
The Burrata, Tischler added, is another favorite. "It's mozzarella on the outside, filled with a kind of sweet- cream butter," he said. "It's so very fresh and different. We serve that over a bed of cherry tomato, arugula and prosciutto. Very simple ingredients, but high-quality."
While you indulge in these delectable dishes, you may see Tischler's wife, Mesi, serving up her legendary cakes, in flavors like blueberry mascarpone and chocolate cannoli.
Behind the bar, Di Bonito's wife, Erika, might be concocting cocktails, while his nephew operates the oven.
A true family business, Pazzo's is a place where you can come casual and know you're among friends. "When you come into our restaurant, you become one of our own," Tischler said. "We like to say, 'Pazzo's is the taste of passion.' This is a passion for Alfonso, for me and for everyone involved. When we see people leave happy — nothing can match that."