Immersed in The Mission
Stephenson builds team, programs at NWFSC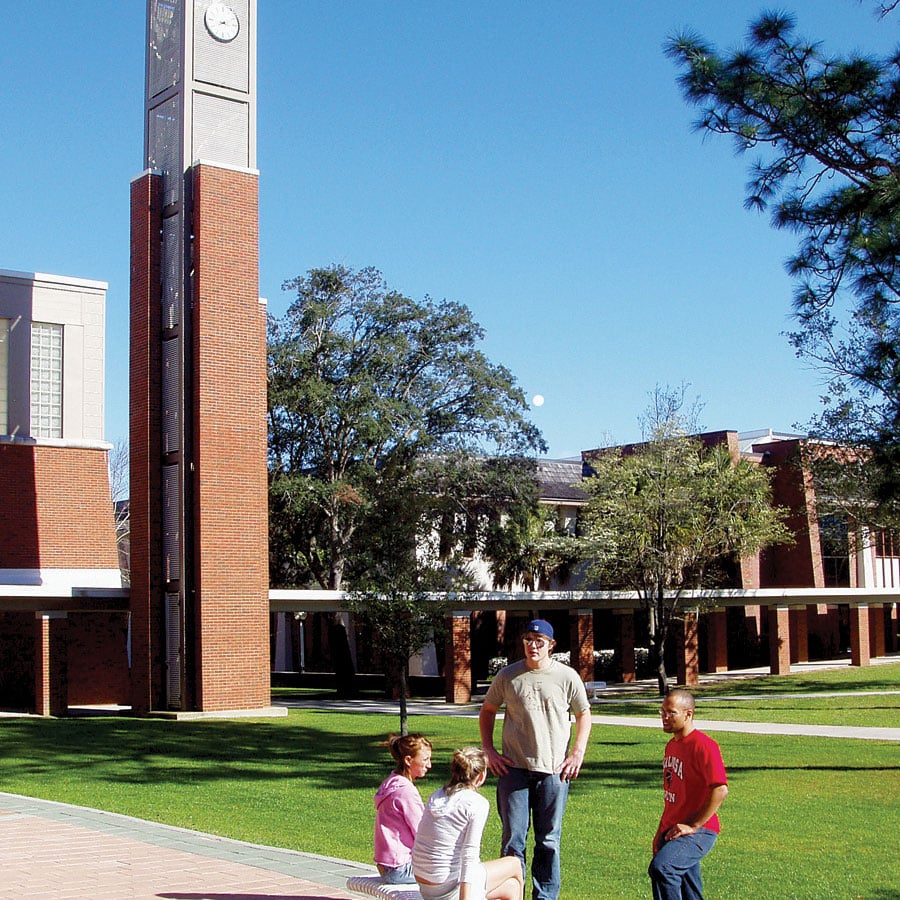 It's been less than eight months since Dr. Devin Stephenson began his day-to-day duties as the president of Northwest Florida State College (NWFSC), but his infectious personality and desire to achieve greatness at the state institution are taking hold.
"Why say 'the sky is the limit' when there are footprints on the moon?" he says. "What I'm seeing is people rallying to what we are saying and believing in the cause."
An Alabama native, Stephenson became employed by NWFSC on Nov. 5, 2016, and officially joined the institution on Jan. 3, 2017. With an extensive background in executive administration at the community college level, his career has taken him from Alabama, where he served as Vice President of External Affairs and Dean of Students at Bevill State Community College, CEO of Snead State Community College and Dean of Students at Walker State Technical College, to Kentucky, where he served as President/CEO of Big Sandy Community/Technical College, to Missouri, where he held the same positions at Three Rivers College.
No matter the institution, Stephenson has seen success throughout his career. Back when he was a young college student himself, however, he was unsure of where his professional career would take him. He didn't always plan to become a college president. Early on, he had an opportunity to set up a college-based aid program, which was an "adventurous step" at the time, but which also helped to establish the foundation of his future. He would ultimately move on to become director of admissions and public relations before dipping his toes into athletics and coordinating federal programs.
His various experiences allowed him to "peel back the layers" and gain valuable experience into not only how an institute operates, but also how he can make the necessary changes to achieve a desired result.
"It had gotten to the point where I became the fixer," he says from his NWFCS office, which is filled with books, various autographed sports pictures and other memorabilia that lend his office a homey feel. "I really got to see how the inner side of a campus worked and how different departments came together."
Now that his feet are firmly planted in Northwest Florida, Stephenson, who has two adult children, Jon and JulieAnne, lives, breathes and sleeps all things NWFSC. He wears his presidential badge with honor and tremendous pride.
"A lot of people think these are jobs of glamour, and they are certainly financially rewarding; but they are extremely hard work," he says. "They are 24-7, 365-day-a-year commitments. I am always thinking about what we can do to improve or how we can fix something."
And he says this sense of commitment is not limited to the presidency itself.
"This is not a job for me, nor is it for my wife, Judy," he says. "Whoever is the spouse of a college president, I can assure you, is immersed in the life of the institution — if they are serving as they should serve. Judy has to be an important piece of that."
Part of Stephenson's plan at NWFSC is to see continual growth within the institution, not only from the success of his students, but from the growth and development of his entire staff, whether they are members of the faculty, administrators or the custodial staff. He has implemented four "Ts" within his staff: train, trust, turn them loose, and thank them.
He also laid the groundwork for his presidency by using the letters NWFSC to form a set of action words, which essentially serve as a roadmap for how he will lead the college:
N: Nurture relationships with internal and external constituents, effectively collaborating to ensure that the college is an active leader in workforce, economic and community development.
W: Work to expand the capacity of the college through an aggressive resource development initiative — seeking funding from local, state, regional and federal sources.
F: Focus on developing/maintaining quality educational programs that are relevant and lead to a sustainable family wage.
S: Solidify our efforts around student success/development and the completion agenda.
C: Create a culture of excellence demonstrated by all personnel and characterized by continuous improvement and collaboration among all functional areas of the college.
As a relative newcomer to Northwest Florida, Stephenson, who is in his 10th year as a college president, can't wait to put his own stamp on NWFSC. The foundation is there and the building blocks are in place. But what is success, for Stephenson?
"I think, for me, it's effectively leading people and processes toward achieving the mission and vision that have been established for our institution," he says. "That means, on a day-to-day basis, keeping our vision out front and preaching the gospel of state colleges, our mission and our role. We can never lose sight of that."
Hospitality and Culinary Arts
As part of Stephenson's growth plan for NWFSC, the institution will implement new hospitality and culinary arts programs. Stephenson says that any successful college aims to maintain and onboard successful programs that are relevant to the community and that lead to good paying jobs. He notes a recent Gallup poll, which showed that 67 percent of adults in America defined success as a good paying job, not just a college degree. As Stephenson looked along the Emerald Coast and spoke with business owners, he quickly realized that there was an opportunity to create hospitality and culinary arts programs that would directly supply the area with skilled employees.
He explains that he then asked himself, "Why not have the center of excellence right here? There is a desperate demand. What better place to onboard a culinary arts and hospitality program than the heart of mega tourism?"
There are currently more than 800 businesses operating under the culinary arts and hospitality sector locally, Stephenson says. His goal is for the new programs to become "robust" with a diverse student body, yet have a special something that makes them standout from others, whether that is by being a student-run restaurant or a bakery that supplies local eateries with fresh bread.
The hospitality program is slated to launch in Fall 2017, while the culinary arts program has its sights set on Fall 2018. The college is currently evaluating sites to house the programs.