I'm Dreaming of a White Kitchen
They are gaining in popularity, but what's the draw?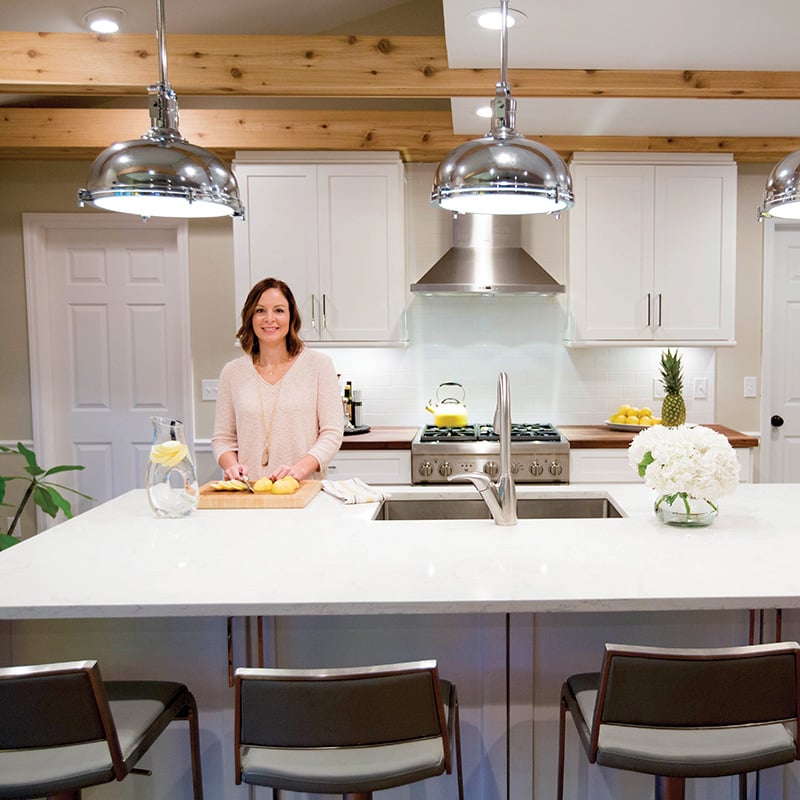 Ask a woman designing or dreaming of her next kitchen what she wants and there's a good chance she'll say she wants all white — cupboards, counters, even appliances. Clean, sleek and modern, all-white kitchens are becoming a white-hot option, for a host of reasons.
Color psychology may have a lot to do with this preference. The color white evokes feelings of purity and lightness, and is often considered the color of perfection. An added bonus is the illusion of more space; all white rooms seem bigger, more airy, more open. And who doesn't dream of a clean, spacious kitchen?
Meredith O'Rourke and her family built their house two years ago and when it came time to design her kitchen, she didn't hesitate. 
"I felt as though it created an environment which had positive energy, clean, fresh and bright," she said. "It's refreshing because no matter the weather or how fast life's pace is, you walk into a beautiful white kitchen and your spirits feel lifted."
O'Rourke recommended being mindful of Italian gravy, fruit juices and anything else that could stain. Otherwise, she said, it's very easy to keep clean.
Stephanie Derzypolski agreed. She wipes down the cabinets in her all-white kitchen regularly, and she polishes her appliances, but she said she would do that anyway. When remodeling two years ago, she also chose quartz countertops over marble so the maintenance would be minimal.
"I think a white kitchen looks clean and modern, which reflects my style," she said. "When I was planning my kitchen, I pinned a lot of pictures of kitchens. When I looked for an overall theme, most of them were white."
K. Glenda Cato, a licensed interior designer in Tallahassee, said she's seen plenty of all-white kitchens, but not quite as many in the South. Southerners, she said, like the warmth color adds. And it's important your white kitchen doesn't come across as sterile or unforgiving.
Another reason all white kitchens may be worth their weight in gold? Real estate value. White is classic, timeless and easy to match. And there's nothing quite like a clean coat of white paint to make something sparkle like new again. 
Whether you're ready to commit to white from ceiling to baseboards or you plan to incorporate color strategically, a white kitchen could be just the breath of fresh air you've been waiting for. And if you change your mind, white is an easy color to paint over!
---
How to add color to your white kitchen  
If all white is too much, you can add color in creative and unexpected ways: 
Wood mixes well with a white background, so consider a customized cutting board, display wooden kitchen utensils or add a butcher's block.

Try a monochromatic infusion of color — choose your favorite hue and incorporate it with a tea kettle and tea cups, or go bold with a colored backsplash.

Black counters are striking in an otherwise all white kitchen; try quartz or black granite for a statement combination.

Make a splash with multi-colored plates or platters; against all-white backgrounds, they'll draw the eye in a high-impact way.
---