If You Love Wine, The EC is The Perfect Home For You
Wine festivals are an imaginative way to fully appreciate life's most seductive and magical potion … wine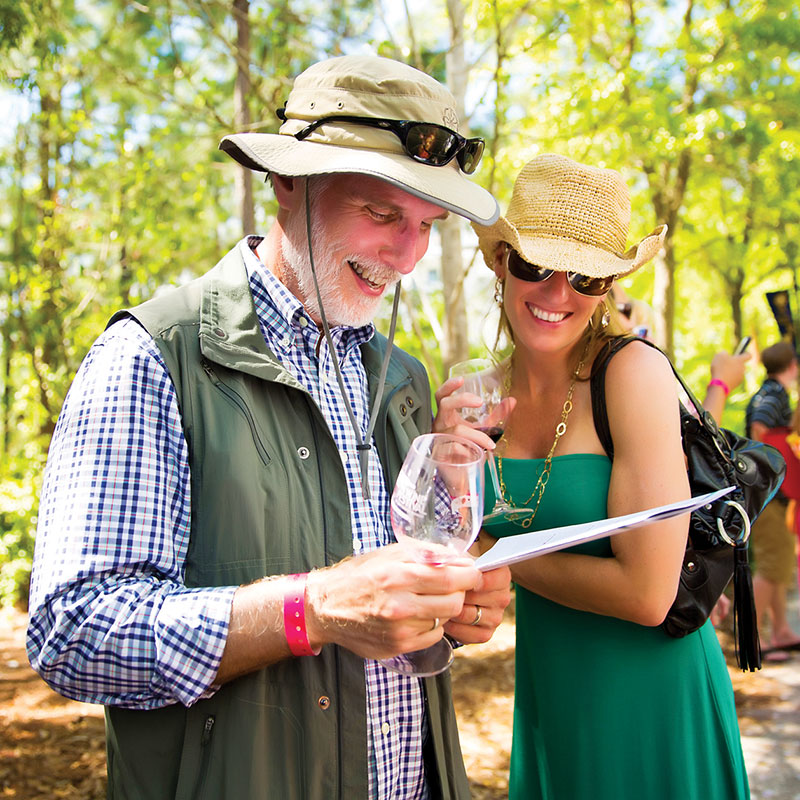 Wine pairs well with the good life on the Emerald Coast.
Wine tastings are not relegated to spring for whites and fall for reds any longer. From local liquor package stores along U.S. Highway 98 to fine restaurants along the coast, you can find a range of wines being poured nearly anywhere and everywhere. Heck, even your neighborhood grocer is splashing a sip into sample cups on most Saturday mornings.
Most of us don't like to be labeled, but when it comes to wine, all bets are off. Recently, local private wine labels such as the Seaside Wine Project (in concert with Kokomo Winery) and 30A Wines (in partnership with Krutz Family Cellars) are appearing on area restaurant menus and local shop shelves. You might say the Emerald Coast has gotten a bit giddy about wine. Those in the know say it's because the world of wine is about so much more than just wine.
Jean-Charles Boisset of Boisset Family Estates and La Famille Des Grands Vins, France's third largest wine group and the Burgundy region's largest wine producer, is one winemaker who wholeheartedly agrees with the notion that wine is a way of life.
"Wine allows you to experience many cultures, history, nature, unity … divinity — the world we live in. For me, wine is a collection of experiences," he said recently during an exclusive interview with EC Magazine.
And what a place to enjoy it. With beautiful outdoor amphitheaters and open green spaces dotting nearly every beach town along the Northwest Florida coast; warm, sunny weather; and wine-loving Floridians filled with what Boisset says is a rare joie de vivre, the Emerald Coast has all the necessary ingredients to orchestrate world-class wine fetes with all the accoutrements.
And the Emerald Coast does just that. During both the fall and spring in nearly every county from Escambia to South Walton, you'll find much more than wine when you attend any one of the area's major wine events. As if sipping and swirling several hundred domestic and imported vino varietals wasn't enough, today's event organizers are intoxicating all of our senses with gourmet food tastings, mood-enhancing music and educational seminars — all staged with tantalizing visual fanfare.
Sandestin Wine Festival at The Village of Baytowne Wharf
Courtesy Sandestin Golf and Beach REsort
First impressions can be lasting, so wine festival planners are paying close attention. When a wine tasting welcomes festivalgoers with a stroll down a "champagne lane" filled with bubbles floating both in the air and in crystal flutes, as is the case with the South Walton Beaches Wine & Food Festival, the sense of celebration begins the moment the attendee arrives and goes on from there, often for several days.
For nearly three decades, April has been a highly anticipated month for both local and visiting wine enthusiasts to the Emerald Coast. Nearly every wine lover in the area has the second week set aside for the three-day Sandestin Wine Festival in The Village of Baytowne Wharf. 
The Sandestin Wine Festival started on a rainy day in 1986 to give attendees of the Louisiana Bar Association something to do, but it has evolved into a springtime tradition for Northwest Florida's largest resort. 
"When you talk about the Kentucky Derby, it is the best of the best when it comes to thoroughbred racing, and the Sandestin Wine Festival is a thoroughbred event with amazing staying power," Sandestin Golf and Beach Resort Marketing and Public Relations Director Phil Werz says. "People come year in and year out to experience it, because it's new each year." 
Story continues on the next page…
To keep it fresh, Sandestin, like many wine festivals these days, is serving up more than just wine to "wine and dine" festivalgoers. To help tempt wine lovers the resort will enlist the culinary talents of its new executive chef, Javier Rosa. "We're excited to have him play an integral part in this year's wine festival. He's innovative, creative and uses a lot of flavor. That — along with having a lot of flair in his presentation and culinary style — has you anticipating what's next," Werz says.
For the past few years the resort has lured back wine lovers with food and music as demonstrated by this year's entertainment lineup featuring local music favorites such as Free Monica and Chris Alvarez along with regional acts from Nashville's music scene. By popular demand, the festival is reprising the Champagne & Seafood Voyage aboard the Solaris on Friday afternoon and a favorite finale, Brunch on the Bay at Baytowne Marina. 
But this year the resort is kicking off the weekend with something new, and perhaps unexpected, with … a splash of yoga! "We're calling it Mind, Body & Beach and it's a time to relax, rejuvenate and experience the Emerald Coast's turquoise waters and beautiful sand on Friday morning before you dive into the wine festival," says Werz.
Thanks to resident wine guru Chan Cox, for the past three years there has been even more wine, winemakers, wine suppliers and wine-pairing chefs pouring into South Walton, which is now home to the South Walton festival, held in Grand Boulevard at Sandestin during the last week of April.
Each year, the South Walton Beaches Wine & Food Festival is presented with support from Visit South Walton, which hopes the event will lure thirsty visitors from throughout the Southeast to fill hotel and vacation rental accommodations before the summer tourist season gets under way in May. To help the wine turn coffers to "liquid gold," the South Walton Tourist Development Council has officially designated the fourth weekend in April as "Northwest Florida Beaches Ultimate Wine Week."
So you could say that this year, the entire community is pulling out the stops — or stoppers, as the case may be.
After 40-plus years in the food and beverage business, Cox is keenly aware just how to keep crowds coming back.
"The winning formula to a great wine event is simple," Cox says. "You start with good wine, invite knowledgeable people to pour it, add excellent food to pair with it and build from there. By design, it becomes a truly memorable experience that people enjoy having again and again."
Part of the appeal of outdoor wine festivals is where they are located. The Emerald Coast has no shortage of wonderful amphitheaters and green spaces near the beach. So, it is no surprise that tickets to annual wine events such as Uncorked, which is staged in October throughout the cobblestone walkways of scenic Rosemary Beach, are sold out well in advance. 
Alys Beach is home to the 30A Wine Festival, the area's first signature wine festival held in March. It, too, asks its attendees to venture beyond wine by serving up bourbon, beer, barbecue and … a surprisingly competitive croquet tournament.
For Jeremy Walton, vice president of operations for Alys Beach, everything comes down to the experience that's being created.
"People are looking for transformative experiences," he says. "Their engagement factor is key. When they can have a relationship to an event, it makes it even more powerful. People want to be a part of a place that is animated."
And that is exactly what Cox and his crew hope to deliver in Grand Boulevard's Grand Park on April 23–26. Part of the sizzle for this year's event is sure to come from appearances by nearly a dozen venerable wine superstars who will serve as first-time celebrity guests at the South Walton festival.
Jean-Charles Boisset
Moanalani Jeffrey Photography/Boisset Collection
One in particular who is sure to shine is Jean-Charles Boisset. You could say he is Franco-American wine royalty. His family's French vineyards date back to the 17th century, and he is married to Gina Gallo, the granddaughter of Julio Gallo of E & J Gallo Winery, America's largest winery. They have twin daughters and live in both Napa Valley and Burgundy.
The dashing 45-year-old winemaker, known as the "James Bond of Burgundy and Buena Vista," is eager to wow wine lovers by bringing for the first time to any festival what he calls "the JCB experience." In addition to creating a lounge-like atmosphere filled with eye-catching visual displays of award-winning wines from many of his 22 wineries in France and California, Boisset's personal chef will prepare several tasty bites, and representatives from the Boisset family of wines will be on hand to mix and mingle with guests. You're likely to find this charming showman center stage during the live auction of his donated lot item and in the retail tent treating fans to signed bottles and "selfies."
"A visit to our tent will allow you to travel from Sonoma to Napa to Carlos to Burgundy to the south of France and the Rhone Valley, exploring a collection of very unique wines, each with different flavors, styles and textures that can really fulfill the dream of everything from an aperitif to a dessert wine," he says.
There is plenty of food and flare at South Walton festival, but the real draw — as is usually the case with most wine festivals — is the opportunity to discover new wines by tasting them. Saturday and Sunday's Grand Tasting will showcase more than 800 domestic and imported wines. 
Many tasters save their palates (and wallets) for each year's award-winning wines. This year a panel of 24 industry experts gathered at the Hilton Sandestin in January for a blind judging of flights of wine in 72 different categories such as "cabernet sauvignon under $20" and gave gold, silver, bronze and Best of Show (red and white) medals to 216 wines. Boisset wines earned 14 medals, including Domaine de la Vougeraie 1er Cru Beaune Clos du Roi 2010, which was voted a Gold medal and a Best of Show runner-up. 
Wine can be complicated, but Boisset says it shouldn't be intimidating. He gives the same advice to the wine novice as he does to the pro: "Be curious. Be adventurous. Let your sense guide your taste of wine, and allow yourself to celebrate your own senses."
Though he tops every power list in the wine industry, Boisset would much prefer to be considered an artist than a businessman. Almost to prove his point, he shares his creed, which is, "I don't desire to just make wine, I wish to create dreams."
The South Walton festival's partnership with the Destin Charity Wine Auction Foundation means dreams will come true for some in our community who need them most. To date, the foundation has raised $8 million for local children's charities since it formed 10 years ago, placing it at No. 6 on Wine Spectator magazine's list of Top 10 Charity Wine Auctions in the United States.
Yes, the Emerald Coast's proverbial wine cup runneth over, and once again this spring during "wine season," everyone from the newbie to the aficionado is poised and ready to drink it all in. If festivals came with directions, they might say: "For best results, pair with family and friends, then sip, savor and celebrate every delicious moment."