14 Coastal Creameries and Cool Down Treats
A guide to frozen treats best served on sweltering summer days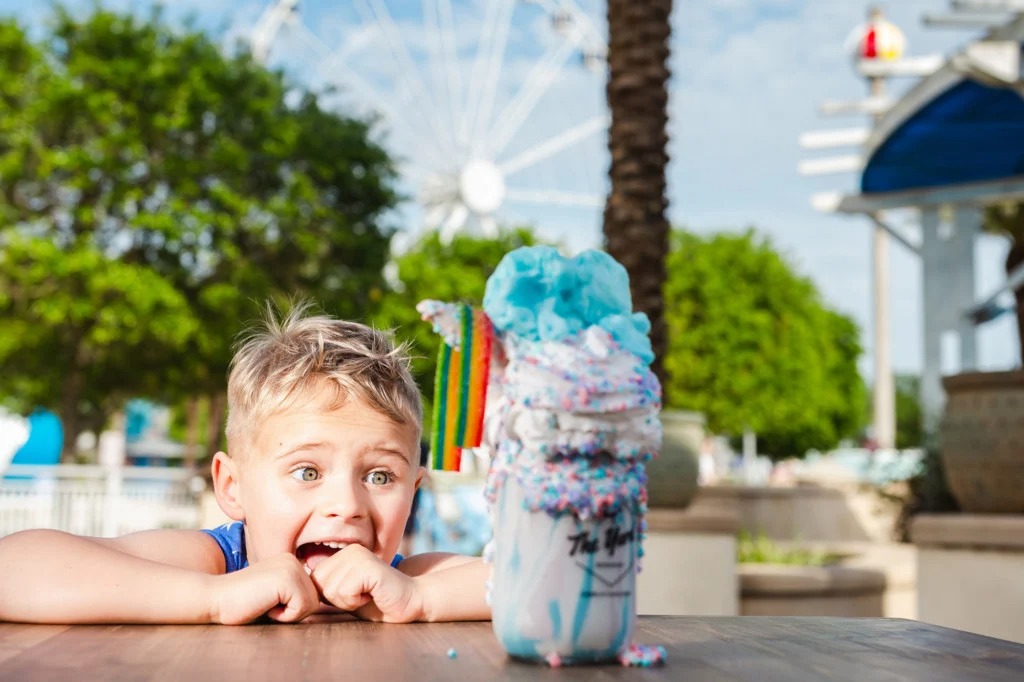 Summertime is all about trying to finish the cone before the ice cream drips. Whether you're a classic vanilla with rainbow sprinkles or always itching try to the most inventive new flavors, the Emerald Coast isn't lacking for frozen dessert options. We've compiled a list of ice cream shops and popsicle parlors to spend the dog days of summer cooling down in.
Housed in a cute and cozy space in the Village of Baytowne Wharf, this shop scoops 24 flavors alongside specialty sundaes, shakes, homemade fudge and fresh-baked waffle cones.
101 Cannery Lane, Miramar Beach
Pino Gelato Café
As authentic as you'll find outside of Italy itself, Pino Gelato Café tantalizes tastebuds with gelato churned with true Italian tradition.
pinogelatocafe.com
10562 Emerald Coast Pkwy, Suite 188, Miramar Beach
The Yard is legendary for its over-the-top milkshakes and sundaes. These works of art are swirled with multiple ice-cream flavors and an abundance of toppings and mix-ins including cookie dough, marshmallow cream, cereals, brownies, cheesecake, doughnuts, candy bars and more.
theyardmilkshakebar.com
4419 Commons Drive East, Destin
15801 L.C. Hilton Drive, Pier Park, Panama City Beach
The location itself gives you that homemade, homespun feel as it looks like a beach house. The welcoming front porch window serves up ice cream, frozen yogurt and sorbets with gluten free and dairy free options.
bluemountainbeachcreamery.com
2129 S Co Hwy 83, Santa Rosa Beach
First known for their Southern pecan brittle, Pecan Jack's has increasingly become popular for their signature line of ice cream. Their creamery reinvents southern favorites such a banana pudding and peach cobbler. On your way out be sure to grab a bag of brittle, pralines or infused chocolates.
pecanjacks.com
4368 W County Hwy 30A, Santa Rosa Beach
While strolling the streets of the Village of Baytowne Wharf it's logical you'll crave a sweet treat such a gelato, sorbetto, baked goods, or a coffee to perk you up after the sugar coma.
seasidesweeteries.com
134 Fisherman's Cove, Unit MS-5, Miramar Beach
This shop combines a dynamic duo – Great American Cookies and Marble Slab Creamery. Mix any of the 12 ice cream flavors with toppings galore, cookies especially. Shop single cookies or cones or cookie or ice cream cakes for special occasions.
30acookiesandicecream.com
12805 US Highway 98 East, Suite R-102, Inlet Beach
174 Watercolor Way, Suite 114, Santa Rosa Beach
The Sugar Shak – Rosemary Beach
The walls of The Sugar Shak are lined with all things confectionary. The thirty different ice cream flavors can be served by the scoop or made into floats, sundaes, milkshakes and malts with any variety of candy toppings added.
thesugarshak.com
5 Main Street, Suite 2A, Rosemary Beach
Nothing says summer day quite like a popsicle. Chuy's specializes in ice pops that are fruit or milk-based with a revolving flavor menu.
chuyspops.wixsite.com/website
11204 Hutchinson Blvd. Panama City Beach
The Dole Whip is no longer just at Disney. Pink Pelican delights in dishing up over 40 unique flavors. Top any flavor with their homemade fudge or roasted nuts.
pinkpelicanpcb.com
543 N Richard Jackson Blvd Panama City Beach
Riviera Creamery keeps it cool with an array of chilly treats including ice cream, sherbet, sorbet and New Orleans style Snow-balls. Standout flavors include salted caramel pretzel, butterscotch vanilla, pomegranate blueberry and Irish coffee.
rivieracreamery.com
12700 Front Beach Rd., Suite 105, Panama City Beach
Bubba Watson has a big sweet tooth, so much so, he opened a shop dedicated to it. Part candy shop, party ice cream parlor – combine the two for unique to you creations.
bubbasweetspot.com
405 S. Palafox St. Pensacola
Pop on in and pick a pop that suits your sweet spot. Popular selections include pineapple mango, pink lemonade, key lime pie, blueberry cheesecake and birthday cake, to name a few.
friospops.com/locations/pensacola/
9 Palafox Place, Pensacola
Heavenly's Shortcakes & Ice Cream – Seaside
Fashioned like an old-fashioned ice cream shop, Heavenly's is known for two things: ice cream and strawberry shortcake, best eaten together. Their brand of choice is Blue Bell.
sweetwilliamsltd.com/heavenly.asp
63 Central Square, Seaside