I Love Big Hearted Little Towns
A note from the Editor of Emerald Coast Magazine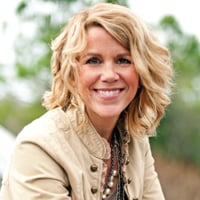 Stories in this issue gave me an excuse to hit the road to meet some of the most interesting and kind-hearted families with deep roots in Fort Walton Beach, DeFuniak Springs and Destin. One of the joys of writing for a local "city" magazine is the many opportunities to head out of the office and into the living rooms, kitchens, art studios and shops of all kinds of interesting folks living all across the Emerald Coast.
Unlike other media formats, magazines are wonderful because you are given some creative liberty … and space to tell a story. At the risk of my journalistic integrity, I admit I might take things a little farther than most, by saying I often fall a little in love with those who "star" in my stories. When someone is giving you the honor of revealing their passions, their dreams and sharing intimate details of their personal journey through life — it's heartwarming.
I was not surprised when Dennis Ray, the dapper proprietor of the Little Big Store, and his beautiful bride, Brenda, tugged at my heartstrings. What I wasn't expecting was to be totally smitten by the town, too. Yes, I've been to DeFuniak Springs. In fact, walking around the Christmas Reflections light display is an annual family tradition. But I have to confess I hadn't really considered the town from the perspective of the folks who live there … until I interviewed the Rays.
From behind the shop's worn, wooden counter (reclaimed from the original Big Store circa 1903) they shared their passion for historic preservation made so clear in "old time" touches around the store, not to mention the restaurant and the Victorian home and garden they also have thoughtfully restored.
But the Rays' artful avocation is just the start of what gives this quaint town such a strong sense of place: The rare round lake serving as the centerpiece to the town, the L&N train depot-turned heritage museum, the lovely library (the oldest in the state,) and, of course, the grand Hotel DeFuniak. What a great town. What great history. What a great love story.
Dennis Ray is a well-educated, talented and accomplished academician. He could have settled anywhere after he retired in 1993. He came back home to DeFuniak Springs, and all three of his businesses and, maybe even more impressive, his way of doing business. All are certain to leave a lasting legacy.
This past winter, I moved to Main Street, quite literally. I've lived in 14 cities all across the United States during my lifetime. I've lived in the inner city, the 'burbs and in the country. And, because of the bighearted families such as the Rays, the Rings (who own The Buccaneer in Fort Walton Beach) and the Wilsons (who own The Zoo Gallery in Grayton Beach and Destin), and so many other pioneering spirits behind our treasured small businesses, I couldn't be happier right here in "small-town USA."
Our towns may be small here on the Emerald Coast, but our shops are filled with big hearted "moms and pops" with personality plus. What's not to love?
Editor's Picks
Armed with Inspiration
Two local kids have brought "friendship bracelets" to a whole new level. Tween designers Mackenzie and Payton Brundage are the creative force behind Peace Passion Positivity Inspirational Bracelets — handmade bracelets sporting inspirational messages. To order them, email kimscloset@cox.net or call (850) 217-0534. Here's to wearing your heart on your sleeve. You go girls!
Relaying Our Thanks
During spring 2012, volunteers and staff from the Emerald Coast Unit of the American Cancer Society held four Relay For Life events in Okaloosa County raising $524,560. This earned them the noteworthy title of becoming the No. 1 per capita for Relay For Life in the nation for funds raised. Teams of friends, family and co-workers camp out at their local high schools or fairgrounds and take turns walking or running around a track because cancer never sleeps and, for one night, neither do the stalwart relayers. Kudos and heartfelt thanks to these dedicated event chairs: Susan O'Neil (Fort Walton Beach), Krystal Jackson (Crestview), Dr. Ralf Zapata (Niceville) and Trevia Buckner (Destin).