How To Make The Most of Your Florida Room
A gathering place and investment opportunity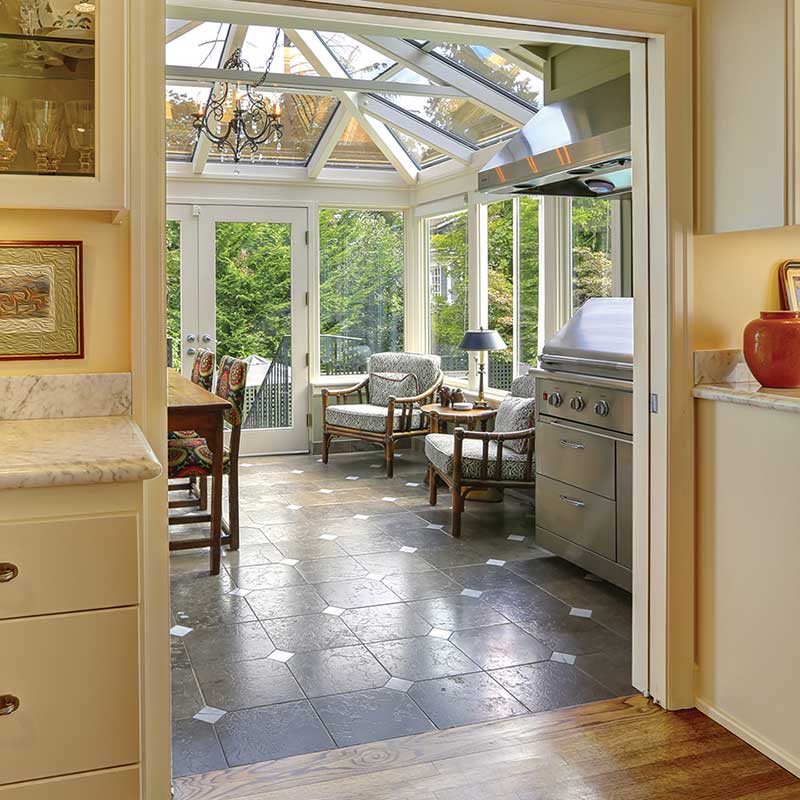 Florida rooms, also known as sunrooms, bring the outdoors indoors, or the indoors outdoors, depending on your perspective.
Chris Wallace, a realtor with Century 21 Blue Marlin Pelican, has stood in his share of empty Florida rooms.
"They can be screened in, surrounded by windows or have sliding glass doors," he says. "The benefit to the space is that it allows you to enjoy the outdoors while being sheltered from the wind, rain, intense sun and bugs. The appeal is the room's versatility."
Such versatile rooms are popular in the Sunshine State, with its extended spells of pleasant weather.
"A lot of the clients I work with, whether they are purchasing their primary residence, second home or investment property, are looking for an outside space," says Wallace.
"In Florida, the climate allows the enjoyment of an indoor/outdoor space. Decks, patios and a screened-in porch are major selling features."
Wallace says that the presence of a Florida room can increase the value of a home because it adds square footage; however, homeowners should understand that most buyers place more importance on having beautiful, updated kitchens and bathrooms than on an indoor/outdoor living space.
Buyers, in their turn, should be aware of costs associated with maintaining a Florida room.
Having a poorly constructed indoor/outdoor space attached to your home can drive up utility costs at certain times of year.
Phillip Russell, owner of Russell Builders in Pensacola, is well known throughout the country for his energy-efficient building practices.
"When building a Florida room," he says, "there are several considerations you have to make to increase energy efficiency. But before you start building, you need to know where the sun is going to hit the structure the hardest. The west sun is your harshest sun, so you have to account for heat gain on that side of the room."
Whether a Florida room is screened in or glassed in, it should be built using materials that reflect the sun rather than absorb it, Russell says.
For solariums, he recommends using reflective double-paned windows; for screened porches, he suggests using reflective screens. Roof color matters, too: A light-colored roof will reflect sunlight, while a dark-colored roof will absorb heat.
Another way builders can increase energy efficiency is by using a foam spray insulation on the downside of the roof decking and increasing the roof overhang so less sunlight can enter directly into the room.
Air circulation is important, too, for keeping a Florida room comfortable.
"Ceiling fans move the air around really well," Russell says, "but you may also want to have a split A/C system installed. Another option is, you can have your existing system tied to the Florida room but have the Florida room zoned separately."
While the cost of building a Florida room depends on the materials that are used and on the room's interior and exterior finishes, Russell says a basic screened porch, with no insulation or A/C, generally runs about $100–$125 per square foot.
On the other hand, a custom solarium built using energy-efficient materials and tied into the home's existing A/C unit costs around $150–$160 per square foot.
Once built, the new Florida room needs certain kinds of furnishing and decorating. Brooke Williams, Interior Designer at Lovelace Interiors in Miramar Beach, advises homeowners to select fabrics and upholstery that are UV-resistant. Rugs used in Florida rooms should be made from polypropylene, which is a washable, very durable material.
"Keep in mind that sun exposure affects wood finishes, too," she says. "Dark wood finishes on furniture will bleach out; so go with lighter, more rustic finishes."
To supply privacy and shade when needed amid all the natural light, Williams recommends installing Roman shades and/or sheer draperies over the windows.
Like Russell, she recommends keeping colors light to prevent heat absorption.