How to Keep Your Holiday Decorations 'Au Naturel'
Let Nature Help When It's Time for Holiday Decorating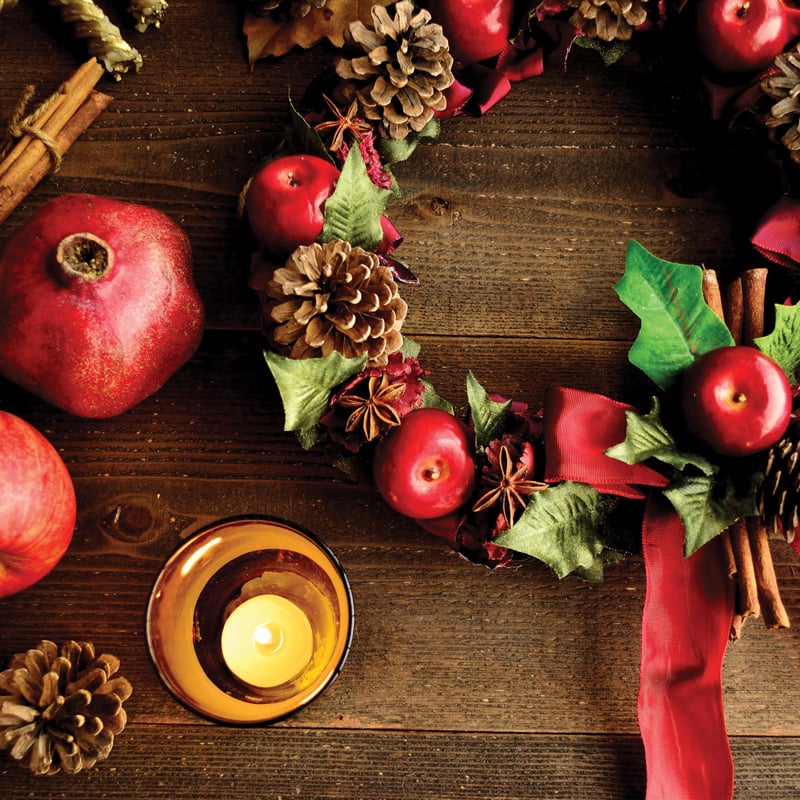 ---
Q: I'd like to go with a more natural holiday décor this year, but I have no idea where to start or what the best plants are to use. What do you suggest? 
A: There are quite a few trees, shrubs and flowers — ornamental and edible — that can contribute to a festive atmosphere in your home during the holiday season. 
For December holiday decorations, which often include candles, various kinds of holly can be arranged to showcase the leaves and berries and accentuate the candlelight. On a fireplace mantle or a side table in the living room or dining room, solid green holly or a variegated variety announces the season. There's also a variegated saw-toothed tea olive, Osmanthus fragrans, which resembles a holly but retains the delightful fragrance that distinguishes tea olive.
Most any holly works well with leaves of the Southern magnolia, Magnolia grandiflora. The smaller, more distinctly ribbed leaf of the loquat tree, Eriobotrya japonica, is another option. 
Both heavenly bamboo, nandina domestica, and coral ardisia, Ardisia crenata, have become pests and are classified as invasive, but if you have stubborn plants in your yard, take advantage of their distinctive foliage and bright red berries in your decorating. One of my friends swears that by cutting the branches with berries for her Christmas decorating, the birds don't have a chance to spread them and the plants stay under control in her yard. Plus, she gets a beautiful display of green and red in vases she can place around her home.
Camellias, which grow so beautifully in our area, make beautiful cut flowers for the holiday. The stems are usually too short to display in bud vases, but they look lovely floating in a bowl of water and come in a variety of colors. The bloom season for most Camellia japonica varieties coincides with the holiday season.
Citrus, usually a winter-ripening fruit, offers both leaves and fruit for decorating. Kumquats, in particular, make great additions to mantels and wreaths because of their glossy green foliage and colorful small fruits. Persimmons, apples and pomegranates work well, too. Rosemary sprigs provide color as well as fragrance. A bowl of winter fruits makes a great centerpiece. Tuck a few sticks of cinnamon in any arrangement for a burst of Christmas smell. Pinecones of various sizes, either left in their natural state or sprayed with gold or silver paint, can accent the greenery.
If you have grapevines or Chinese wisteria, Wisteria sinensis, an invasive vine with purple flower clusters in spring that people either love or hate, you can use the stripped vines to make wreaths. Alone, the vine wreath makes a striking silhouette, or you can adorn it with ornaments, natural or not. 
You don't have to limit yourself to what's in your own yard. Local nurseries sell wonderfully full and fragrant evergreens that don't survive here — firs and spruces that grow in the mountains of North Georgia and North Carolina. You can get garlands, swags and wreaths — as well as Christmas trees — and then build upon that evergreen base with what you have to create a holiday theme.
---
© 2014 Postscript Publishing, all rights reserved. Audrey Post is a certified Advanced Master Gardener volunteer with the University of Florida IFAS Extension in Leon County. Email her at Questions@MsGrowItAll.com or visit her website at msgrowitall.com. Ms. Grow-It-All® is a registered trademark of Postscript Publishing.