How These Adrenaline Junkies Combine Boating, Fishing and Hunting
Anglers turn to spearfishing to catch that elusive fish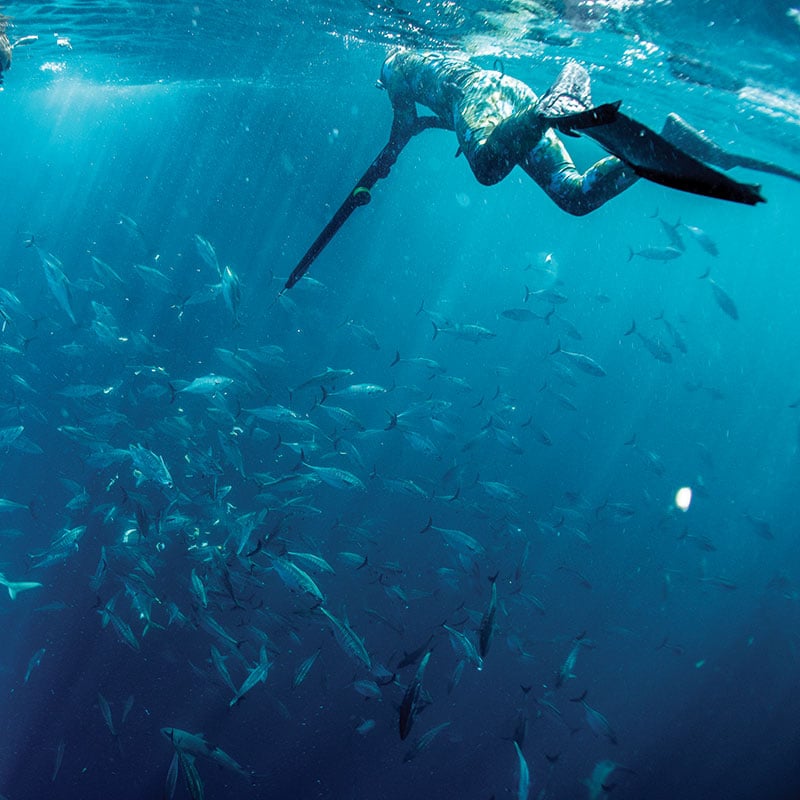 Some people prefer to wait for a fish to find their bait on a line dangling from a boat, pier or shoreline. Others choose to dive down on a tank of air or even freedive and spear them in their underwater lair.
For both, it's the thrill of the chase and a fresh fish meal. For spearfishermen, it's the culmination of many adrenaline activities rolled into one.
"It's boating, fishing, hunting and diving all at the same time," said Bob Provost, owner of Discovery Dive World in Valparaiso. "It never gets old. You never know what you're going to see every time you go underwater."
Provost has been diving since 1984 and says he can't get enough of the adventure every spearfishing dive brings. As a former Air Force pilot who was stationed all over the world, he's had the opportunity to dive in many unique places. When he came to the Emerald Coast and decided to buy a dive shop in 2007, he was filling a void by supporting divers and spearfishing enthusiasts with an extensive selection of gear, proper training, travel and competition. Ever since, he's seen the sport of spearfishing grow in the area significantly.
Provost's shop offers eight different scuba diving classes, including the PADI (Professional Association of Diving Instructors) Underwater Hunter certification taught by diving veteran Bryan Kennington. Kennington instructs divers on fishing regulations, fish identification, how to safely spear fish, mastering the kill shot and how to safely get it to the boat. Provost recommends that anyone interested in spearfishing first get a few dives under his or her belt.
Story continues on next page…
Jimmy Vuong hunts, spears and wrestles down his first cobia
Austin Powell
"When a diver is completely relaxed while diving, then they are ready to spearfish," he said.
Spearfishing is distracting and requires the ability to multitask underwater. For example, a spearfisherman might be wrestling a fish but must also keep checking his or her air supply and bottom time.
"No fish is worth no air," Provost said.
Besides the inherent risk of scuba diving, Provost says the risk is low when it comes to sharks, and he's never heard of a spearfisherman being bitten by a shark.
"You are not in their food chain," he said. "They are curious and only want the fish that's on you."
According to Provost, the five most common fish for local spearfishermen are snapper, grouper, cobia, amberjack and flounder. Some fish are off limits to spearfishing, such as pompano and red drum. His personal favorites are cobia and gray triggerfish, because they taste similar to halibut.
Kennington said he believes spearfishing is much more ethical and conservative than line fishing because divers are selective and leave no line behind. He personally enjoys the challenge of spearfishing amberjack, which he calls the "donkey of the sea," because it puts up a tough fight if you don't get a kill shot.
Kennington, who is also a dive equipment technician, said he's noticed that there is more of a diverse group of people diving because of underwater scooters, which propel divers to explore with less effort and half the air, and digital photography attracting people to the sport. 
But one factor working against the sport is the closure of fisheries, short fishing seasons and limits for some fish such as snapper that discourage divers from going out because the cost to fill up a boat to catch only one fish doesn't seem worth the gas money.
Regardless, Provost has seen an exponential increase and interest in his annual dive and spearfishing charters to the Keys, as well as participation in the Gulf Coast Reef Hunter Annual Spearfishing Tournament. Discovery Dive World began the competition in 2010 with 15 participants, and it has grown to more than 50 contestants. The event is held every September at Northlight Marina in Niceville. For one day, divers hunt and weigh in their largest fish in various species categories to win more than $2,000 in dive gear.
"People love it and have a great time," Provost said.
A special award in the Warrior Category was created to recognize the growing active-duty military personnel who are spearfishing in the area.
One of those champs is Miramar Beach resident Tony Sanabria, who caught an award-winning 21.3-pound amberjack in 2013. Sanabria enjoys bringing the fight to the fish and slaying tasty meals.
"I've done a lot of rod-and-reel fishing as well, but there is something cool about going down to 100 feet and choosing the fish you want to eat for dinner," he said.
Sanabria is an NAUI (National Association of Underwater Instructors) master diver and an elite military diver with many underwater expeditions on the Emerald Coast and Florida Keys under his belt. Diving as deep as 148 feet looking for big gag groupers is just a typical Saturday for Sanabria and his dive buddies.
"The beauty of Destin-area diving is you don't have to drop deep to get big fish," he said. "My favorite spot is classified; all Gulf Coast fishermen keep their spots to themselves."
Northwest Florida is the perfect area for successful spearfishing because the water visibility is ideal, the best fish are in season and there are many sunken wrecks where large game fish dwell.
Despite the beauty, spearfishing is a serious sport not to be taken lightly. Sanabria says it's important to know how to handle stressful water environments while pushing the limits.
"As long as you can stay calm in the water and be aware of your surroundings, you can be a good spearfisherman," he said. "With practice, you will get better at placing kill shots (2 inches behind the eyes), which makes it easier to get control of the fish."
The keys to having a successful spearfishing trip are having a plan and heading out early.
"Try and do your deepest dive first and plan good surface intervals," he said. "You should plan on what type of fish you're going after, so you can focus on where they will be. Have plenty of ice on hand for your prized fish."
Now that he's mastered spearfishing on a tank, Sanabria plans to learn more about freedive spearfishing, which involves hunting a fish on a breath hold instead of scuba equipment.
Many scuba divers are giving up the tank and exploring spearfishing with just a mask, fins and the air in their lungs. According to Mike Pooler, owner of Benthic Ocean Sports, a new freedive-specific spearfishing shop that opened in Destin in March 2014, freediving is more streamlined and unencumbered by bulky scuba gear.
"You're able to see and interact (or hunt) with sea life easier since you're not scaring everything away with bubbles," Pooler said. "It's definitely more of a purist form of diving. You don't need to be an athlete, but it is more physically demanding."
Pooler said the basic gear is different from standard snorkel or scuba equipment. The fins are much longer and made of different materials. The masks are smaller, with lower internal air volumes, so it's easier to equalize air pressure; the wetsuits are usually open cell neoprene, which is warmer and more flexible; and the weight belts are rubber. All of this minimalist equipment helps a freediver get to a fish faster and safely.
"The pinnacle of our sport is taking large pelagics like wahoo and big tunas, The hardest to target in our area from my experience is king mackerel."
Freediving has been evolving quickly, mostly due to organizations such as Freediving Instructors International developing formal training and certifications for the sport.
"Those courses really are the key to getting started in the sport, diving safely and more effectively," Pooler said.
Noted as one of the most accomplished divers and spearfishermen in the area, Joe D'Agostino operates Emerald Coast Freediving and teaches classes for Benthic Ocean Sports and clients in the area.
D'Agostino started freediving in 1996, the same year he became a lifeguard. Now, he is Beach Safety Division Chief for the Destin Fire Control District, an FII Level 3 certified freediver, a Level 1 instructor and a Waterman Survival instructor. Some of his prized catches include a 130-pound yellowfin tuna and an 83-pound amberjack in Mexico, both while freediving.
"Growing up, I did a lot of bow hunting and bass fishing," he said. "Freedive spearfishing was a natural sort of progression. I have never speared a fish on scuba. I have nothing against it, it is just not my sport."
The key to freediving is proper training, since there are dangers to holding your breath underwater for extended periods of time. D'Agostino says his FII course teaches students how to reach depths of 132 feet on one breath. His Waterman Survival class helps water enthusiasts train for an unexpected breath hold, such as when a kayaker flips his vessel.
"Anyone can freedive as long as they have basic swim skills," he said. "You can train your body to accomplish incredible feats. Some of the students I have had are going down to 60 feet and staying on the bottom for 30 seconds."
The sport is getting popular on the Emerald Coast because anglers are realizing they can spearfish on a breath hold at 30 to 40 feet, and diving free from equipment gets them up close and personal with marine life.
"I love the amazing things I have seen, like cruising yellowfin tuna, wahoo, marlin, whales, etc.," D'Agostino said. "I just had a whale shark swim up to me while spearfishing yellowfin tuna on a rock pinnacle in Mexico. I grabbed ahold of its fin and got to ride it down a few meters. Awesome!"