How She Bridged the Gap Between Technical and Creative Writing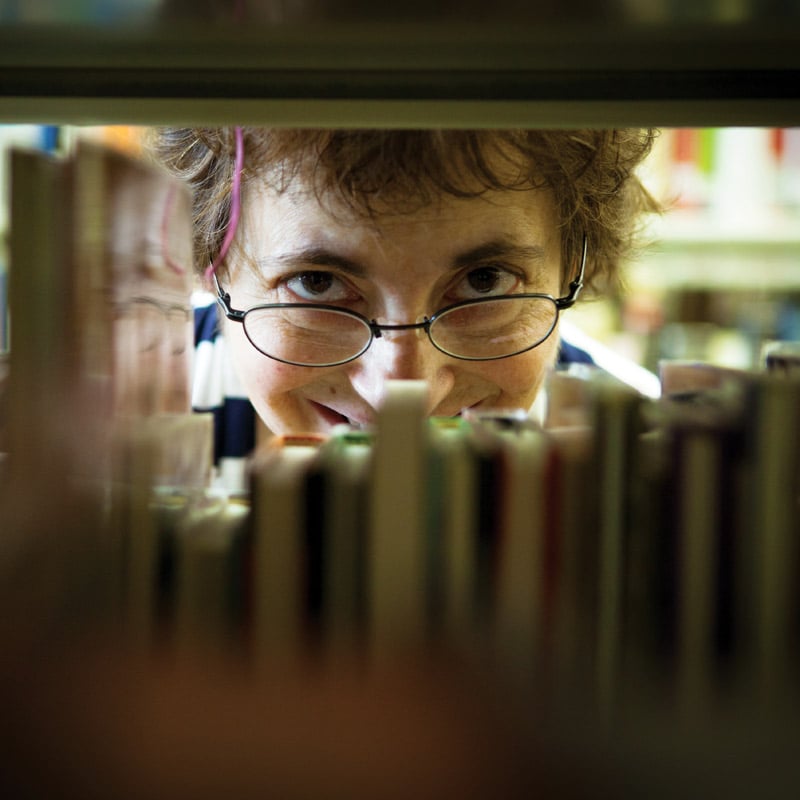 Esther Hurwitz has a history of asking herself the same question: "Should I do what I've always done, or should I try something different?"
Originally from a suburb in Detroit, Michigan, the 56-year-old bespectacled poet lives with her boyfriend, Nate, and 11-year-old cat, Winston, in Crestview. Though she has built a reputation as an established poet regionally and locally, Hurwitz's career began in a different arena — in technical writing.
Her 17-year-career as a technical writer led her to a variety of experiences, including working with newspaper publishing software and automobile companies like Ford, where she worked as a contractor in 1994. "I used to be mechanically inclined," Hurwitz said. "I like to know how things work."
Matt Burke
You can "have a word" with Hurwitz at the Crestview Library which holds a Poetry Jam every second Tuesday of the month as well as an annual Poetry Slam in April.
After her contracts were unexpectedly cancelled, Hurwitz decided to break from the status quo and try her hand at poetry, a passion she discovered back in grade school but was told by a teacher not to pursue in college. Though switching gears from technical to creative writing seems like a struggle, Hurwitz recognized that both essentially have the same purpose — to connect with an audience.
Again deciding to try something different in 2002, she self-published her first chapbook of poetry, "Soft as a Beagle's Ears." After being voted "Ms. Under Appreciated" at a regional poetry slam in 2010, Hurwitz proved her talent when her poems appeared in numerous publications, including Exquisite Corpse and The Huron River Review.
Though being published is every writer's fantasy, the fame doesn't beckon Hurwitz. In fact, she estimates she has nearly 150 unpublished poems sitting at home that only her eyes have seen. She admits she's a little hesitant to publish her work because most of it is personalized and draws directly from her life. "When you publish something, you don't know who it'll go home with," Hurwitz says with a nervous little laugh.
"Narrative" is the word she uses to describe her poems, primarily because they tell stories of her experiences, some of which are drawn from relationships and, more recently, religion. Hurwitz's poem, "What the House Doesn't Remember," was extracted from a memory of cleaning a closet with her boyfriend's Christian mother, whom she is now close with and considers a huge inspiration. Though Hurwitz was raised Jewish, she says she has "been looking at things from a somewhat different Christian point of view." 
"I try to show the connections between everything, or as many things as possible, but that everything is connected. I love when that comes out in my poems."
— Esther
Hurwitz
Above all else, Hurwitz writes to show readers the interconnectedness of life. "I try to show the connections between everything, or as many things as possible, but that everything is connected," Hurwitz says. "I love when that comes out in my poems."
Her work can be purchased on Amazon or read online.
Because of her busy lifestyle, Hurwitz doesn't give herself permission to write as often as she'd like, but she enjoys the flow of words through her hands. "I can write it better than I can say it," she says.
Though she's also written technical manuals, contributed to anthologies and even wielded her red pen as an editor, Hurwitz currently works as a library aide at the Crestview Library. But her true pride comes from coordinating the library's Poetry and Music Jam, an event that takes place on the second Tuesday of every month and gives locals an opportunity to share their own poetry and music.
"It's important to be able to get up and speak your truth and have people accept it," Hurwitz says.
With a smile on her face and brown eyes twinkling behind her thin-rimmed glasses, one thing is obvious — Hurwitz will continue searching for ways to connect with people … or they'll just fall onto her open page. 
---
A poem entitled "Poetry Should," an excerpt from a book of poems called "Soft as a Beagle's Ears," shared with permission from the author.
Poetry should look you in the eye,
no matter how many times you've told that story before
grab the reins from your hands
and free the ponies,
cover the mirrors and throw out the watches,
then teach you to sing higher than dogs can hear.
Poetry should
burst in your mouth like a strawberry
the first time you ate one,
turn you into something more intricate
than a hand-carved puzzle box,
fill your head with dreams
even while you're awake,
and hold your hand until the room stops spinning.