How Best to Wine Fest
Local Wine Experts Tip Us Off on How to Best Sip and Savor All of Those Samples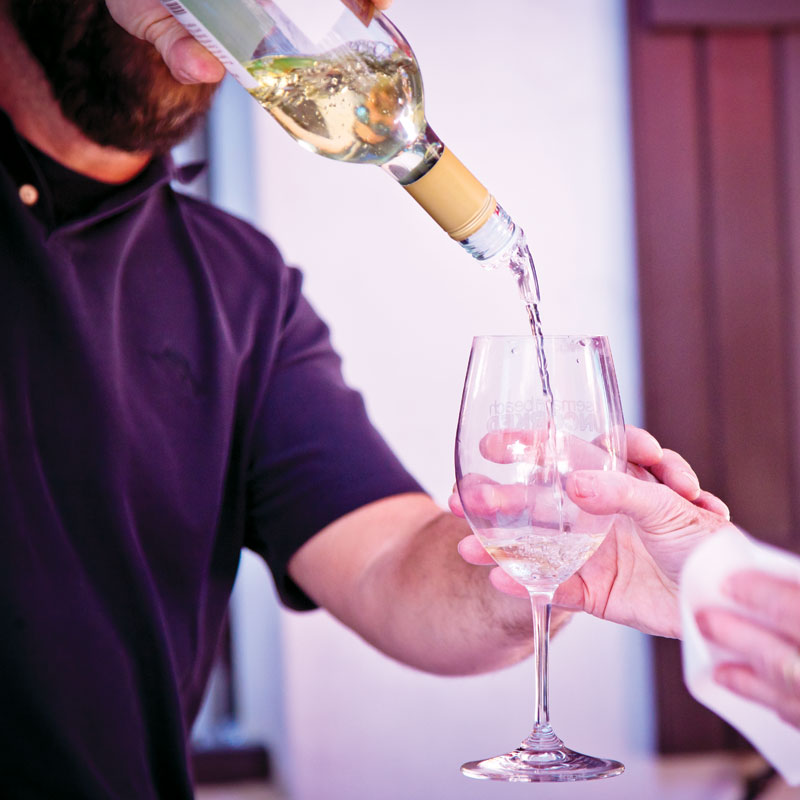 Photo courtesy Erin Ledbetter Photography
Wine events are bubbling up all along the Emerald Coast. Rosemary Beach Uncorked stages its event throughout the town, which gives festival goers a chance to sample wines paired with tastes that showcase the town's restaurants.
Springtime on the Emerald Coast signals the start of our annual opportunity to enjoy all sorts of festivals, and you just might be surprised to learn how many of these events are based on tasting wine.
April features the South Walton Beaches Wine & Food Festival, the Destin Charity Wine Auction, the Sandestin Wine Festival and the Pensacola Wine Festival.
In May there is the Perdido Key Wine and Art Festival.
And there's more later on in the calendar.
September brings the Rosemary Beach Uncorked Festival, with the Mexico Beach Art & Wine Festival in October and Seaside's Seeing Red Wine Festival in November.
The sheer size of these events might prove just a bit intimidating. Hundreds and hundreds of different labels represent multiple varieties and styles of wine, both domestic and imported.
With this in mind, EC magazine reached out to four local wine experts for some tips on how to create the best experience at a wine festival. Each has spent decades building his credentials as someone who truly knows the veritas when it comes to vino.
Our quartet, listed alphabetically, consists of:
Chan Cox, owner and operator of nine Chan's Wine World locations between Pensacola and Panama City; Kevin Moran, managing partner at Crush 30-A Wine Bar; Jake Purvis, Destin store director for Kelley's Beach Liquors and Wine Merchants; Todd Reber, managing partner of Vintij Wine Bar.
So we asked them, with so many wines to taste, where do you start?
"It depends on how serious you are about the event and about the wine," Cox said. "A lot of people go to wine festivals not because they're serious wine connoisseurs, but because it's an event, it's a fun place to be. It's like going to the Kentucky Derby, it's not about the horse race. It's about being in a setting that's fun and different and energetic.
"But if you are going to this festival as a learning experience and to enjoy yourself, then I would advise prior to the event, contacting the organizers and getting a tasting sheet," he adds. "They all have tasting sheets. That way you can find out what wines are being tasted.
"Whatever your preference is, if your goal is to find different kinds of wines that appeal to you, you take that tasting guide and you search out those wines. There will be table numbers, with wines listed for that table, so you can literally map out your plans for the day."
With tasting sheet in hand, is there a way to prioritize? Should you start with whites and work up to reds?
"If I ask my palate to transition back and forth between different styles, it will make it much more difficult to discern the differences," Moran says. "So it's better to go with sparkling, white and red, and try to leave the sweet wines until the end. If you've been tasting something sweet, with a lot of residual sugar, and then you're tasting a delicate white wine, you're doing it a disservice."
So where does champagne fit?
"It really doesn't matter," Cox says. "Generally, champagne's got good acidity, so it's an uplifting kind of wine. You can do champagnes after red wines. I always love to have a glass of sparkling wine as an aperitif. I like sparkling wine to begin."
Purvis is even more enthusiastic.
"Anytime, any place for anything," he said. "I'm a huge bubbles fan. I think it's a nice aperitif, and a nice wine to finish up the night with. I think the bubbles and the acidity in champagne can awaken your palate, and then at the end of the day it can revive you and wake you up."
Then there's always the issue of having your palate becoming fatigued.
"It's much better if you go about it strategically and stay within the categories," Moran says. "If you jump around, your palate can tire out much more quickly. It's also a good idea if you drink a half-glass of water every five to 10 tastings. That's also a way to avoid intoxication."
Reber agrees, and he had a definite opinion when we brought up the issue of spitting versus swallowing.
"Professionals never swallow," he says. "You swish it around in your mouth in a mouth washing way — what you're what trying to do is bring in oxygen with no more than an ounce of wine."
Moran is on the same page.
"People are so apprehensive about spitting but if you don't, you find yourself prematurely intoxicated," he says. "And that impedes your ability to make a correct assessment of wines after that. There might be 100 to 200 wines at an event, and 40 you want to taste. If you swallow a dozen of them that will intoxicate you."
Whether you choose to spit or swallow while tasting at a festival, what you eat earlier in the day and while you're at the event can be important.
"Make sure you have a rich breakfast that has some fat content that can impede that absorption of alcohol," Moran says. "Something like bacon and eggs or a bagel and cream cheese."
Purvis adds: "The more fat you have in your system the more absorption there is in your system, and hydration is huge. With all that sun and walking around, get a nice spring water, because tap water has minerals in it and chlorine. That's why you never want to rinse with tap water. Always rise with wine or spring water."
Festivals also offer the opportunity to broaden your tasting horizons, and with this in mind, we asked our experts about wines that are riding the crest of current trends.
"Malbecs from Argentina and South African wines are really really hot right now," Cox says. "They're produced in more of what we call 'international style.' They're right in the middle — not too dry and not too sweet. They're kind of appealing to everybody."
Moran pointed to the increasing popularity of Pinot Noirs, especially from the Pacific Northwest.
"Oregon has really evolved as a wine-making source," he says. "There's a larger number of wineries and people involved. Also, the weather has evolved — it's not as wet and rainy there and they're making better and more consistent wines."
Known as the red wine that goes so well with food, why is Pinot Noir more popular then ever?
"Stylistically it's softer and an easier wine to drink," Moran says. "It's lower in tannins and alcohol content and not as demanding on the palate. Twenty years ago you'd be hard pressed to find the array of Pinot Noir that's available today."
Without hesitation Purvis pipes: "Spain for sure. The quality and price point — what you get in the bottle for the money is unbelievable. To me, in the United States, Paso Robles (in Northern California) is a region where there's a lot of great wines."
EC "winos" can take heart. "I think the era of the 'wine snob' is dying — and I think that people should not be intimidated or ashamed about their wine knowledge. They should just be adventurous and not be afraid to ask questions — find what you like and then find something else you like."
---
S is for Savoring Every Wine Sample
See
Observe the color and clarity of the wine. Is it clear, brilliant, cloudy or dull? Notice the depth of color. How is the body? If the "legs" trickle down the side of the glass slowly, it has more body.
Swirl
Swirling wine within a glass exposes it to a larger surface area. This increases wine's contact with air and intensifies its aroma.
Smell
The smell is also known as the nose, bouquet or aroma. Common aromas include different fruits, spices, herbs and flowers. Be sure to smell the wine several times. A wine with great complexity will offer different aromas and several scents at one time. In fact, there may be hundreds of smells in one glass of wine.
Sip
The overall "taste" of a wine is a combination of smells and flavors, so don't skip the smelling stage. Different parts of your tongue taste different things. Roll the wine across your taste buds. Keep in mind a balance of body fullness, acidity, tannin, sweetness and fruitiness.
Swallow
After swallowing, notice the aftertaste, or finish. The better the wine, the more defined the finish. A good finish will stay longer on your palate.