Homelessness Is Here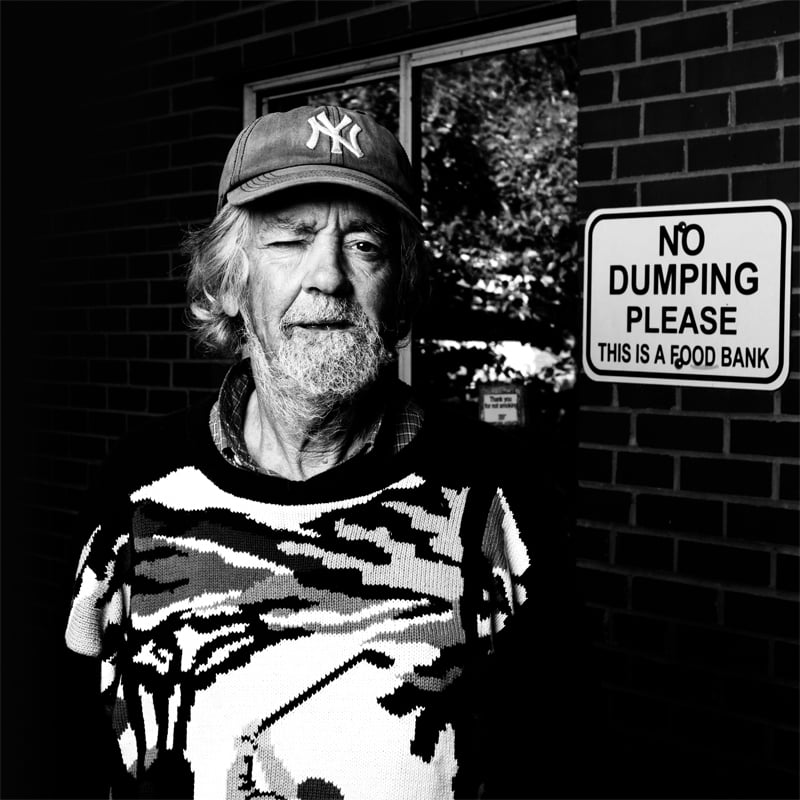 HOMELESSNESS IS HERE. Though the Emerald Coast may not have the high vagrancy and homelessness statistics of a larger metropolitan area, Florida is said to have the nation's third highest homeless population. So yes, it is an issue. The homeless are among us. They are our friends and neighbors. And for a number of years, various groups of people have been actively seeking a permanent solution.
---
Catapulted onto the Street, Veterans and Families on the Road to Recovery
David Glasgow, a retired career Air Force major, once made $75,000 a year working as a military contractor. When we first met this divorced dad, he was unemployed for the prior 18 months and had been struggling to pay expenses and provide food and school supplies for his two middle school daughters, who are now 14 and 16. He was in a group that no one wants to fall into: those referred to as "at serious risk" of being homeless.
"It's getting very difficult to pay my bills and eat," Glasgow said at the time. "Food is important. Once a month I am allowed to go into Sharing and Caring and come out with a grocery cart of food."
The donation from the coordinated community effort to meet emergency needs of families in the Niceville-Valparaiso area helps Glasgow feed his two young teens.
"If I get food — the girls come first," he said, adding, "I have lost 35 pounds. I've gone down to one meal a day. I drink a lot of water."
But while Glasgow has managed to find food and keep a roof over his head, others have not been so lucky.
Yvonne Franklin has served the Fort Walton Beach community as a volunteer church coordinator for 14 years. She has noticed an uptick in people seeking shelter and a downward trend in age. She believes young people in particular come to the area in search of a dream life in paradise.
"People come here looking for work and cannot find any and are not prepared for the winters we have here," she said. "You can't have a job at McDonald's doing the dishes without being showered and having clean clothes."
Area churches rotate offering shelter on nights the thermometer dips below 40 degrees. Franklin says as many as 72 people piled into Fort Walton Beach's Chester Pruitt Recreation Center in one evening last year, and most churches average about 45 people a night. Franklin doesn't expect this winter to be much different.
Even though state and national unemployment rates have dropped dramatically from where they were during the Great Recession, critics have charged that much of the new job growth within Florida has been in low-wage service jobs and that homelessness in the Sunshine State remains a major concern. Indeed, a 2013 University of Florida housing study revealed that between 2000 and 2011, the statewide median rent increased from $816 to $950 while the median renter income fell from $34,000 to $30,343.
A recent report by the Florida Housing Coalition and Florida Realtors Association finds that the state's homeless population — more than 47,000 — is the third highest in the country. Other studies show that Florida has the second largest population of homeless veterans in the nation — about 17,000.
Andrae Bailey, chief executive officer of the Orlando-based Central Florida Commission on Homelessness, says the Florida Housing Coalition report shows that low-income families are being left out of the state's economic recovery.
"The recession hit everyone hard, but the recovery has not hit all sectors of our society equally," Bailey said. "And so you're seeing a great amount of lower-income families who are struggling in ways they never struggled before."
The report shows that homelessness in Florida remains close to what it was in 2007 after a peak during the recession. Nationally, the number of homeless Americans is steadily declining, although the U.S. Department of Housing and Urban Development reports that families with children are the fastest-growing homeless population.
The 'avalanche' of need is growing
One local organization trying to help the homeless get into emergency shelters and back to work and is the Okaloosa Walton Homeless Continuum of Care in Fort Walton Beach. Lenore Wilson, a former executive director, is shocked by the need.
"There's a glut of people looking for jobs who will take $7.40- to $8-an-hour jobs, part time, without benefits," Wilson said. "People got very far behind. Working for $8 an hour is not enough to maintain (a household). There's been a high demand (for our services) — an avalanche — and it really hasn't stopped."
The impact of people working for lower wages or not finding work at all has increased the number of households receiving food stamps in Okaloosa County by 11 percent since 2010. By the end of September 2012, this meant 11,109 households.
"We've not seen those kind of numbers since the economy went down in 2009," said Randall Fleming, community development administrator for Florida's Department of Children and Families, Circuit One, which includes Okaloosa County.
In 2013, there were reportedly 1,658 homeless persons in Okaloosa and Walton counties — with 44.3 percent of them under the age of 18. Local homeless veterans accounted for 15.9 percent of that population.
"There's a growing need for families who were shocked — they had no idea they were going to be homeless precipitated by the 2008 recession," Wilson said. "It's a big problem."
And the federal Bureau of Labor Statistics indicated that the number of underemployed Americans working part-time jobs rose by 600,000 from August to September 2014 because "their hours had been cut back or because they were unable to find a full-time job."
Children in Crisis, a member of the coalition of agencies assisting homeless families and young adults in four Northwest Florida counties, helps find jobs and affordable housing for those who need it. Executive Director Judy Manning leads the effort.
"If people my age — in their 50s — have lost their jobs because of companies downsizing or 'rightsizing,' there is a trickle-down affect," Manning said. "There just hasn't been the turnover of those who have bachelor's degrees moving up, even in social-services fields like mine … It has been harder even for kids who come to us with work experience — the selection pool of people (includes those) with 10 years' work experience."
David Glasgow, 51, qualified to work, traditionally would move up in salary. With a bachelor's degree and a master's in management after serving 20 years in the Air Force, he applied his operational experience and analytical skills as a weapons targeting and intelligence officer working for a defense contractor. In 2011, his company put him on "we'll call you if we need you" status, he said. The company's main client, the Air Force Research Lab at Eglin Air Force Base, was hit with program spending cuts.
"Because I was a high-salary guy, they thought my salary could pay for three other people," Glasgow said.
He's held a job since he was 16 years old. Forced to appeal to former clients and his network of friends for employment, he discovered no one was hiring.
"I exhausted my leads," Glasgow said. "I was looking at anything. Universities — not hiring. As I'm going down, I started looking at minimum wage jobs."
What Glasgow discovered was that he was too highly qualified for lower-earning jobs. He resisted "tweaking" his resume to fit sales positions in retail because he did not want to compromise his honesty and integrity by removing his educational accomplishments. Glasgow applied for 300 jobs — from Sears to other defense contractors — and was willing to relocate. But there's a Catch-22, he said.
"I don't have the money to move even to Tallahassee."
To add to his misfortune, he said his ex-wife has not paid the home mortgage, as agreed in their divorce, since 2007.
"This shows up on my credit report," Glasgow said. "It hurts me. I have never been late on a bill my entire life."
He receives a monthly Air Force retirement check of about $3,000. His unemployment benefits were $1,100, but they ran out several months ago. He now spends $650 for apartment rent, $450 on a second home mortgage, $450 on a car payment, $1,000 in child support, and after gas, utilities and food expenses, he doesn't pocket much.
"Anything for my daughters is a priority," he said. Knowing his unemployment benefit ends in December, he added, "I hope and pray and think of things. I don't know what's going to happen."
At press time, Glasgow let us know that though he has taken classes to beef up his resume and had some callbacks, he has not yet found a job. Without employment, he has been unable to maintain his military security clearance. Though he "dummied down" his resume to apply for an hourly job at a convenience store near Hurlburt Field, it was a no-go.
"There was a time I was trusted with the nation's secrets, but I guess I'm somehow not qualified to work at the Shopette," Glasgow said.
Despite all the setbacks, he continues to hope things will eventually turn around.
"As long as I can provide something for my daughters, that's all I care about," he said.
The cost of living eventually cost the McClellands nearly everything
Ted McClelland fell off the thin rail that Glasgow is trying to ride.
When retail gasoline prices skyrocketed in 2008 from $2.80 to more than $4 a gallon and the financial crisis hit, McClelland, who owned a luxury car dealership in San Diego, was forced down a path toward homelessness. Trying to support a family of five was impossible after losing in 90 days what he says was a $3.5 million business, which included a 90-car inventory of Lexus, BMWs, Mercedes and eight- to 10-cylinder, gas-guzzling vehicles. He, his wife, Yvette Herrera, and their then 10-year-old daughter and twin 5-year-olds were driven out of their five-bedroom, three-car-garage home.
"Forces way beyond our control wiped us out," McClelland said. "The cost of living in California is three to four times more expensive than in northern Florida. A two-bedroom apartment in California cost $1,875 a month. In Northwest Florida, a four-bedroom is $1,000."
At 53, he had trouble getting a job, in part, he says, because he was competing with 30-year-olds and those who did not have a large family. Employers would have to contribute more toward the McClelland family health insurance premiums.
"I worked several $10-an-hour jobs equivalent to minimum wage here … I could not make enough money to support our family," he said. "We've always been productive members of society and always paid our way. We did not live frivolously. We're not people who had a lavish lifestyle. We didn't owe anybody money. That was just a short six years ago."
Looking for a solution, the family migrated east. Since 2008, they have lived in four states and eight homes and have faced one foreclosure and three evictions.
"I've slept anywhere I could sleep with my family," McClelland said. "I've slept in my storage unit, my car, the back of trucks, on public transportation all night long. I've slept in parks and on people's couches."
For this family living without a home, their daily routine adjusted to where they were at the time.
"It's extremely stressful," McClelland said. "I'd go out and figure out what I can do to generate income. I think we got stuck in a car for six weeks. (But) through most of it, I was able to keep a roof over my kids' heads."
The parents found ways to feed the family.
"One of my favorite hotels was Residence Inn," McClelland said. "I'd walk in there in some workout stuff, feed the kids off their buffet breakfast, and then get them off to school so I could look for work through temporary services or manpower services," he said.
McClelland has worked temporarily on a 12-hour shift as a production assistant for Coca-Cola Co., as a physician recruiter in Indiana and in many other odd jobs. When he arrived in Florida in March 2014, in part to help his elderly parents, he found some maintenance work at the Emerald Coast Convention Center. He currently works for Goodwill sorting donations. The rest of his family arrived in July. His wife found work as a surgical assistant.
During this six-year period, they sold basically everything they owned.
"I've never been happier," McClelland said. "I don't have any of the burdens of keeping up with it. What I have now is peace of mind."
A fresh start at moving forward
Recently, Fresh Start for Children and Families in Fort Walton Beach provided transitional housing for the McClellands. The organization has 11 two- to three-bedroom apartments for families or single women. A single man with full custody of his children can also apply. Residents must have a job and can stay for up to nine months.
Candace Lynch, Fresh Start's educational coordinator, says the residents are required to attend life skills training. Offered are financial management, resume building, communication, parenting and nutrition classes.
"Some people come here and don't have their high school diploma. We get them their GED," Lynch said. "We require 10 percent of their earned income to go into a savings account on site. Twenty percent goes into program fees for services like the food pantry they can shop in."
The McClellands now are stable and moving forward. Looking back, he shares life lessons.
"When you are seeking happiness with material things that are on the exterior, depression, alcoholism and all those type of things creep in there, because you can't believe this is happening to you," he said. "You have this doubt, and then this downward spiral. My wife and I were clean for 17 of our 25 years of marriage. After 2008, we started spiraling out of control ourselves. We both got ourselves back into a 12-step program. Life still happens, and things pop up. We figure out the best way we can to move through that."
Since the summer, the van that McClelland was running as a shuttle "blew up." He got a bill for 10 percent of his first year's earnings. He was fired from that job.
"The only transportation we had was totaled," he said. "We are on bicycles. We both have jobs. We have a place to live. There's nothing but love and laughter and healing going on in our household. I have everything in the world to be grateful for, and that's just in the last 10 weeks. You can imagine what it's been like since 2008 … I've got tools to deal relatively smoothly with this thing called life. I've just got to have a little faith that things will work out."
McClelland offered a thought for the community about the issue of homelessness: "I've had it all. In a blink of an eye, your situation can change and you have no control over it. If you can give, please give. There are people out there who need it. It's not just material things. If you've got an afternoon, help a kid with his homework. If you've got an afternoon, coach a softball team or take a kid to a park. We're all in this together. Be neighborly."
Safe Havens for the Homeless
If you or someone you know is in need of assistance, email Fresh Start at info@freshstartforchildrenandfamilies.com.
Emergency Shelters
Opportunity Place provides emergency shelter for families with children and single women, as space is available.
305 Lovejoy Road, Fort Walton Beach
(850) 659-3190
Transitional Shelters
Fresh Start is an independent, not-for-profit agency providing transitional and affordable housing for homeless children and families and those who are in imminent danger of becoming homeless. They must be gainfully employed and free of drugs and alcohol. The Fresh Start Program is for nine months, and the responsibilities of residents are a serious commitment to the rules as set forth by the administration.
8 Bobolink St. Northeast, Fort Walton Beach, (850) 243-5648
Shelter House is a certified domestic violence shelter that provides a safe haven for women, children and men in imminent danger of domestic violence.
Administration Office
102 Buck Drive, Fort Walton Beach, (850) 243-1201
Crestview Outreach Offic
290 Martin Luther King Blvd., Crestview, (850) 683-0845
Walton County Outreach Office
1846 U.S. Highway 90 W., Suite B, DeFuniak Springs, (850) 892-0333
Email any questions to info@shelterhousenwfl.org or visit shelterhousenwfl.org.
24-Hour Crisis Hotline: (850) 863-4777 or 1-800-44ABUSE (22873)
Pregnancy Crisis Shelter
Family Life Ministries of Northwest Florida
is a 501(c)(3), not-for-profit organization that has been in operation since 1986. The home focuses on expectant mothers and women in homeless situations. The Ronda Coon Women's Home is a two-story, eight-resident, 3,580-square-foot home located at 1008 Gospel Road in Fort Walton Beach.
Cold Night Shelters
Fort Walton Beach Cold Weather Program — When the temperature drops below 40 degrees, the following churches will open at 6 p.m. according to the schedule below:
Sunday: Holy Trinity Lutheran Church, 363 Miracle Strip Parkway SW, Fort Walton Beach, (850) 243-0788
Monday: Mary Esther United Methodist Church, 703 E. Miracle Strip Parkway, Mary Esther, (850) 243-7595
Tuesday: Gregg Chapel AME Church, 34 Carson Drive SE, Fort Walton Beach, (850) 243-5925
Wednesday: Chester Pruitt Recreation Center, 15 Carson Drive SE, Fort Walton Beach, (850) 833-9582
Thursday: First Christian Church, 201 St. Mary's Ave. SW, Fort Walton Beach, (850) 243-8465
Friday: St. Simon's on the Sound Episcopal Church, 28 Miracle Strip Parkway SW, Fort Walton Beach, (850) 244-8621
Saturday: Seventh Day Adventist of Fort Walton Beach, 119 St. Mary Ave. SW, Fort Walton Beach, (850) 243-1970
Crestview Cold Weather Program — When the temperature drops below 40 degrees in Crestview, the following churches will open at 6 p.m. to 8 a.m. (arrive by 9 p.m.) according to the schedule below:
Sunday: Life Point Church, 400 S. Ferdon Blvd., (850) 682-3518
Monday: Emmanuel Baptist Church hosts at First Presbyterian Church, 492 N. Ferdon Blvd., (850) 682-9416 or (850) 682-2835
Tuesday: Crestview Community of Christ Church, 398 W. First Thomas, (850) 682-7474
Wednesday: Crestview Community of Christ Church, 398 W. First Thomas, (850) 682-7474
Thursday: New Beginnings, 412 W. James Lee Blvd., (850) 689-2988
Friday: First Presbyterian Church, 492 N. Ferdon Blvd., (850) 682-2835
Saturday: First United Methodist Church, 499 McLaughlin, (850) 682-2018
For more information, contact Ann Sprague at (850) 826-1770 or cnasprague@embarqmail.com.
Walton County Cold Weather Program — A cold-weather shelter will be opened at the Civic Center in DeFuniak Springs in Walton County when the temperature is 32 degrees or lower from 5 p.m. to 8 a.m.
If you have any questions, call Ed Joyner of the City of DeFuniak Springs at (850) 951-3788.