Historic Pensacola Village Brings Visitors Back to 19th-Century Colonial Days
Bringing History Alive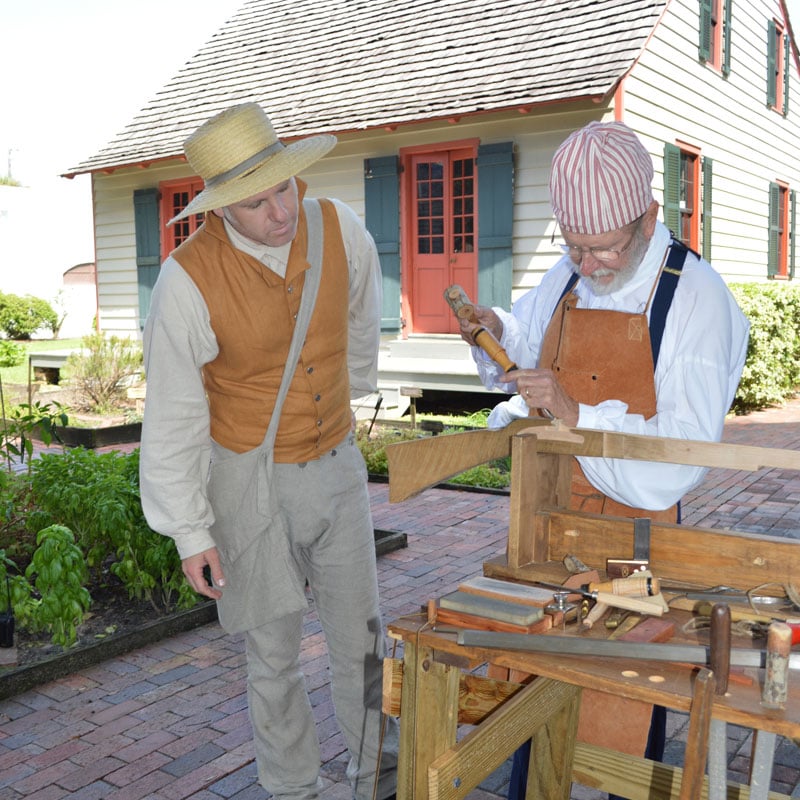 Ever fantasized about leaving the trappings of modern day life and slipping back in time to the "olden days and old ways"? Dozens do it every day at Historic Pensacola Village — a quaint collection of historic homes, sites, churches and museums clustered in the town's historic district. The Village unabashedly celebrates the 450-year history and culture of the "City of Five Flags" with exhibits, demonstrations, tours and an interpretive living history experience brought to life by costumed characters re-enacting early 19th-century Colonial life.
Ryan Arvay, 35, eagerly traded the empty wasteland of California's Silicon Valley for the "charm and character" of small town Pensacola. After getting involved in advocacy work for non-profits and the preservation community here in Northwest Florida, Arvay was thrilled to plumb the depths of the local history "he fell in love with" as part of his current job role, overseeing the Living History aspect of the Historic Pensacola Village. A background in media and arts coupled with a passion for history make Avray a natural for this unique West Florida Historic Preservation Inc. position, which he confesses is "a lot like theater."  
When Arvay — a slim, blue-eyed, old soul — comes to work each day, he is typically dressed as a French Colonist laborer, a Victorian gentleman or an 18th-century Spanish soldier. Instead of going to a desk, he heads to a family garden situated next to the 1890 Lear-Rocheblave House that is filled with corn, sweet potatoes, leeks, collards, okra and other crops likely harvested here during the 1800s. Most days you will find him out of doors under the Florida sun alongside 10 enthusiastic University of West Florida students — also clothed in period garb — cooking, cleaning, weaving or working in the garden to prepare an authentic meal of the times. The day we visited, a black iron pot placed over a roaring fire in the "kitchen house" waited to be filled with fresh ingredients for a hearty rabbit stew made with vegetables plucked that morning from the garden, which Arvay says "would be essential to a family like the produce aisle in the grocery store is today."
This history buff relishes a center-stage part that allows him to journey into the pages of the past. "When you have a tangible connection to the past it comes alive a lot more and is more present in your mind and in your life," he says. For this lifelong learner, a good history lesson is one that is hands-on. 
"There is no better way to experience history than with your five senses — to feel the heat, smell the food, see the steam rising off the boiling water as they do the dishes and get a real sense of what it was like to live back then," he insists. "You can't get that from television or even the best history books."
A guided history tour from Avray or one of his student staffers is an ideal way to immerse yourself in 19th-century life in America's "first city." Or simply enjoy a self-guided stroll by 21 historic houses, buildings and sites all located within about four blocks. Tickets are $6 for adults, $5 for seniors and military and $3 for ages 4 to 16. 
Tuesday through Saturday at 11 a.m., 1 p.m. and 2:30 p.m. you can stroll through four historic buildings, beginning with an 1805 Creole cottage called the LaValle House and ending with the Lear/Rocheblave House — a Victorian home built in 1890. Each of the historic spaces is filled with artifacts original to the home and the time period. Or you can explore the Village on your own anytime between 10 a.m. and 4 p.m. If you visit the Village on Friday or Saturday you are most likely to come upon a 19th-century woman knitting, weaving, shelling beans or perhaps a working craftsman carefully carving a flint rifle. 
Other must-see stops in the Village are the TT Wentworth Museum, the Museum of Industry, the Museum of Commerce and the recently renovated Pensacola Children's Museum, which includes a fort, trading post and sailing ship circa 1882 to engage curious young minds. 
The best history book or lesson cannot fully convey or cover 450 years of history in quite the same way as a day spent in Historic Pensacola Village. As Avray says, "It's a window to the past."
---
Sample a Little Local History 
Take Victorian Tea (2 p.m. on Tuesdays) 
A costumed guide interprets customs and traditions pertaining to tea and entertaining during the Victorian era. Learn how to properly present your calling card and find out what it was like to socialize at the Barkley House. Learn about proper social customs of the time.
Victorian Leisure (Fall) 
A new program that focuses on the emergence of the middle class and how its expansion influenced recreational games of the period and how one spent leisure time. Croquet anyone?
Victorian Holiday (November-December)
Gather at the holly-decked Lear House circa the 1890s to hear about the tradition of the Christmas tree, how it was decorated during the Victorian era and how the current perception of Santa Claus was formed by this period.
Death and Mourning (October)
The 1871 Dorr House is the perfect place for a fascinating discussion of the traditions and superstitions surrounding death and mourning during the Victorian period. Find out how Queen Victoria started many of these customs.
For a complete list of programs, tours and times, call (850) 595-5985, ext. 100, or visit historicpensacola.org.