High Achievers Shine Bright in The EC
Young students who are on their own track to success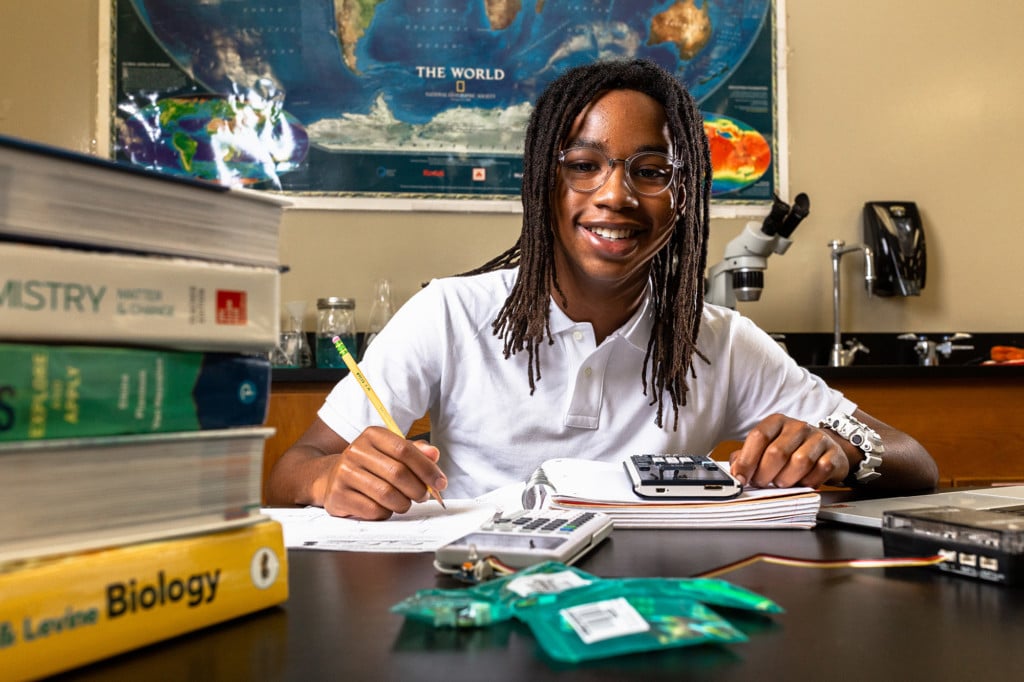 To set out to find the most precocious — however, defined — young people in the Emerald Coast region would be a fool's and a hopelessly subjective errand, of course.
But highlighting a few unquestionably talented young high-achievers can be illustrative, certainly. Instructive, even. The subjects profiled here may remind us that we adults often give children too little credit.
We may learn or relearn that we can inspire them to greatness by celebrating rather than underestimating their capabilities.
Among educators, there is a debate regarding "ability grouping," an approach disfavored by the National Education Association.
Opponents argue that the practice disserves poor and minority students by relegating them to tracks where they receive lower quality instruction than other groups. The result, they say, is a widening of achievement gaps.
Here we present evidence both anecdotal, yes, and compelling that economic status, ethnicity, race and gender are not reliable predictors of student performance.
Orlan Lasher
When Orlan Lasher enrolled at the Northwest Florida Ballet Academie in Fort Walton Beach, he was a third-grader in search of a new gig. Dance wasn't on his 8-year-old radar, but he was restless, a little bored and willing to take a literal and figurative leap into the unknown.
"My other school wasn't much of a challenge," he said. "I just wanted to try something new."
Ballet wasn't a perfect fit, but Orlan gave it time, stretching both his mind and body to appreciate its art and discipline.
"I was pretty flexible, so it was OK for me," he said.
He credits Tchaikovsky — and NFB's staging of his holiday classic, "The Nutcracker" — for finally awakening the dancer within.
"I was one of the party children, and that's when I really started to enjoy ballet," he said. "It was just the music and the stage. … I always thought you'd be able to see the crowd, but it's really just you and the magic of dancing!"
Today, Orlan is an eighth-grade standout at the Academie. His favorite subject is civics, he likes to catch lizards with his brothers, and he loves to watch old episodes of "Monk" in his free time, but ballet is his refuge.
"It's kind of a break from everything else," he said.
For Orlan, ballet is not only an art but an ongoing collection of skills to master.
"Right now, I'm good at pirouettes," said the 13-year-old, who's also working on pushing his rond de jambe past 90 degrees. "There's always more to do. Always a new step, a new move. Always something more to learn."
A gifted dancer, he trains hard and dreams even harder, confident that dance will play a key role in his future.
"With dance, you get to go around the world," he said, adding that Italy is on his short list of global destinations. "It doesn't really matter as long as it's some place other than Florida!"
Madelyn Chase
When Madelyn Chance was named 2019 Junior Youth of the Year for the Boys & Girls Club of the Emerald Coast, she learned a thing or two about the value of hard work.
The articulate 9-year-old — who had to make a public speech and answer questions from a panel of judges to advance in the competition — was selected from Boys & Girls Clubs stretching from Pensacola to DeFuniak Springs.
"I practiced all the time!" said Madelyn, a fifth-grader at Destin Elementary School. "I actually practiced in front of the mirror and making eye contact and not sounding like a robot. … You have to make eye contact. You can't just stare down the whole time because that's not really interesting!"
In the final round, held Feb. 28 at The Henderson Beach Resort & Spa, all of her hard work paid off.
"I was nervous and excited because usually I don't have all the attention," she said. "I was energetic, and I remembered not to answer in one-word answers."
When she won, it not only felt great, it kind of made sense.
"I'm not saying this will always happen, but usually when you work really hard, you will be able to achieve what you're going for," said Madelyn, whose favorite things include any song from "Hamilton" and any kind of sushi. "And if you don't, that's fine. You know you worked hard."
The alternative, she added, is deliberately slacking off, which only leaves you feeling disappointed in yourself.
Although public speaking isn't on Madelyn's short list of future careers — veterinarian, dancer, worker at a huge tech company — she wouldn't mind giving speeches every now and then.
"About the things that are going on in the world and how we can fix them," she said. "Like how to stop global warming and how to help the bees stay alive. … I see that on the news a lot, and I think, 'Hey, we should stop this!' "
Johnathan Walker
Jonathan Walker can pinpoint the moment when his fascination with science began. He was a fifth-grader at the Bay Haven Charter Academy in Panama City when he was introduced to the periodic table of elements.
And, while most students are intimidated by a chart dealing with atomic weights and strontium and beryllium, Jonathan was transfixed.
"I realized that everything around us is made up of elements in that table," Jonathan said. "That fascinated me."
A year later, he wanted to study chemistry in addition to the standard sixth-grade earth science curriculum. A teacher made that happen and, today, Jonathan, as a Rutherford High School freshman taking a college-level chemistry course via a virtual school, is encountering lessons he mastered years ago.
Jonathan enjoys football — he's a place kicker who once hit a 45-yard field goal — but he especially delights in tuning in to the 3Blue1Brown YouTube channel. He was ecstatic upon solving a problem presented there and, in addition, understanding what made his solution correct.
"Conquering a difficult concept is very satisfying and that is something I am going to want to pursue for a very, very long time," Jonathan said.
That pursuit, after all, is limitless.
Jonathan attended STEM camps last summer and was introduced to radioactive imaging and particle accelerators. He finished third in a state science fair with a project that used photosynthetic organisms to remove carbon monoxide and carbon dioxide from vehicle exhaust.
At this writing, he had advanced to the second round of a coding contest sponsored by Texas Instruments. His project involves a hydroponics system with sensors that monitor nutrient solutions to ensure that they conform to conditions preferred by a given plant.
In April, he scored a 33 on the ACT exam, placing him in the 99th percentile among Florida students and in the 98th percentile nationwide. He scored a perfect 36 on the reading component of the test.
The son of a man who grew up in Mississippi not far from the intersection of highways 49 and 61 where bluesman Robert Johnson is said to have bartered away his soul to the devil, Jonathan hopes to travel academic highways to success.
In his travels, he is not likely to forget Frank Luke, who taught him algebra and geometry at Bay Haven.
"He taught me how to back away from a problem and reapproach it," Jonathan said. "He gave me a very solid base to work from. We still talk."
Gracie Slocum
There's music inside Gracie Slocum, and sometimes she has to set it free — singing her heart out in her bedroom, the kitchen, the living room, the car.
"My parents are always yelling at me to stop!" laughs the 11-year-old, who has been a member of the Pensacola Children's Chorus for the past three years. "It's just something I've always loved. It's a passion!"
Her mom and dad are also her two biggest fans, nurturing her talent with a careful eye, carrying her to once-a-week voice lessons with well-known soprano Sewell Griffith and to countless Pensacola Children's Chorus rehearsals.
While Gracie — who's a sixth-grader at Sacred Heart Cathedral School — is aware that she has something many adults call "raw talent," she likes to sing, dance and act simply because it's fun. Even the stomach-churning experience of auditioning.
"It's kind of horrible because you're so nervous," she said. "It's very hard to sing in front of people, but every time it gets easier."
To calm herself before a performance, she uses a trick Griffith taught her.
"I take in a breath and hold it for 10 seconds — it helps me gain confidence," said Gracie, who has appeared in the PCC's popular "Christmas on the Coast" as well as the Pensacola Little Theatre's productions of "The Snow White Variety Show" and "The Further Adventures of Nick Tickle, Fairy Tale Detective."
When it comes to performing, Gracie's favorite part is the moment it ends — when the lights are bright, and the applause is deafening.
"Every nerve in your brain goes away, and you're like, 'I did it!' … and you have all this confidence running through you," she said.
While Gracie dreams of one day being on stage as a professional, she's not entirely sure what that will look like. She is sure that it will take a lot of hard work, and that's just fine.
"In the end, I am learning," she said, "so it's not a waste of my time!"
Emerson Walters
If you want to hang with Emerson Walters, be prepared to run to keep up. The freshman at Jay High School is not one to dawdle, and she keeps a demanding schedule.
"Between tennis and cheerleading and FFA, it's always slam-packed," she said. "But I can't get rid of one because I'm passionate about all of them!"
And that's on top of caring for four cats, two dogs and eight lionhead rabbits.
"No one else in my family is really a pet person, so I'm basically responsible for all of them," she said.
That's fine with Emerson, who prefers to be busy.
At 14, she's already mapping out her post-secondary path — maybe a couple of years at the University of West Florida before transferring to Auburn University and then on to medical school to become a dermatologist.
"Dermatology will always be something that is needed," she said. "People will always be looking for ways to fix their skin and things to change their appearance."
She credits her years in Future Farmers of America with helping her decide to go into medicine. In addition to public speaking skills, she's learned a great deal about raising healthy animals and the important role of plants.
"Lots of allergies can be caused by plants and that can cause people's skin to break out, so if you know the science behind the plants, it can help you figure out their case," she said.
For now, Emerson is jazzed about high school and has a laser focus on what it will take to be successful.
"I want to keep straight As — that's the top priority," she said.
She's also inspired by her parents, who are pharmacists and own their own business in Milton.
"I want to work hard enough to have my own practice," she said. "I tell myself I've come this far — I'm not going to mess it up now!"