HGTV's House Hunters Hits the Emerald Coast
A Local Couple Shares What It Is Like Behind the Scenes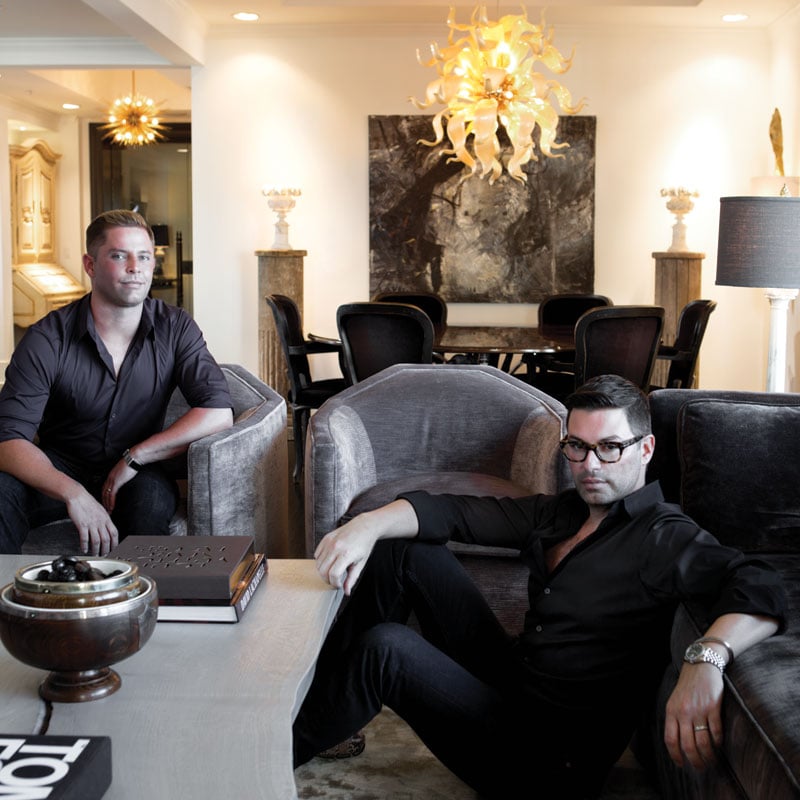 Ever wonder what it would be like to buy your house on HGTV's hit show "House Hunters"? Well, meet Deke Lee and Joseph Rogers, owners of the Avantgarde Salons in Destin. The young, professional couple was featured on the show on Jan. 22, 2013, and shared some insight on what it's like behind the scenes.
Lee and Rogers are passionate about the salons they co-own. Lee manages the business side of things, while Rogers founded the salons and is a stylist. The couple loves to travel, especially to New Orleans, where they own a second home. They have a core group of friends and relish time spent around the dinner table enjoying wine.
Their longtime friend and Re/Max realtor, Destin Lowery, has been selling real estate on the Emerald Coast with the Susie Kirkland team for 15 years. Lowery had the opportunity to work with HGTV and "House Hunters" for the first time in 2011. Her clients at the time were looking to move to Destin from Atlanta and applied to the show on a whim. HGTV loved the idea of Destin Lowery selling real estate in Destin, and after a few video interviews it was lights, camera, action!
"The network loved the first show we did in Destin and called me to see if there were any other interesting buyers willing to do the show," said Lowery. "I was showing property to Joseph and Deke at the time and knew they would be perfect. They have great personalities and are obviously good looking guys. Plus I knew they would be doing a great renovation."
Initially the couple declined HGTV's offer to do the show. "We told them no because we are very private people," said Rogers.
The show's producer won them over by promising to promote their salons, and they caved. After all is said and done, Lee and Rogers admit that the "House Hunting" experience exceeded their expectations, and they recently filmed a segment of "House Hunters: Where Are They Now," which is expected to air in December 2013 or January 2014.
Behind the Scenes
Everybody knows that a little drama makes good television, and that is exactly what the producers of "House Hunters" are looking for. Lee was interested in a condominium with an ocean view, while Rogers preferred the privacy and space of a single-family home.
"The producers want the couple to disagree on their likes and dislikes," said Lowery. "This way you don't know which property they're going to pick, and it keeps the viewer guessing."
The three homes Lee and Rogers viewed on-air were the only properties they looked at. They looked at a condominium in Silver Shells Beach Resort, a single-family home in Regatta Bay and a condominium in One Water Place in Kelley Plantation.
"Coming from the perfect house, we were extremely picky in what we would look at," said Lee. "It was very easy to take things off our list."
The on-site "House Hunters" crew consisted of one producer, one cameraman and one sound technician. Filming involved of four eight-to nine-hour days, plus an additional day to film the finale.
"The first few hours of filming were nerve-racking, but then we loved it," said Rogers.
If Lee or Rogers said something the producer liked she would have them repeat it several times so they could shoot it from different angles and sometimes rephrase the comment to add more pizzazz.
"When we were viewing the condo in One Water Place I said, 'I don't care for the floors.' Immediately I hear, 'Cut!'" said Rogers. "The producer had me say, 'I hate the floors,' and that is what's on-air!"
After a while the couple would forget that they were filming, which according to Rogers was a good and bad thing.
"The funny part is that you forget you are hooked up to a mic," said Rogers. "So even when you are not in the same room as the crew they can hear you."
 Lee and Rogers were outside discussing a property, and Rogers commented on how the producer would not like a scene.
"When we came back inside the producer let us know we were right and that she would not like the scene," said Lee. "Then she reminded us we were still hooked up to our mics. I now understand how people say such crazy things on TV. After a while you get immune to it."
As for what shots made the final cut, Lee and Rogers had to wait and see when the show aired. "We don't get to see the show until it comes out, so we have no idea how they will cut and edit the program until it's live television," said Lowery.
Home Sweet Home
After viewing all three properties and weighing the benefits of a single-family home versus a condominium the couple made their decision.
"Joseph's main concern was downsizing, but the condo in One Water Place was spacious and offered 2,649 square feet," said Lee. "Joseph walked in and fell in love, and the condo sold itself."
Lee and Rogers got the condominium in One Water Place for $500,000 in a short sale, coming in $150,000 under their budget and leaving plenty for renovations. Both Lee and Rogers wanted to customize the space to fit their specific tastes.
When HGTV filmed the finale they were knee deep in construction. "After our show aired, there was a huge influx of questions from viewers asking to see the final product," said Lee.
The episode of "House Hunters: Where Are They Now" will reveal the couple's final design. Lee and Rogers worked with Ron Porter, custom homebuilder at Regal Stephens in Santa Rosa Beach, Katie Powell at Beautiful Lights in Destin, Mary Ezell at Fixture Exchange, Misty Fowler at Antiques on Holiday as well as custom furniture and cabinet maker Michael Morrow with MDM Design Studio in Birmingham to reinvent their space.
"There was a little tweaking to get the space as close to white box as possible, then we put our heads together and came up with a concept," said Morrow. "As much as I would like to take all the credit, they had the vision for the space and I was the catalyst that made it happen."
Morrow describes the couple's style as sexy-comfortable-chic. The renovations involved new floors, a complete kitchen overhaul that boasts an enormous slab of marble and the removal of a wall to open up the space. Morrow notes that while the couple uses bold modern elements, they are paired with warm features like wood that provide the contrast the space needs to feel like home.
"Condo living has been wonderful for us, especially with all the traveling we do," said Rogers.
The couple admits that there have been only minor lifestyle adjustments to condominium living, like the inconvenience of leaving your phone in the car.
"The biggest surprise about this experience is how people recognize you after the show airs," said Lee. "We were recently flying from Fort Lauderdale to Atlanta and overheard a family say 'Look! Those are the guys from HGTV.'"
To view the "House Hunters" episode featuring Lee and Rogers visit www.susiekirkland.com and click on blog.