Heroes Who Keep the Juice Flowing
Life Lines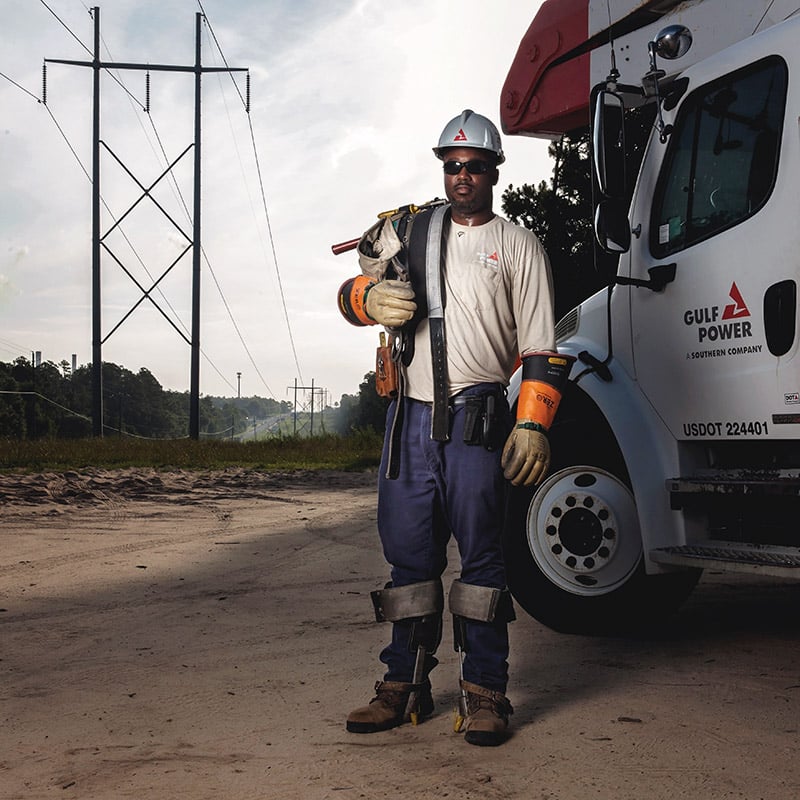 It's 3 a.m., and the ink black sky is interrupted by a silver streak of lightning and the reverberating crash of thunder. I'm 7 years old, and I'm afraid. Not so much of the storm, itself, but because I know that soon my dad will receive a call, and he does. In a matter of 10 minutes, his demeanor has changed from a sleepy stupor to steely determination. He kisses his family, but his mind is already on the task that awaits him. This story is for my father and those like him.
---
Lineworkers vary in age, height, size and background, but have much in common: sun-weathered faces, farmer's tans and hearts of service. They have thick skins, adapt well to sudden developments and tend toward fearlessness. Weather seemingly has no effect on them. Their uniform consists of long sleeves, jeans and boots, even in temperatures soaring into the 90s. On a given day, those same garments may be rain-soaked and caked in mud.
Few people are cut from fabric durable enough to handle this line of work. Few would choose to find themselves 40 or more feet in the air with 7,200 volts pulsating around them. The lineworker's work life is not one of pencil pushing and key stroking. Instead, they answer calls arising from a squirrel that has tripped a line, a drunk driver who has hit a utility pole, or even a hurricane whose path is on track to devastate a city.
Every day, the lineworkers of Gulf Power rise to meet the challenges that face them at the top of a pole.
Life on the Line
Countless sources report linework as one of the most dangerous professions. Although every safety precaution is taken, lineworkers are cognizant that injury and death can occur on the job. They assume those risks as readily as they tie their boots, strap on their safety belts and head into the elements, always without asking for an ounce of praise.
"I think of how hard it can be sometimes and, too, how dangerous it can be," said Joyce Vanselow, a Panama City Beach service technician of 15 years. "We are very safety conscious and we want to make sure everyone goes home at night. It's a tough job, but a rewarding job."
A fellow Gulf Power line technician, Demetric Washington of Pensacola, offered similar thoughts.
"The dangers of my job are always in the back of my mind, but the training I have been through the past seven years prepares me for what obstacles I may come across," he said.
Families are affected when a lineworker is unable to make family dinners, dance recitals, baseball games or holiday gatherings.
"Of course, my family is always worried when I am out in the weather during storms," expressed Vanselow. "The biggest thing is callouts in the middle of the night. Then there are shifts working weekends and, of course, holidays. It affects you when you are not there for those special occasions because you have to work. It's also tough when you are working and everyone else is off. But, you balance everything because it's a very rewarding job."
Courtesy gulf power
Joyce Vanselow, a Panama City Beach service technician for Gulf Power, has been on the job for 15 years.
While the majority of their time is spent in local towns, lineworkers may be called to respond to the effects of natural disasters across the state or throughout the country. They are no strangers to the destruction and devastation brought about by hurricanes and tornados.
"The worst damage I have ever seen was the 2011 tornado in Tuscaloosa," said Washington. "It basically looked like a scene out of a movie. I can remember booming up in the bucket and actually seeing the path that the tornado took. It was something I've never seen before in my life."
At The Ready
The Florida Municipal Electric Association (FMEA), located in Tallahassee, is a voice for linemen throughout the state. Barry Moline is the executive director of the FMEA and appreciates the mindset and devotion of lineworkers.
"The most interesting aspect of the commitment of lineworkers is their attitude toward service," Moline said. "They are first responders, much like police or firefighters. They are ready when there is an emergency, and they respond to it immediately. They are out in the most uncomfortable environments, not because they enjoy working in a storm, but because they feel a tremendous responsibility to convenience and service their community."
While we simply flip a switch to turn on the lights, the process is not so simple for linemen who are working to restore your power. Lineworkers are aware of the inconveniences that a power outage presents and strive to keep outages to a minimum.
"I wish the public understood that we are first responders, too," said David Shultz, a Gulf Power line technician of 24 years. "When the power goes out, we are the ones that respond, no matter the time, day or weather conditions."
Courtesy gulf power
FMEA realized that lineworkers, while serving their communities, are a community within themselves. They have a language, duties and lifestyle that is theirs alone. No matter the city, state or country, this line of work unites its workers because it is unique and requires people truly dedicated to responding to the needs of others.
Getting Hooked
Becoming a lineman is much like obtaining a bachelor's degree. As many as four years are spent in the apprentice phase, during which aspiring linemen must complete 8,000 hours of state-mandated training. The apprentices take written and online tests, along with multiple in-the-field tests. They involve everything from tool recognition to safety measures to performing tasks that would be expected on the job. Every test must be passed.
Vanselow is a woman in a field consisting mostly of men, but this doesn't appear to affect her.
"I have never considered myself needing any special favors because I am a woman," Vanselow said. "If I was not capable of doing the job, whether a man or woman, then I would not be a service tech. No one has ever challenged me because I am a woman. We work as a team. I am proud of all my team members and the work we do everyday."
The alliance among lineworkers is remarkable. They may have disagreements on the ground, but those differences are set aside once their hooks hit the pole. True of any group that works together closely in adverse or dangerous circumstances, close bonds develop.
"The skills that my job requires are great common sense, the ability to learn and problem solve, good people skills with customers and co-workers, courage and the drive to help people," said Shultz.
Communication extends beyond their pole mates to the community members they encounter. Many have questions about what caused an outage and how long power will be out. Understandably, many customers express frustrations. The lineman's number one goal is to satisfy customers, and with hearts of service, they do.
"I love getting the lights back whether I'm working in my area or on a storm trip," said Washington. "You actually feel good when you get customers' lights on and can see the look on their faces after they have been without power for a substantial amount of time."
Shultz agrees. "Restoring power to our customers helps them return to a normal life and I love being a part of that," he said. "Having electricity has become a necessity in today's society and it is rewarding to be able to provide that need."
"It's about helping people, plain and simple," explained Vanselow. "It is the most rewarding thing when we are able to restore power after an outage or storm. Our customers are grateful for what we do. Yes, it can be hard work, but knowing that we helped bring a bit of normalcy to people is rewarding enough. Helping people is what it is all about."
Heart Lines
There are many people who enjoy their jobs but, if given the chance to discontinue working, gladly would. I venture to say that this does not apply to linemen. Their lives are irretrievably affected as soon as the hooks in their boots latch onto a pine pole.
Their faces are often sunburned, with a leather-like complexion that may lead to early aging or worse, skin cancer. Their knees creak and crack like dilapidated stairs due to years of climbing. Shoulder surgeries are common because of overexertion. Visits to the chiropractor are as frequent as oil changes. But their blood pulses with adrenaline as they visit heights that few others do. And even as they rise above us, they don't look down upon us. They are grateful for the ability to give life and light to their cities.
"Lineworkers have it in their gut and brain to have that desire to serve and to keep the fabric of our communities going," FMEA's Moline said. "They are the most dedicated people I have ever met, and I greatly admire what they do. I wish everyone admired what they do. We take them for granted because they work in the background. How often do we drive by a utility truck and thank those guys? They keep our community going, and we often don't realize it."
I grew up knowing lineworkers. They talked about their jobs the way I always hoped I would, all smiles, pure fire and an inability to imagine waking up every day to pursue any other profession. I admired their passion, tenacity, ruggedness, fearlessness and, most of all, dedication to service.
Growing up, I always wondered why lineworkers were rarely recognized or honored when I clearly saw the courage and perseverance required by this line of work. Naturally, my father is my hero, but there are thousands of lineworkers throughout this country who display the same integrity and resolve, day in and day out.