Here's To You, Rhonda!
A letter from the Publisher of Emerald Coast Magazine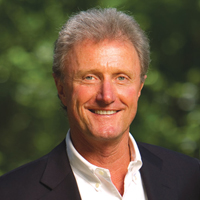 Rhonda and Shorty on their wedding day. Photos By Kay Phelan
A decade ago, EC Magazine was looking to add a new sales person who could represent our company's interests 150 miles away from the home office. I fortunately knew Susan Shaw, who was teaching at the then Okaloosa-Walton Community College and was well acquainted with the network of young professionals in the area. I reached out, and Susan immediately insisted I interview a particular young lady.
A few days later I did indeed meet with this person at a local coffee shop. After an hour of good dialogue, I knew this package of "raw talent" was exactly the type of person that EC Magazine needed to take us to the next level in the market. And Rhonda Chaloupka has been with the company since that time, watching out for our interests, a standard bearer for this magazine and a great source of pride.
April 6, my wife, Cherie, and I traveled to the Emerald Coast and are proud to be celebrating a major milestone with her — her marriage to another dynamic young professional, James Murray (who goes by "Shorty") and is the general manager for The Solaris dining yacht in Miramar Beach as well as The Sunventure, a new dolphin cruise boat.
As the leader of a small company with a number of loyal, longtime employees, it is a great source of pride to see these men and women grow, mature and become leaders in their industry and community. I view their accomplishments with the pride of an entrepreneur who has chosen his hires well, but there is also more than a tinge of paternal pride as I watch them mature personally.
Rhonda has been a market leader for our EC Magazine since the day she was hired. I've watched her grow, and I know that her poise and professionalism has been instrumental in the long-standing success of this magazine.
I am so proud and happy for Rhonda and James, and I wish them much joy as they begin their life's journey together. And I am happy that I can share a small moment of pride with her father.
As you read through this issue of EC, I hope you enjoy our feature on some other impressive young people in our region who are making a significant impact in their community and the business world. These local "Under 40" stars are, like Rhonda, our leaders of tomorrow, and we are grateful that they live and work in the EC.