Here's How To Keep Your Florida Palm Trees Standing Pretty
You don't need a green thumb to make sure your palm grows healthy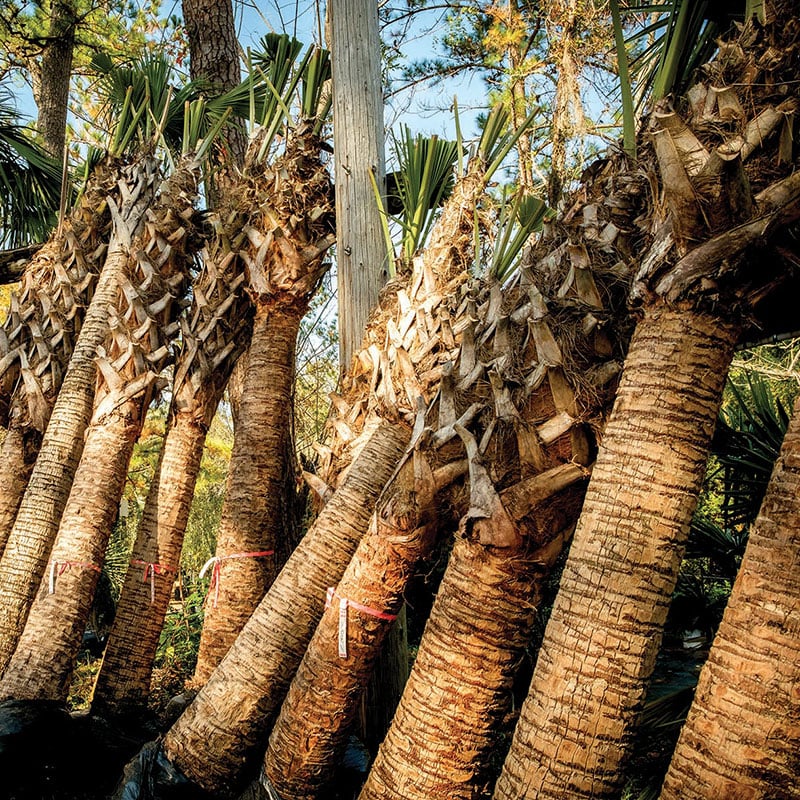 Palms swaying in the ocean breeze is an image that comes to the minds of many when they think of Florida, but not all of these tropical trees are native to our sands.
In fact, most of the tall, full-frond palms that grace our major streets and commercial districts are Washingtonia palms imported from California or Mexico.
Take a trek along one of our nature preserves or parks, however, and eventually you'll come face-to-face with our state tree, the Sabal Palm.
Sometimes referred to as the Cabbage Palm, these trees are native to Florida and thrive on the Emerald Coast as one of the most popular species to sport in your yard.
"You see these all over neighborhoods and condominiums because they're some of the most cold-hardy palms available," explains Leslie Odom of Emerald Coast Nursery.
According to Odom, other trendy species, like the non-native Wild Date and Queen Palms, are the flashy, billowy trees you see in some large home-improvement store nurseries that homeowners buy blindly.
While they're gorgeous in the summertime, these trees are extremely vulnerable to plunging temperatures in the winter and require extra maintenance.
This is easily remedied, says Odom, with "a sheet, but not plastic, to provide proper insulation. Pine straw around the base, and even putting a light over your palm will help keep it warm. There's also a material called Frost Blanket that gardeners use to throw over anything tender in the cold weather."
Of course, if you harbor potted Lady or Sentry Palms, you can show them some love by bringing them inside to warm their fronds. But if you're not looking to fuss with the extra labor, outdoor Pindo Palms, stout European Sand Palms and the slim n' sleek Windmill Palms are resilient against the coldest of coastal nights.
Once you select the species that's right for your residence, it's important you nurture your little seedling or sapling, as the first few months of development require consistent watering while new root systems develop. According to Shawn Brown, owner of Destin Palms Landscaping, this is a process that greatly differs from that of a hardwood tree.
"You could say palms are more akin to grass in their genetic makeup," says Brown. "Their roots are like little hairs that branch out to get to the nearest water source, whereas oaks and pines have a taproot that provides them water. But, that makes palms extremely easy to cut out and transplant into their new environment. That's why they're so easy to grow."
While new leaves began to sprout as soon as a few weeks post planting, it may take a few years for palms to reach their full potential. Until then, it's your responsibility to properly prune them.
"Over-pruning is a problem," stresses Brown. "The best method is just to trim off the fronds that are completely brown and not cut it back too hard. Fronds are like solar panels, the more they have, the more energy they collect from the sun that can be used to photosynthesize. Don't go crazy and chop away, because you're actually stunting its growth."
From the short and stocky to the lean and lacy, there are thousands of different species of palms that span the globe and have the ability to flourish in Florida. To learn about these varieties or to find out how you can raise your own, call or visit Emerald Coast Nursery or Destin Palms Landscaping.
---
Emerald Coast Nursery 
Servicing areas from Pensacola to Panama City Beach
1405 S. Palm Blvd., Niceville
(850) 897-0111
emeraldcoastnursery.com
Destin Palms Landscaping 
Servicing Destin-30A area
187 N. 7th St.,
Santa Rosa Beach
(850) 368-5443
destinpalmslandscaping.com