Here Come the Millennials
The largest living American generation is ready to take the business world by storm — but they'll do it their way.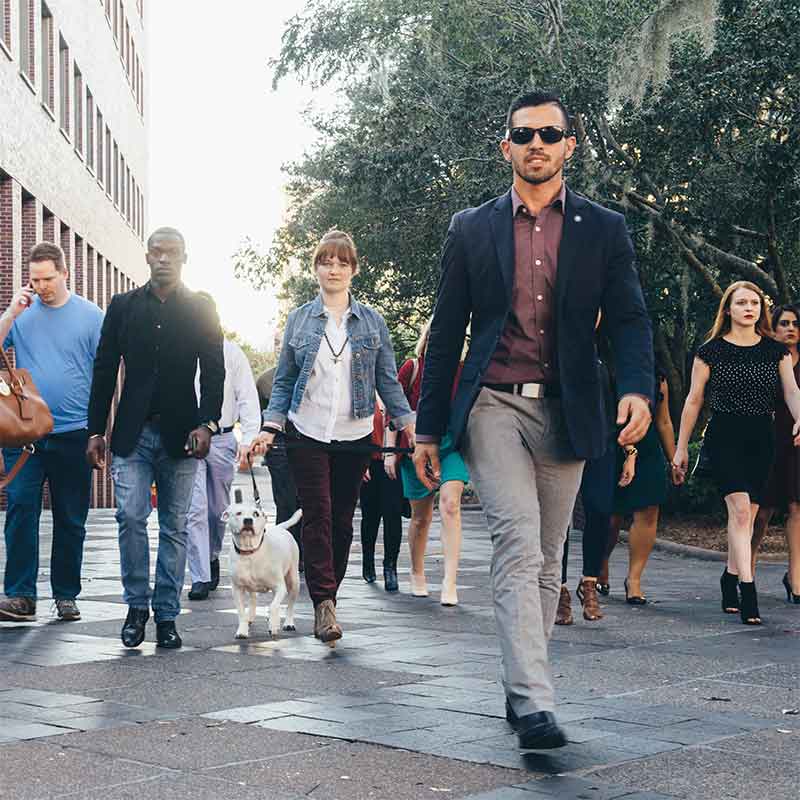 Try Googling the word "millennial" and you'd be amazed at the research that has already gone into this generation, once more commonly referred to as the Echo Boom, or the sons and daughters of those born soon after the end of World War II.
For decades, their parents have been the driving force in our nation's economy. At their peak in 1999, baby boomers numbered 78.8 million. This past year, that total was expected to drop to 74.9 million while the Millennial Generation, whose ages in 2015 ranged from 18 to 34, climbed to 75.3 million — on their way to an expected 80 million peak.
Herculean efforts are being made to understand these younger Americans, once also known as Gen Y, who comprise one-third of the U.S. workforce. Their work ethic, buying habits, goals and general outlook on life have been put under a microscope as the business world — from banks to retailers to Realtors and even opera houses and art galleries — has searched for the best way to understand them and harness their potential buying power.
Who are they? In a 2010 study, the Pew Research Center described millennials — named as such because they are the first generation to come of age in the new millennium — as "confident, self-expressive, liberal, upbeat and open to change." Further studies done by a variety of sources from Wall Street to universities have shown these Americans to be highly educated, optimistic, less religious, more ethnically diverse and in no hurry to marry or purchase their own home. They want to make a difference in their communities and the world, although not necessarily committing to any long-term projects. According to a 2014 report by the White House Council of Economic Advisers, they are also interested in their quality of life, having time for recreation and working in creative jobs.
It's hard to generalize a whole generation in just a few descriptive words. And it's unfair to lump together members of one generation. But there are some stark differences between millennials and those who came before them.
"Baby boomers love a challenge. They are focused on work and achievement," explains Xuan Tran, an associate professor of hospitality, recreation and resort management at the University of West Florida, who has studied the millennials. "Members of Generation X feel they need more security, so they focus on power. For Generation Y (millennials), if you want to work with them, you need to make sure they can balance between work and family."
Seeking 'Fun' at Work
While their parents and grandparents grew accustomed to strict working hours and often tightly controlled working conditions early in their careers, millennials yearn for a better experience at their workplace. According to a recent report from Accenture, 60 percent of the graduates in the class of 2015 say they would take a pay cut to work for a company with a "positive social atmosphere."
Michael Houlihan and Bonnie Harvey are the founders of Barefoot, the largest bottled wine brand in the world. In their book, "The Entrepreneurial Culture," they share the methods and tactics they used to make the company, which has been sold to EJ Gallo, so successful. Their message: It's a myth that productivity improves when company cultures are rigid, serious and businesslike. The reality is, productivity improves when people enjoy being at work.
At Barefoot, they concentrated on fun, respect for all (regardless of age), philanthropy, flex hours, showing appreciation for a job well done and treating workers as individuals instead of cogs in the machine. And while going to work might not beat a day at the beach, they insist it's still possible to make time at the office enjoyable.
"Strive to create a fun environment," Houlihan says. "At Barefoot, we designed colorful work spaces with natural light and playful graphics. We let employees choose their titles and encouraged wine-related names. (I was 'Head Stomper,' if you're curious.) We also gave plenty of time off, celebrated birthdays and didn't mind a little silliness as long as the work got done. All of this helped our people to stay fresh and involved, and kept morale high."
Rick Oppenheim, whose Tallahassee-based public relations company celebrated 30 years in business in 2015, has hired millennials and also brought them into RB Oppenheim Associates as interns.
"We have a lot of millennials running around here on any given day," the 63-year-old says with a smile. "The workplace has evolved as our culture has. The 25-year-old of today approaches work differently than the 25-year-old did 20 years ago. As employers, we have to pay attention to this. To have a successful workplace, you have to know how to deal with your employees. How to engage them and keep them. My generation understood you had to pay your dues to rise in a company. Millennials expect that journey to be considerably faster."
Oppenheim brings in a massage therapist once a month for his staff and he tries to do fun things, such as have happy hours. He will allow his employees to work remotely when necessary.
"We try to have a nurturing, fun, engaging workplace," he says. "You have to have trust, provide flexibility, reward success, encourage creativity, guide but not direct. The goal is to understand what their goals are and help them get there."
'Fearless'
There are a lot of words used to describe the Millennial Generation. The term "fearless" is one of the more popular. Unlike the baby boomers, who tended to stick with one company or at least stay in the career they were trained for, this new crop of workers doesn't hesitate to jump jobs or careers.
Millennials reportedly leave their employers in less than three years — sooner if they don't like a company's culture. Many of them want to travel and experience other cultures while they're young. Others want to move away from smaller cities to urban areas that offer more cultural activities and the opportunity to meet and engage with other young professionals from around the country — a brain drain that could adversely affect places like Northwest Florida.
"Millennials are driving social and geographic shifts," notes a 2014 White House report. "Especially the more educated among them have moved in large numbers to urban areas. (This) could have important economic implications for a long time to come."
Dorian Zwierewicz is a business growth consultant at the University of West Florida's Small Business Development Center. He's 23, has an MBA from UWF in hand and loves his job and his boss. He plans to remain flexible in his future plans, possibly remaining in Pensacola, but he also has a five-year plan that may lead him to "move to something bigger." He already has friends moving to bigger cities such as Atlanta, Boston and Philadelphia for work and school.
"They say there is so much more to do," he says. "The lifestyle and culture are all big factors."
Brianna Barnebee, 24, graduated from Florida State University in 2014. She majored in public relations and international affairs and now works with Oppenheim. But in a couple of years she'd like to have a stable job that allows her to work remotely while traveling the world.
"It's more about the experience and being happy than making the most money," she says. "Our parents were working to make money. It's normal for us to go job to job to get the best experience possible. We want to achieve the best for us, not for our parents."
She knows others who are taking time out from careers to teach English in foreign countries or even become nannies for families overseas, jobs that don't offer much money but open new opportunities to become immersed in different cultures. Being thousands of miles from home isn't as fearful as it may have once been because modern technology helps them stay close to friends and family.
Her coworker Gabrielle Shaiman, 23, is a native of South Florida and says her current job is a great opportunity for a recent college graduate (she also earned her degree from FSU in 2014), but she doesn't expect to be in Tallahassee long term. In fact, "my parents are supportive of me getting out of the Florida bubble."
Having grown up with technology and the Internet, millennials see the world as their oyster.
"We want to be very independent," says Shaiman, "and we have a lot of resources that other generations didn't have."
Balancing Work and Family
At the age of 31, Sandi Poreda is on the leading edge of the Millennial Generation. She began her career working like a baby boomer, putting in long hours, starting at the bottom of the office ladder and working her way up. She liked the security. But in her later 20s, she began to re-evaluate.
"As I got a little older, I began to value quality of life as a work asset," she says. "It was OK with me if I made a little less. I think maybe we're starting to pay more attention to a better sense of balance. That was the turning point for me."
In January 2015, she took the plunge and started her own company, Bulldog Strategy. She used skills learned during her years working in the office of Florida's attorney general and transferred them to a public relations company that specializes in litigation communication, serving attorneys and their clients.
"Balance has been a real big deal for me. How do I make sure the desire to grow my company doesn't threaten the balance? It's not how to work less but how to work smarter," Poreda explains. "Now that I've reprioritized, I feel more balanced and I do a better job for my clients because I'm not crazy."
Thanks to technology, many of today's jobs don't require employees to be in the office, at their desks, from 9 to 5. And, believe it or not, a 2013 Millennial Branding study reported that almost half of millennials say they'd choose flexibility over pay.
"Employees feel positively about companies that give them time to live their lives outside of work when possible," says Barefoot Wine's Bonnie Harvey. "Set up deadline-based timetables rather than strict work schedules, and allow for home office work as much as possible. This will help your people save gas and commute hours. Think of it as paying for performance, not attendance. At Barefoot, we found that when we trusted our people to do what we asked them to and left the when and where up to them, they were more focused and productive. They thought like entrepreneurs, not clock-punchers."
Lazy and Entitled?
They are certainly a confident group. A 2014 Wells Fargo study revealed that the vast majority of millennials (84 percent) feel they have the skills to succeed in their career goals and are confident their careers will advance. If they lost their job, 78 percent believe they could find a comparable one within a year — a sharp contrast to baby boomers (58 percent).
Calling them lazy and entitled could be a bum rap on an entire generation, but millennials do have some work traits that boomers in particular sometimes find mystifying.
"When they get into the workplace, they want you to tell them what you want and then leave them alone. That's a hard adjustment for a baby boomer," admits Keyna Cory, 61, president of Public Affairs Consultants Inc. in Tallahassee who hires (and pays) a lot of interns. "They are workers that want opportunities but want instant gratification. You've got to thank them — they've grown up in a world where everyone gets a participation trophy."
But then, whose fault is that?
"We're products of the environment we're raised in. I've read that we're entitled and everyone's a winner," points out Zwierewicz, of UWF's Small Business Development Center. "If we were raised that way, we can't be blamed for it. I always thought it was a strange analogy. We weren't the ones handing out the trophy.
"I don't think I'm lazy at all. My focus at work is really on adding value."
In a student survey she did for her doctoral thesis, Barbara White said she learned that even though millennials get the rap for not being responsible, they want to be valued as being highly responsible.
"They wanted to be perceived as an expert, so their advice would be sought," says White, an assistant professor in accounting and finance at UWF. "We know this generation tends to be a little more confident, have higher expectations and they will question things more."
As for getting pats on the back at work, she says millennials grew up hearing about how special they were and getting constant reinforcement.
"We know that you won't have someone come by every day and tell you what a good job you're doing," White says. But, she adds, employers could help the situation by establishing more regular employee reviews (even every three months) to let younger workers know how they're performing. Still, she cautions, "They want realistic feedback. They know some of what they got (as youths) was smoke and mirrors."
Another suggestion she offers is to let millennial employees serve on company committees, maybe even establishing junior committees to tackle some issues in the workplace. And, she adds, "they will work hard if it's important to them. Incorporate those things that are important."
Still, when millennials get into their first job situation, employers may often have to start out teaching some of the basics.
Cory said some of her interns have had to be taught how to properly answer the phone and how not to rely on texting for everything. (She even had an intern resign by text, telling her, "I'm not happy working here. My key's on the desk.")
And, when the economy is good, she knows they could leave their job in a heartbeat for a better opportunity. But she knows that older employers will have to learn to adjust to the new workers they'll be encountering and the new consumers their businesses will need to connect with to survive.
"I'm going to have to adjust," Cory says. "If I'm going to grow my business, as an employer I'm going to have to put on a different mindset. I'm going to have to adjust to them."
Market Trendsetters
Ask a millennial the last time he or she walked into a bank and they might not even remember. They are in the forefront of online banking — a 2014 survey by Citibank revealed that 20 percent of their customers under the age of 40 don't have a checkbook — and use their smartphones for some of the most vital tasks in their lives. Staying in communication with friends and family? Don't call. Text. Or better yet, send a photo or video via Snapchat.
The Magic Mirror, a way for customers to see how clothes will look on them without trying anything on.
Courtesy of Neiman Marcus
"They're moving away from email. They're using all these messaging apps, like Snapchat. It really is a very new world out there," says Randi Zuckerberg, sister of Facebook founder Mark Zuckerberg, who is a New York Times bestselling author and founder and CEO of Zuckerberg Media. "Not every business needs to be on Snapchat, but they need to understand the why of this huge trend and how to be better about recruiting and hiring millennials.
"The new generation of consumers likes to share things more than buy. They don't buy cars, they prefer experiences over material objects. So these are things businesses need to understand if they are going to be successful. It really is a very new world out there."
Some businesses are trying to prepare. A 2015 survey for Transitions Optical began tracking the attitude of millennials toward their eye doctors and eyeglass preferences.
"Cultural sensitivity, giving back and having the freedom to express their personal style all emerged as being highly valued among millennial eyeglass wearers — and are also core values of growing ethnic minority groups that make up such a large portion of this generation," says Patience Cook, director of North America marketing for the optical company. "This reinforces the importance of eyecare professionals embracing multicultural outreach efforts and paying attention to trends in this area."
One of the biggest differences between millennials and earlier generations? They're more likely to consider what's fashionable or which pair bears a recognized name brand when choosing their eyeglasses.
"Having grown up with the Internet and being the first on many social media sites, it's not surprising millennials tend to be more aware of the latest fashion trends," Cook says. "By keeping this in mind … eye-care professionals can help to grow their businesses while increasing patient satisfaction."
Whole Foods formed a special innovation team and is launching a new, "hip" market concept aimed at millennial customers. They're calling it 365 by Whole Foods Market, and the first stores will open in 2016.
"This new format will feature a modern, streamlined design, innovative technology and a curated product mix," co-CEO Walter Robb told investors when making the announcement in May. "It will deliver a convenient, transparent and values-oriented experience geared toward millennial shoppers … We believe the growth potential for this new complementary brand to be as great as it is for our highly successful Whole Foods Market brand."
Even hotels, including most recently Best Western, are launching rebranding campaigns in an attempt to appeal to millennials.
Michael K. Brady, the Carl DeSantis Professor and chair of Florida State University's Department of Marketing, suggests that those companies with special recognition programs for customers could attract millennial customers.
"They like to be individualistic and recognized for what they do and companies can turn that to their advantage with programs like loyalty clubs that recognize consumers for being good customers or having special lines for entrance for loyal customers, like the airlines do," he says. "They respond well to that recognition."
As for technology, they don't just expect it, they demand it. And it will be up to businesses to figure out how to incorporate technology, especially interactive technology, into their sales. Take for instance, the Magic Mirror, which allows customers to try on products via a mirror instead of physically putting on a piece of clothing, jewelry or eyewear. It's already boosting sales in some stores like Neiman Marcus and Nordstrom's.
"They want to see technology in places it hasn't been before," Brady says. And, he adds, "They're very skeptical consumers. But that's also an opportunity for marketers, who will need to convey a message of truth worthiness."
But Cory reminds all that millennials have a short attention span, so selling them on anything could be a challenge.
"If they don't understand within seven seconds, they move on. A goldfish will stare at something for nine seconds," she says. "We have to make websites so that millennials get it, like it and understand it — or they will move on. Whether you are a baker, clothing store or professional services provider, you'll need to keep their attention and keep them wanting to come back for more."