Healing Financial Wounds Inflicted by BP
Little-known settlement reopens the claims process to thousands of non-coastal businesses to recover losses from the 2010 oil spill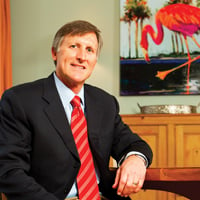 Scott Carruthers is working to inform Northwest Florida businesses about their right to file claims against BP. "And what I'm finding now is that there are many more businesses eligible for settlements away from the coast." Photo Scott Holstein
A good portion of Matt Turner's business involves working with the marine industry. When the BP oil spill happened in 2010, most of that work evaporated. But Turner didn't think he had a cause of action against the oil giant, because his business is located in Tallahassee.
"We do a lot of aluminum welding on boats and trailers and stainless work that is directly connected with the marine industry. For a whole year, that part of the business was nonexistent. The work dried up because of fears of what effect the oil spill would have," said Turner, of Metal Fabrication & Sales. "My business is located 45 minutes from the coast, so I thought I would just have to take it on the chin."
But a federal judge in Louisiana has given business owners like Turner a new chance to file a claim against BP for financial damages they sustained as a result of the oil spill. And they have until April 2014 to make that claim to tap into more than $13 billion in BP damages funds.
Oil and Your Business
Under this new claims process, approved by a federal judge in November, businesses do not have to prove that BP was directly responsible or the direct causation of their revenue losses. Instead, it is a black and white, numbers-driven process.
A court-drawn map has created a geographic area around the Gulf of Mexico — if your business is located within that area, you are eligible to file a claim, although the test for eligibility grows a tad tougher the further from the coast you are. The map includes all of Louisiana, Mississippi and Alabama, certain counties in Texas and all of Northwest Florida, from Escambia County on the west to Perry on the east, then down the Gulf Coast. It does not include inland areas like Orlando or any of the state's east coast areas.
Those eligible include anyone with a federal tax ID, including nonprofits and charities.
The money businesses might win back from BP could have a "real economic impact" on the region, said Scott Carruthers, head of Carruthers Law Group, which has offices in Tallahassee and Santa Rosa Beach. "The ultimate value of this fund is $13 billion. Imagine what Northwest Florida's portion of that money could do."
Among his clients, who are scattered across Northwest Florida, are a car dealership, construction companies, restaurants, contractors, a pool builder and nearly 200 seafood workers living between Destin and Apalachicola.
"And what I'm finding now is that there are many more businesses eligible for settlements away from the coast," said Carruthers, whose biggest client so far is an Internet company.
The 1,200-page settlement is online at the court-sanctioned website deepwaterhorizoneconomicsettlement.com. (By contrast, the Patient Protection and Affordable Care Act, aka ObamaCare, is 906 pages). There is a map of the zones and a way for you to plug in your address to figure out what zone you're in.
That's just the beginning of a long process. Laments Carruthers, "They don't make it easy."
Determining Eligibility
Any business operating at the time of the oil spill has a potentially viable claim. But the eligibility is based on revenues — and the financial test gets a little tougher the further away the business is located from the coast.
First of all, businesses cannot be in an excluded industry. That includes gaming, real estate developers, banks and other financial institutions, insurance companies and any business that previously signed a Gulf Coast Claims Facility release with BP, as well as governments.
However, Canita Gunter Peterson, tax shareholder with Thomas Howell Ferguson, has been getting multiple inquiries daily from businesses curious if they might qualify. "Individuals may think that industries such as seafood and hotels are the only ones covered," she said. "But almost any business could qualify for significant compensation, such as lawyers, accountants, retail establishments, almost any category of business. This is a once-in-a-lifetime settlement."
Startup businesses with less than 18 months of operating history as of the date of the oil spill also are potentially eligible for compensation.
"The settlement has good features, but there are some limitations," Carruthers explained. "One of those limitations is that BP only recognizes that it created an impact on business from May to December 2010. If your loss continued beyond or started after, this settlement does nothing for you."
The court-supervised settlement basically says that the closer a business is to the Gulf, the easier it is to prove loss. Wherever it is located, it needs to have the revenue numbers to back up the claim.
For instance, in Zone D, which includes Tallahassee, businesses must show a consecutive three-month, 15 percent decline in gross revenue between May and December 2010 as compared to 2009. Then, they must show a 10 percent rebound for those same three months in 2011. The amount of decline in gross revenue drops the closer a business is to the coast.
Gathering Financials
The ease of meeting the mathematical equation to be considered for compensation depends on how good your financial recordkeeping has been.
At Thomas Howell Ferguson, they are asking businesses to provide records of their net monthly revenue from 2007 through 2011 to first see if they meet the causation test.
"We can run initial calculations to see if they have met the nexus," Peterson said, adding that her firm does that at no charge. "If they haven't met it, they don't have to worry about getting more data."
For those who can go further in the process, it's important to know BP has the ability to appeal any calculation greater than $25,000. A three-judge panel will rule on the appeal.
"BP has filed a significant number of appeals," said Peterson. "If you don't submit the right documentation — or what you have doesn't reconcile back to the claim — you'll probably have problems."
Basically, it hinges on monthly profit and loss statements. The larger the claim, the more financial documentation will be required and the slower the process is likely to be.
Other Claim Avenues
Dana Matthews, senior partner with the Matthews Jones & Hawkins law firm in Destin, is bypassing the court-supervised settlement, opting instead to have his clients file a claim directly against BP under the federal Oil Pollution Act. The only problem there is the short time frame left to file. The deadline was April 19, 2013 — a problem if you haven't already started the process.
As for the court-supervised settlement, he said, "The problem is … whatever the class settlement provides you, you have to accept. If you get a denial, you have no recourse. If you file a $100,000 claim and you get $5,000, you have to accept it."
Of course, it isn't easy for anyone to really understand filing under the Oil Pollution Act and meet the deadline that's coming on like a runaway freight train. "This has been one of the most masterful public relations manipulations of the American public conscience that BP has been able to orchestrate," Matthews said. "The information is buried in the BP website. It doesn't state the date."
MJ&H is working with about 250 claimants at this point and has been fielding hundreds of calls from potential clients. One client owned a surgery center along Interstate 10. The lion's share of the center's business came from out-of-state and overseas. Their marketing tool was to encourage patients to come for surgery and then convalesce on the beach. But after the oil spill, the patients didn't come and the center shut down because it couldn't pay its bills.
Carruthers is considering filing some of his clients' claims under Florida's Oil Protection Act, which has a four-year statute of limitations, pushing the deadline to file to April 2014. (The federal OPA has a three-year statute of limitation.) An added benefit to filing under the Florida law — the polluter must pay attorneys' fees.
"It's kind of a Hail Mary, frankly, but it could have a substantial impact on businesses that didn't know about the (2013) federal deadline," he said.